This week at HP Discover a new MicroServer was unveiled. It was billed as a server for the really small SMB or for a college dorm or home server even. However if you search around for virtualization home labs you will see that many people are using earlier generation HP Microservers.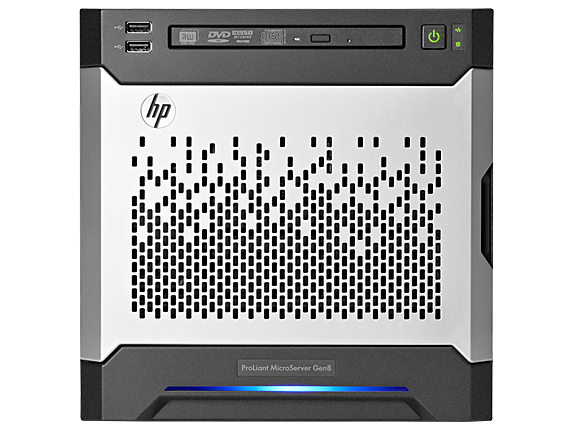 But is it time to upgrade to the latest MicroServer for your home lab?
To answer that lets ask why you would want to upgrade. For a VMware home lab we really only want a few things: CPU speed, Lots of memory, low power draw, and storage.
The Gen8 MicroServer comes with a choice of Intel processors: a Celeron, or a Pentium. Both are low power cpu's and are part of the Intel Ivy Bridge family and are socket LGA 1155. It is however only a dual core CPU running at 2.5Ghz (for the Pentium), but I'm sure that someone will try swapping out the CPU for something like a quad core E3 series.
Just like its predecessors the Gen8 is also a very lower power box, which normally translates to little heat out put… perfect for a home lab.
As for storage the Gen 8 comes with 4 internal drive bays for non-hot swap sata drives. They are controlled by the HP SmartArray B120i, drive bay 1 and 2 are 6.0 Gbps, and slots 3 and 4 are 3.0Gbps. Also the controller only support RAID0,1,1/0. OK so do you want to hear the coolest part which I havent seen advertised much ? IT has an internal MicroSD card slot on the board! Perfect for installing ESXi on!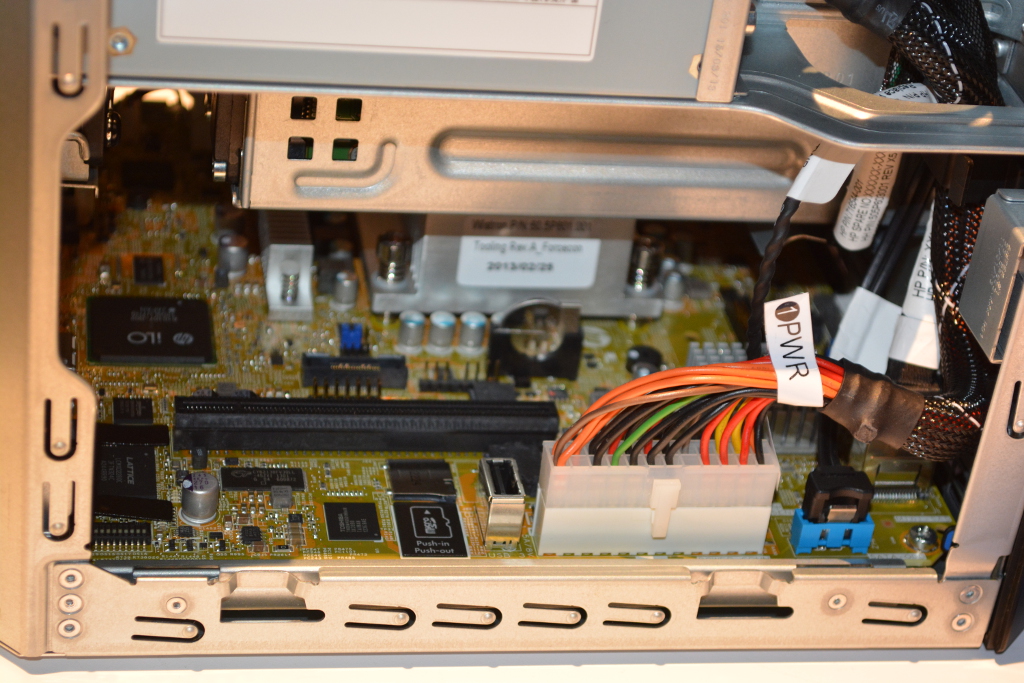 By now you probably noticed that I havent talked about memory capacity yet, and your right because this is where I am disappointed with the MicroServer. Officially the QuickSpec says that only 16GB of ram is supported, and to me this is a deal breaker for me. If HP is really aiming to market this to people who are SMB's and for college geeks or home geeks, then chances are those people might be running the free version of VMware ESXi. Many people were already upset that VMware was limiting the free version to 16GB…. and now HP is limiting them to 16GB!
BUT WAIT!….
If you look up the specs on the CPU and the chipset in the Gen8 MicroServer or just Google for other boards that use it, you will find that both the chipset and the CPU both support more than 16GB of ram. I do not however know if it supports 16GB DIMMs, so I would challenge the readers who order one to also get a 16GB DIMM and try it out… if it supports 2x16GB DIMM's then I think the VMware community has a real winner here. Note that this is just speculation, and HP (as of right now) would not support the configuration.
Processor Reference information: http://ark.intel.com/products/71069/Intel-Pentium-Processor-G2020T-3M-Cache-2_50-GHz

Chipser Reference information: http://ark.intel.com/products/52804/
Motherboard using C204 with 32GB RAM: http://www.supermicro.com/products/motherboard/xeon/c202_c204/x9sca.cfm
If you look around you see that all the boards supporting 32GB of RAM have 4 DIMM slots, I'm not sure if that is because 2 years ago when this chipset was released 16GB DIMM's weren't as common, or if because the chipset has a DIMM size limitation…more research is needed.
While you might not be interested in an HP switch for your home lab, I think that SMB's will really love the 8Port gigabit switch that is the same form factor as the MicroServer. It can sit on top of the server and looks like its almost integrated right into the server. List price is around $129 dollars, and features a full metal chassis.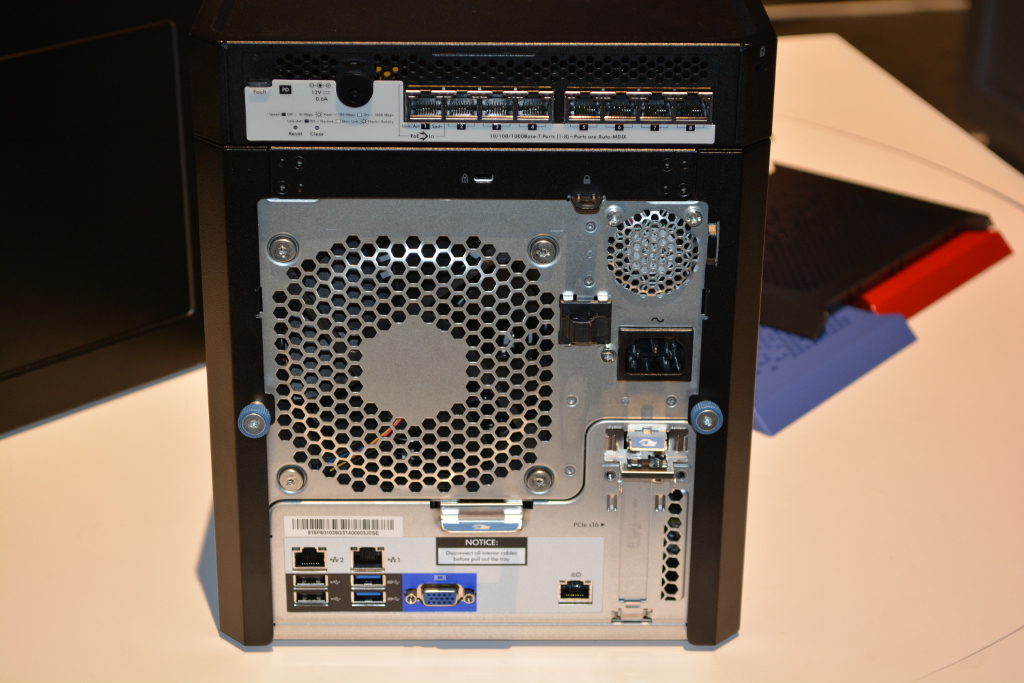 Lastly I wanted to mention that I did see an ILO4 chip on the motherboard, which I think is great, even if its limited in functionality, just being able to use VMware DPM or being able to power if on from your desk when its in your basement or something is also very handy. So all in all I would say that IF we can overcome the 16GB memory limitation then this thing will probably sell like crazy for home lab use, so until people start tinkering with the new Gen8 (or until HP sends me a demo unit 😉 ) we will just have to wait and see. As for using it for other things, like a home media server, or small business server I would say it will fit the bill perfectly.
Official HP Datasheet: http://h18000.www1.hp.com/products/quickspecs/14565_na/14565_na.html