Update March 2021
The share hosting the appliance OVA files was removed. Since the OVA's were over a year old I have not uploaded them to a new share. There were some fixes that need to be done to it, and it is in severe need of an upgrade to the base unifi code.
With all of that said, I recommend that you use Ubuntu, and install Unifi directly on it. I may get around to creating a 4.0, but with a new job and a crazy kid activity schedule I may not.
Update February 2020
A lot of people were reporting that when they deploy more than 1 of the appliances to their unifi.ui.com account, the first one would disconnect. This is due to a duplicate UUID.
To remedie this issue, I have added a script to regenerate the UUID as well as a menu item to automate the process. These updated were added with commit abf5fca.
Simply run the Github-Script update process from the menu, your VA will reboot, and then it should be on menu version 1.2.0 and the UUID update will be option 6.
WARNING: do not run this option on a VA after it has been registered to unifi.ui.com, as it will probably disconnect your controller. It should only be ran on a new virtual appliance.
Update August 2019
I have added some new updates to the GitHub repo that will add the official Ubiquiti repo and update you to the latest Unifi software.
To install this update and get to the latest version of Unifi, you need to go to the console and run menu option 3 in the menu.
Once it is finished run option 4 (bash shell)
Type 
sudo reboot
Once the appliance has rebooted run option 3 again, this will cause it to actually run the update script.
Once the update has ran it should be on the latest and greatest unifi
Update – v3.1
I have updated the appliance to Ubuntu 18.04 as well as the latest version of Unifi as of Feb 2019. The new download links are below. Enjoy!
Out with the old
My Ubiquiti Unifi 2.0 virtual appliance has gotten quite a few downloads. So I decided to revamp it for 2018. This version is easier to use, comes with the latest UniFi server (as of this post), and can be more easily updated in the future.
I also created a post on how to build your own UniFi server in AWS using a few simple steps too, but for those purists who still need a solution that can run on-prem in VMware or Hyper-V… Long live the OVA Virtual Appliance!
In with the new
So what makes my new "Version 3.0" virtual appliance more kick ass? Simplicity.
This new version comes with a console based menu that allows you to update and configure the appliance.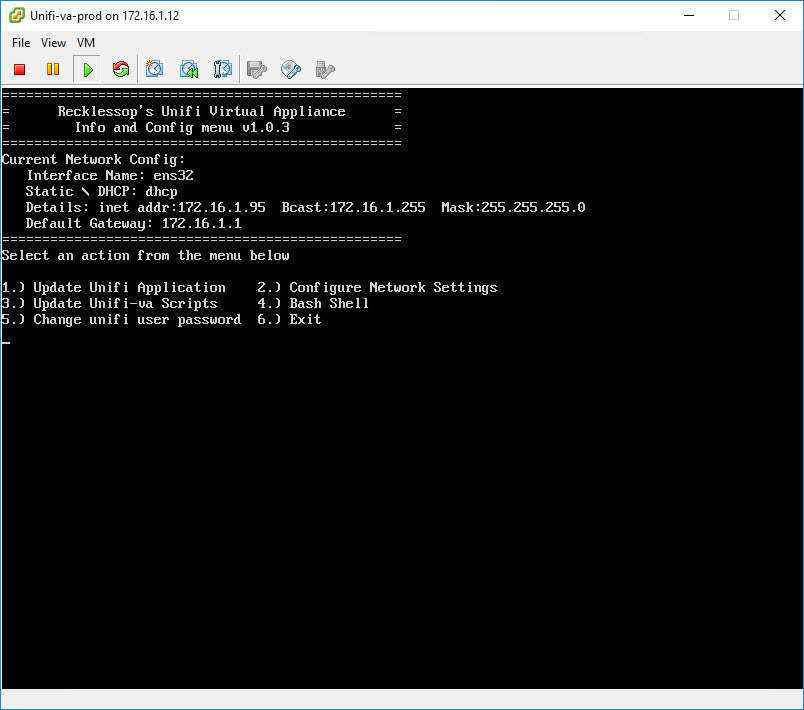 So what does the menu help with?
Shows current IP address
Allows you to easily update Unifi via the official APT repository
Allows you to configure the network interface (DHCP or Static) without knowing anything about Linux
Updates my unifi-va scripts directory from my GitHub Repo (http://github.com/recklessop/unifi-va)
Change the "unifi" user's password
Basically, all the things that non-Linux people wouldn't like about running UniFi on a Linux machine can be done via this menu. As I think of more things to add I will update my GitHub repo and you can update your appliance by running option 3 in the menu.
Deploying v3
Deploying v3 is just like deploying any other virtual appliance.
First, download the virtual appliance (select the appropriate version).
VMware 6.5+ SHA256 version (link removed)
VMware 6.0 and older SHA1 Version (link removed)
Then import it into your hypervisor. For VMware 6.0 and older go to File, then "Deploy OVF Template". For VMware 6.0 and newer, with the web interface, right click on your cluster or host and select "Deploy OVF Template".
Configuring v3
Configuration is already mostly done, all you need to do is make sure the virtual appliance has an IP address. Once it does go to a browser and type in https://<IP ADDRESS>:8443 and you should see the invalid SSL warning page. Click through it, and you will then see the UniFi Configuration page. From there you can either import an old configuration or create a brand new appliance.
[stextbox id='info']Note: the default username and password for this appliance is "unifi" (for both the username and password)[/stextbox]
Get Update Notifications
If you want to be kept up to date on my UniFi Virtual Appliance news, fill out the form below to get email updates when it's time to run the "Unifi-VA Scripts Update" from the menu on your appliance
[mautic type="form" id="14″]
Feedback
I'm always looking for feedback. So if you come across something that I could do better in the virtual appliance let me know. You can use the Drift chat box in the bottom right corner, or shoot me a message on Twitter (@recklessop), or shoot me an email ([email protected]).
Thanks for reading!
Looking for the UniFi Hardware?
If you haven't completed your Ubiquiti Unifi hardware deployment, Amazon has great prices on all the UniFi hardware.
| | | |
| --- | --- | --- |
| UniFi Security Gateway | Unifi PoE Switch | Unifi Wireless Access Point |
| | | |