One of the challenges when pitching disaster recovery to customers is the cost. Many times a DR site build out can cost as much if not more than the production site, a cost that some customers just can't swing.
Luckily for those customers, we now all have access to more infrastructure then we could ever use via cloud providers like VMware vCloud AIR, Amazon Web Services (AWS), Azure, etc. So building out a DR site is becoming much more optional, there is only one catch: you still need to get your prod data into the cloud. Then more importantly…reliably use it if when you need it.


Enter OneCloud.
OneCloud focuses on being easy to use, to start it is deployed as a local virtual appliance to your on prem infrastructure. After deploying you need to provide your VMware credentials as well as provide your credentials (ie your private key) for your AWS account.
With this information OneCloud will then build a bridge from your on prem infrastructure to AWS using a secure VPN tunnel. Inside of the Amazon site OneCloud uses the VPC features of AWS to build out a full virtual network on Amazon.
Once the basic setup has been completed you create protection groups and put your VM's into the appropriate groups. Once protection kicks in the OneCloud software creates snapshots of your VM's, compresses and dedupes the data into their format, removes the snapshot, and then uploads to Amazon.
One thing you are probably concerned about is the use of VMware snapshots. So it's a good time to talk about what workloads OneCloud is targeting. Picture is worth 1000 words.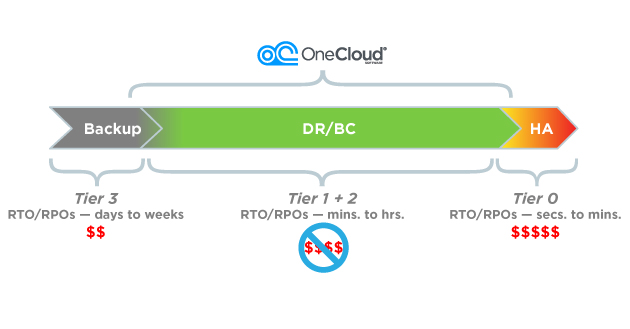 The target workload for OneCloud are those apps that can sustain some data loss and some downtime. OneCloud doesn't see themself as a competitor to other Tier 0 protection packages like Zerto or Recoverpoint.
Overall OneCloud touts 30 minutes from install to protection, needless to say I can't wait to try it out!
To learn more about OneCloud check out their website here http://www.onecloudsoftware.com/solution/ also stay tuned to their site for more information when they go GA.