This week I was onsite with a customer setting up their new virtualization environment and got to play with a couple of the new EMC VNX5400's. I wont go through all the marketing stuff as there are plenty of places you can go look at that, but let's take a look at I unboxed.
Looking at the back of the DPE, its pretty easy to see some major differences if you are used to the VNX5300. First instead of on board ports they now use SLIC modules just like the data movers in a unified system do. Also the huge orange knob is new. After some tinkering I found that it is used to remove the top module, which contains the battery backup unit on the left (its the small square box on both SP's) as well as the power supply and the back-end bus connectors.

Next up is a view of the front. It looks much like a VNX5300/5100 with the 2.5″ drives however instead of a plain metal spacer under the drives we now have fans which sit in front of the CPU modules (ie the brains of the san). Which means that the SP's now are removed through the front of the unit, not the rear.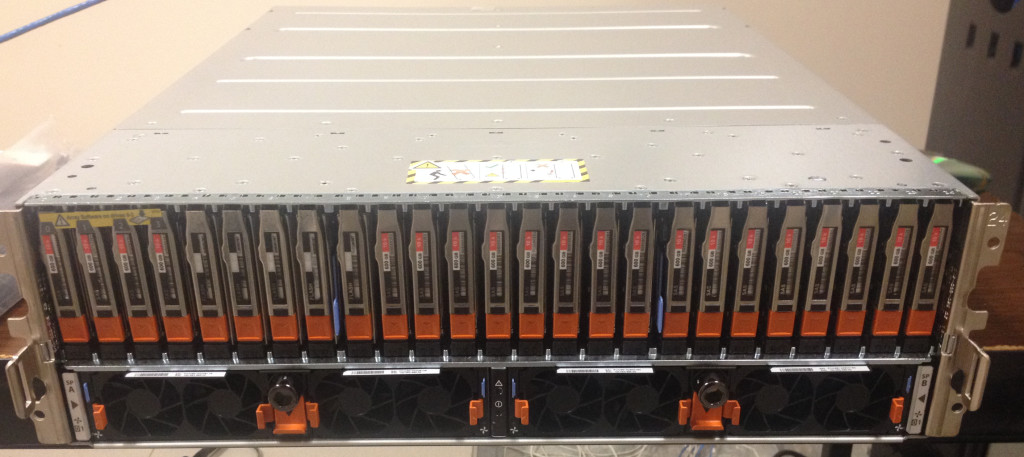 Ok now for a closer look at the rear of the "A" side.  (remember for a bigger version just click any of the photos) If you look at the top middle of the photo you see two small square connectors, these are the new back end bus ports. Before the cables that connected the shelves together were the same size on both ends, but now the cable that goes from the DPE to the first shelf on both bus 0 and bus 1 will require a special cable with this smaller end. (See the next two pictures for a close up of this cable). And in the picture directly below you can see this system is configured with only a single 4 port 8Gb Fiber Channel module.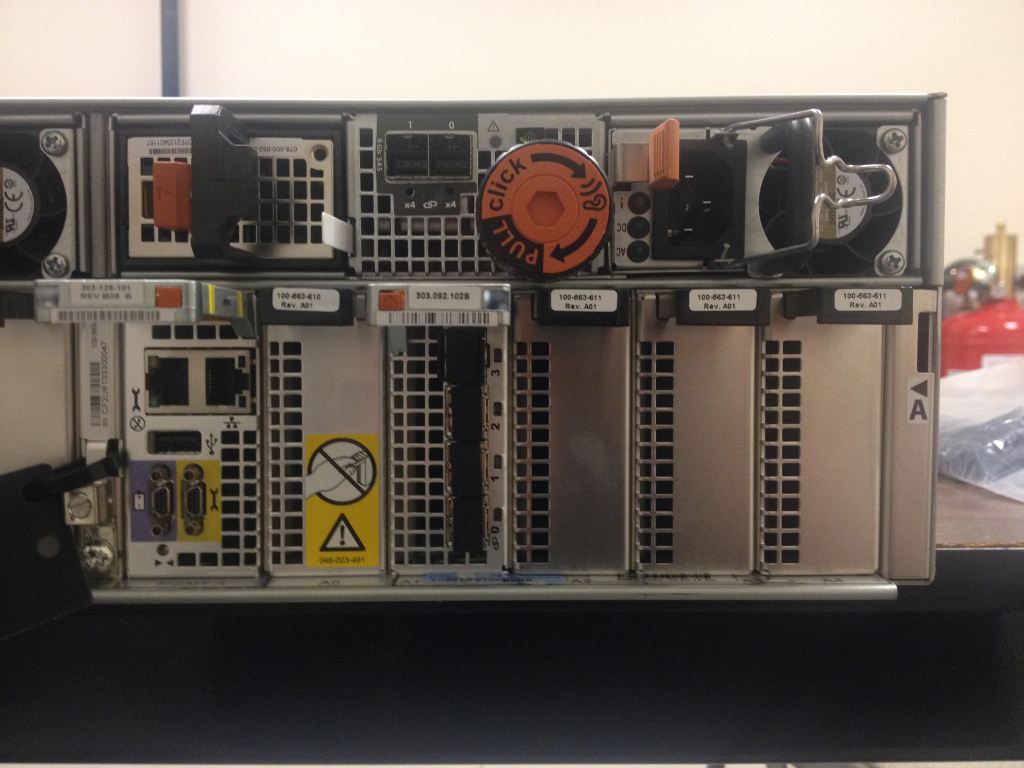 One view of the new bus cable.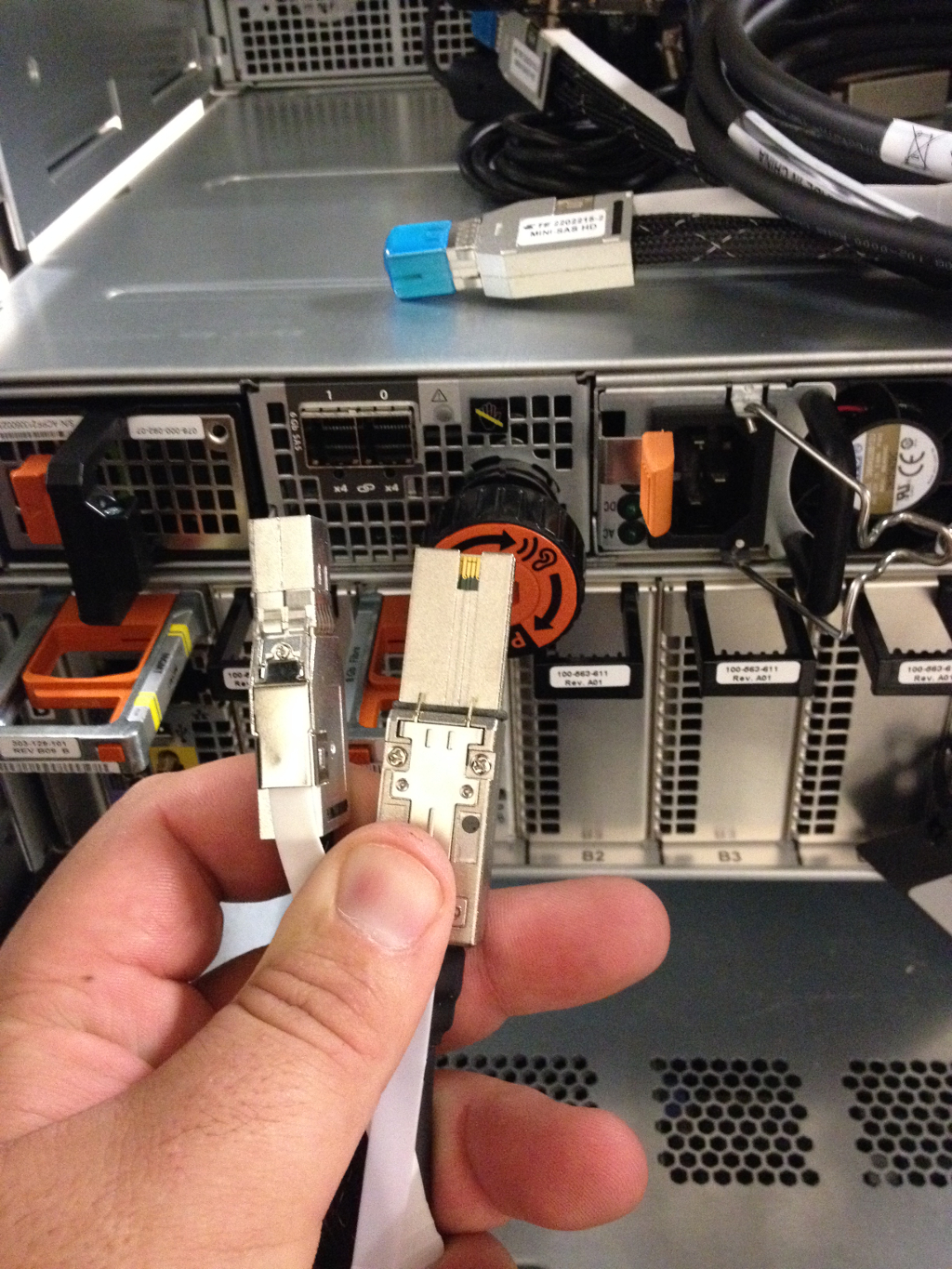 And another.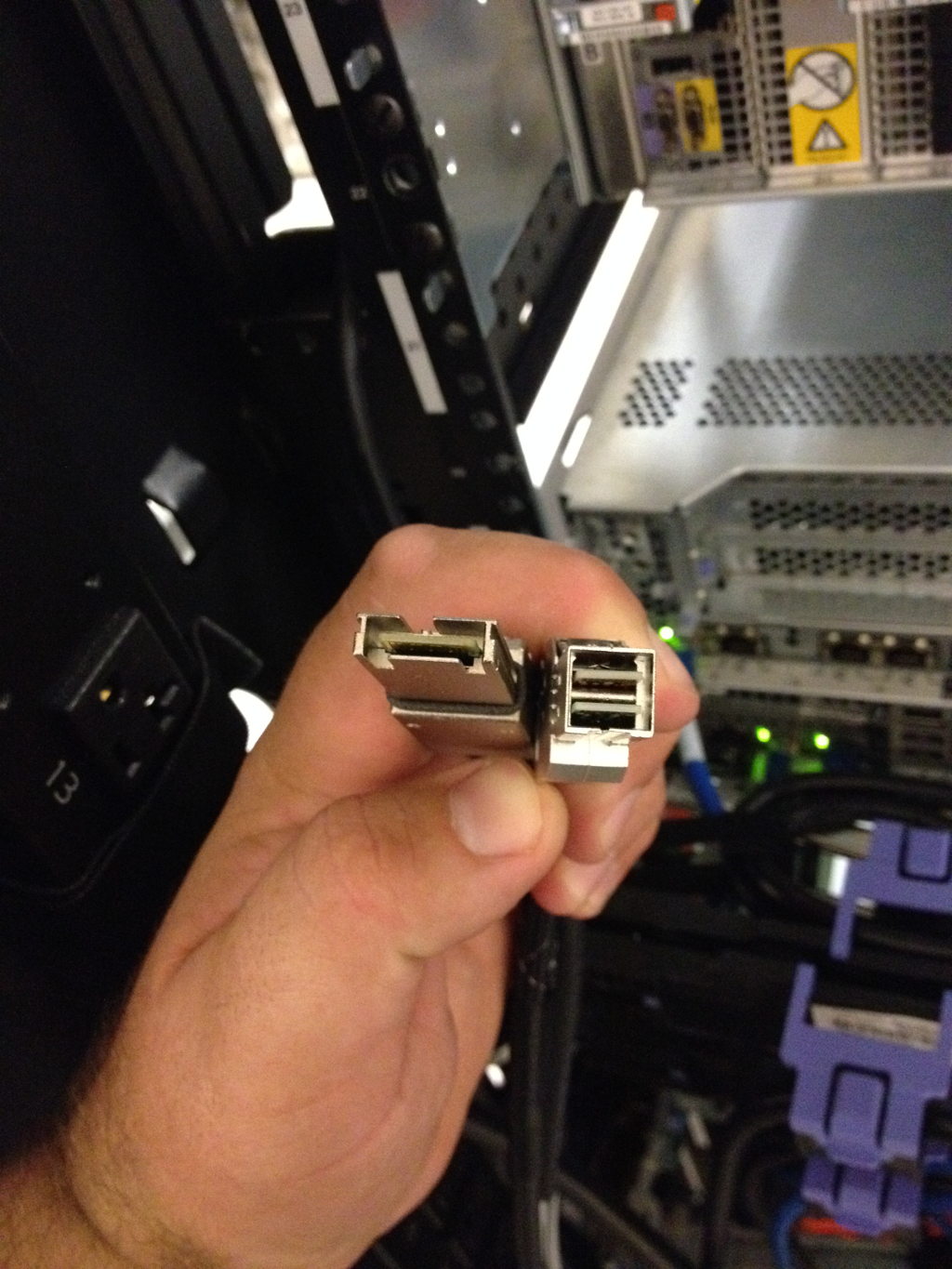 Ok so next up is the power supply and cable for the front face plate light…. if you dont install this the system will fail to be awesome (im kidding of course). But yeah, this little guy gets plugged into the rail (yes the rail holding the DPE into the rack) and feeds power to the front face plate to you get the bad ass blue light seen in the next picture.
Front face plates after receiving power from above power supply and cable.
Lastly I wanted to leave you with some better pictures and stuff, but I could not find any visio stencils, all I could find were some pictures from the Chinese EMC forums. I included them in the gallery below. Stay tuned, I will post performance numbers of this system as well, but in another post.