It looks like there is a new member of the VNXe family, a block only version of the VNXe3200. There are also some hardware differences too:
VNXe3200 has 4 copper RJ-45 ports (per SP) that can be 10Gb iSCSI or 10Gb File (NFS / SMB); VNX1600 has two CNA's (10Gb iSCSI / 4/8/16Gb Fiber Channel) per SP. If you want 1Gbps Ethernet then you would need to purchase the 4 port eSLIC shown below in green.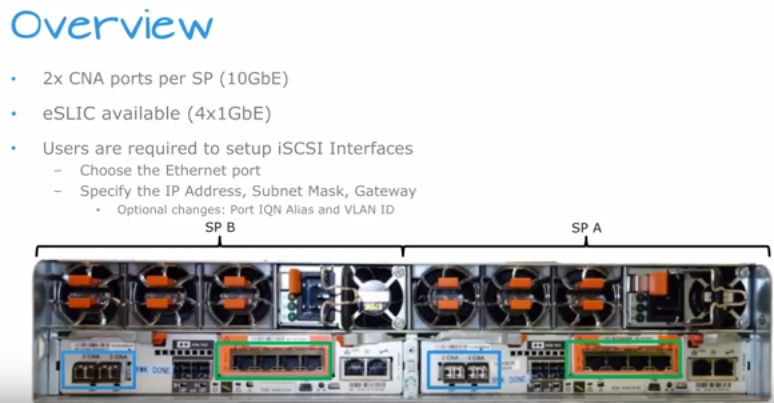 Here is some more detailed information on the VNXe1600 via EMC marketing material:
My take
I think this will make a great addition the line up, while the VNXe3200 was cheap… it wasnt cheap enough in some cases. In fact I was doing some research for a small company a couple of weeks ago where the VNXe3200 would just barely fit in their budget, the VNXe1600 will be perfect, some sites are saying usable configurations as low as 10k.
Right now with a VNXe3200 with just a couple drives and some fast cache you would be around 20k… so if all you need are the block features to hook to your VMware cluster than dropping that by half will be pretty awesome. Up until now that has been an area that only Dell and HP have played in with their MD and MSA lines.
Unfortunately with my moving onto the vendor side, and not working for a reseller anymore it may be some time before I get to check one of these out first hand.