The VNXe1600 is the block only version of the VNXe3200. For SMB sized VMware environments this is the perfect storage array as it allows the customer to add FAST Cache, it allows them to mix and match drive and raid types, and it is easily expandable if needed.
Recently I was configuring some boot LUNs and a VMware datastore on a brand new VNXe1600 and thought I would share the process. It's pretty quick and very easy to do, especially if you are doing direct attached Fiber Channel servers (remember this guy only has 2 CNA ports so only two servers can be direct attached without a switch.)
This article doesnt show you the complete storage setup and assumes that Storage Pools have already been created. If you have not already created storage pools, do that first.
The first thing we need to do is make sure that the server we want to present storage to is configured as a host on the system. If you browse to the Initiators page under Hosts you will see what initiators are registered (green check marks) as well as which ones still need registered (yellow exclimation marks). To register a host go back up to the Hosts page and select Hosts, then run the wizard to add a new host.
[stextbox id="alert"]If you are configuring a new ESXi host to boot from SAN you cannot use the VMware Host wizards to discover the hosts as vCenter will not yet know about them. So you need to use the generic host wizard to add them in. Later on you can add vcenter to the SAN and it will find the ESX hosts just fine.[/stextbox]
Adding a new host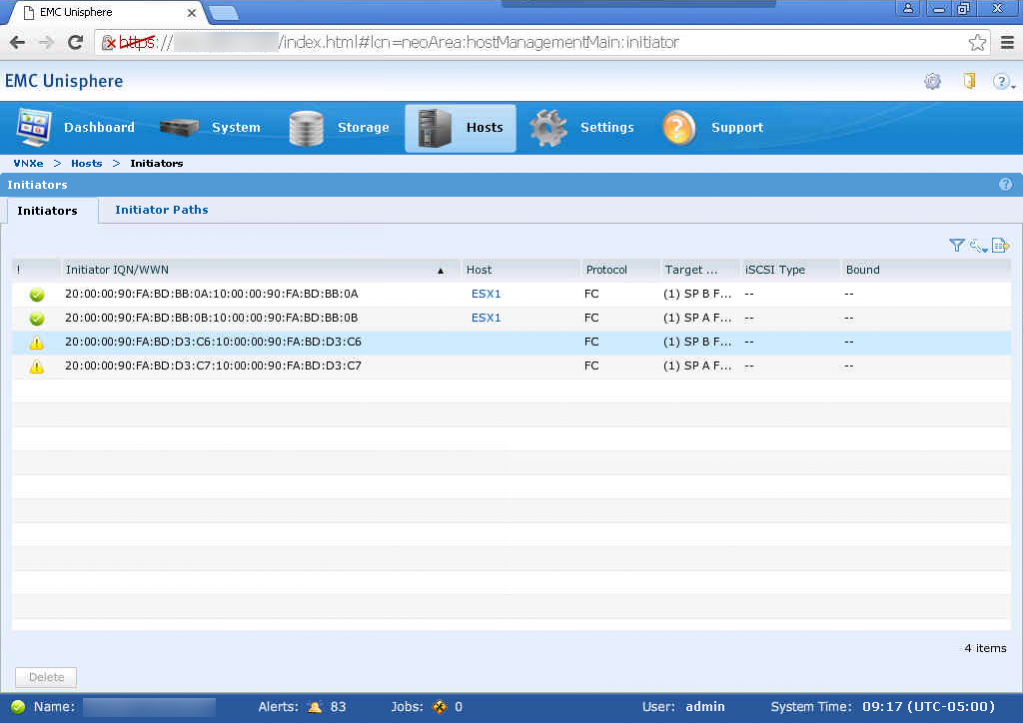 The first step in the Host Wizard is to give the host a name, this is just a friendly name so you know what your working with. It doesn't need to be the FQDN.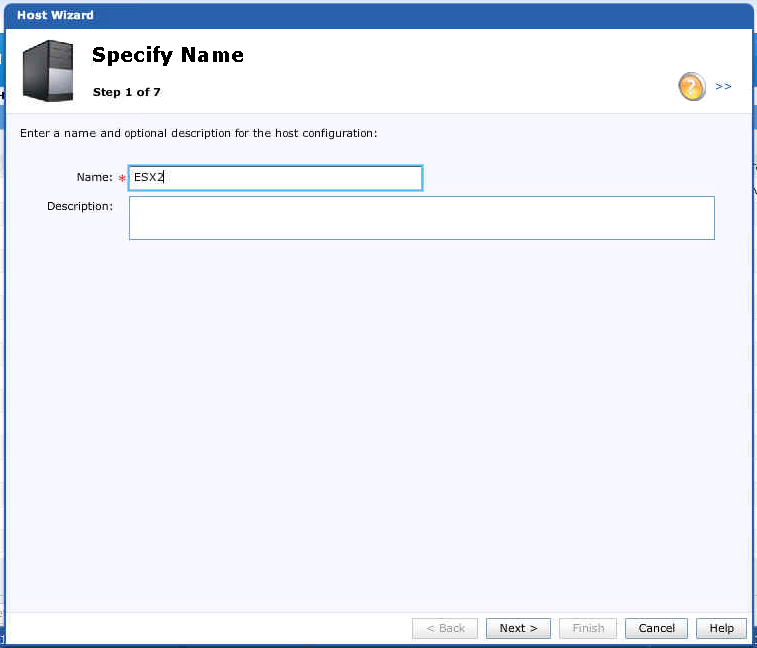 Next select the operating system that closest matches what this host is. (Again if you are booting from SAN and this is an ESXi host, ignore the warning to use the Find ESX hosts option.)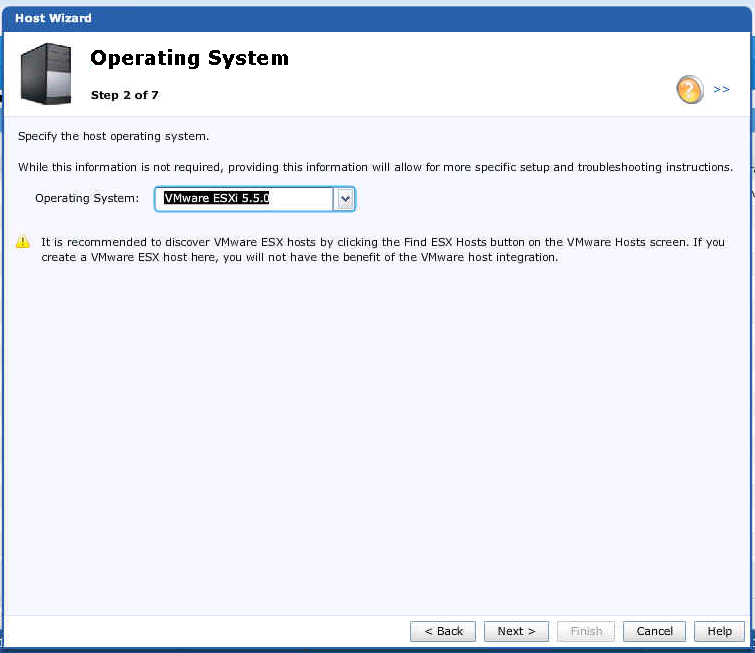 Enter the IP address or hostname.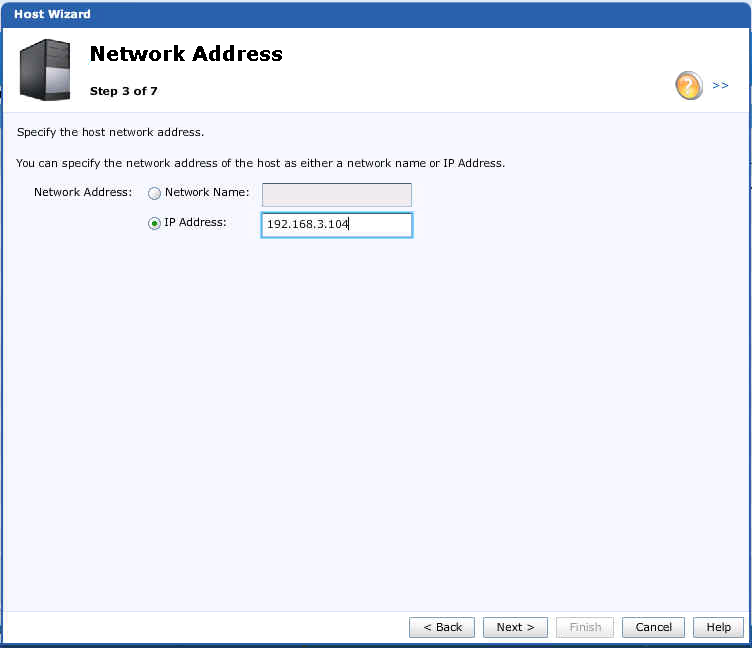 If its an iSCSI host you will need to add the iqn information, for my Fiber hosts I skip that step and then select the two initiators that relate to this host.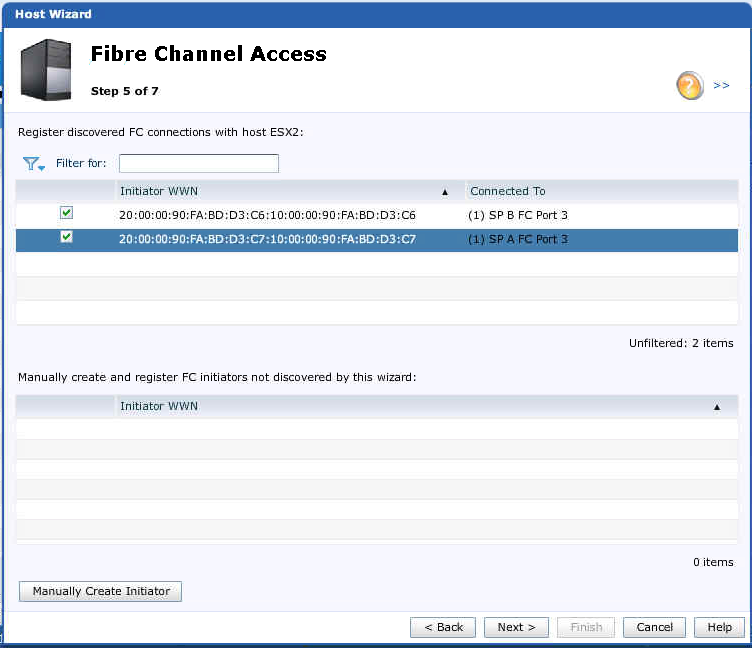 Then on the summary page I click Finish.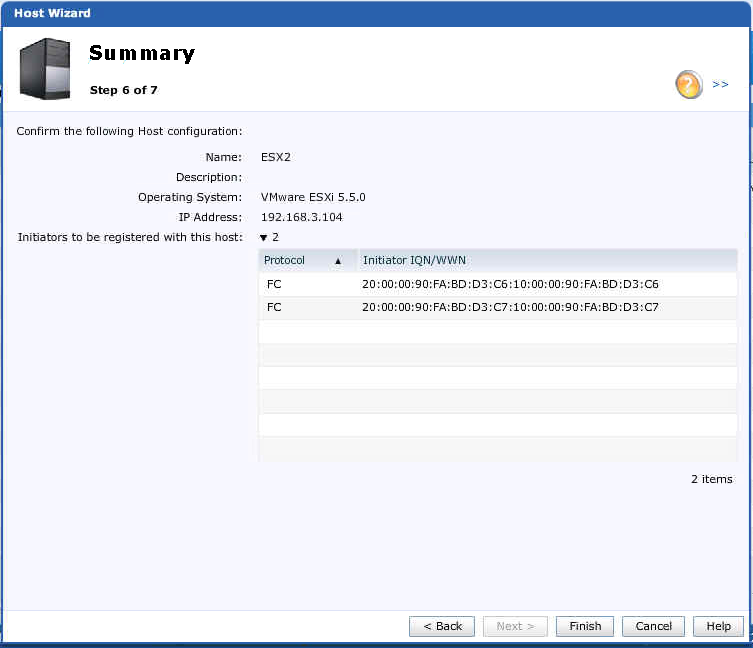 The wizard will then report its progress as its completes the steps.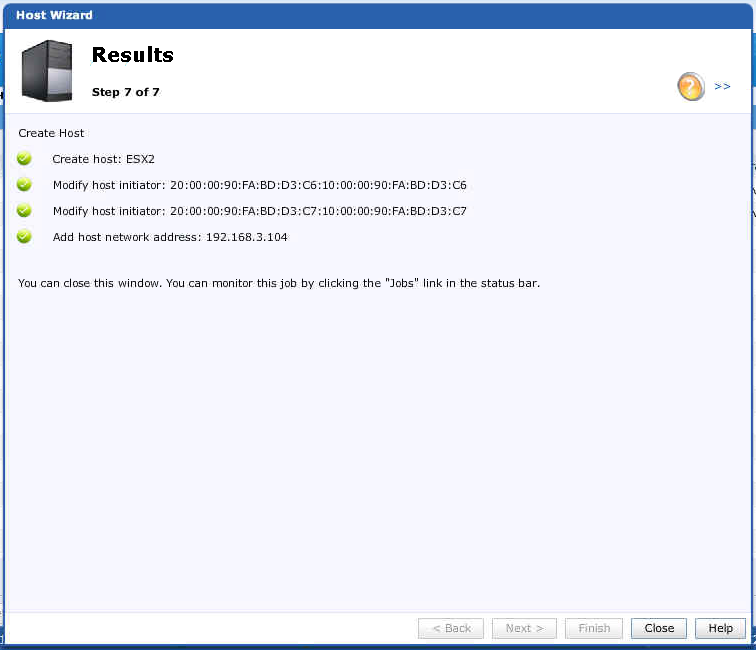 Creating a LUN for VMware
The VMware datastore wizard can be found under the Storage page. Click VMware and then Add to start the wizard.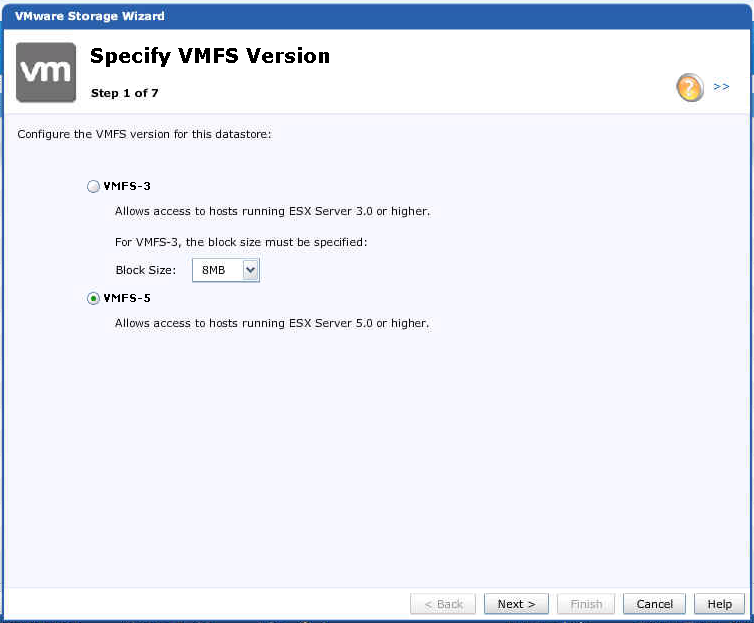 Give the datastore a friendly name, make it the same as you would inside of vCenter for simplicity and easy troubleshooting down the road.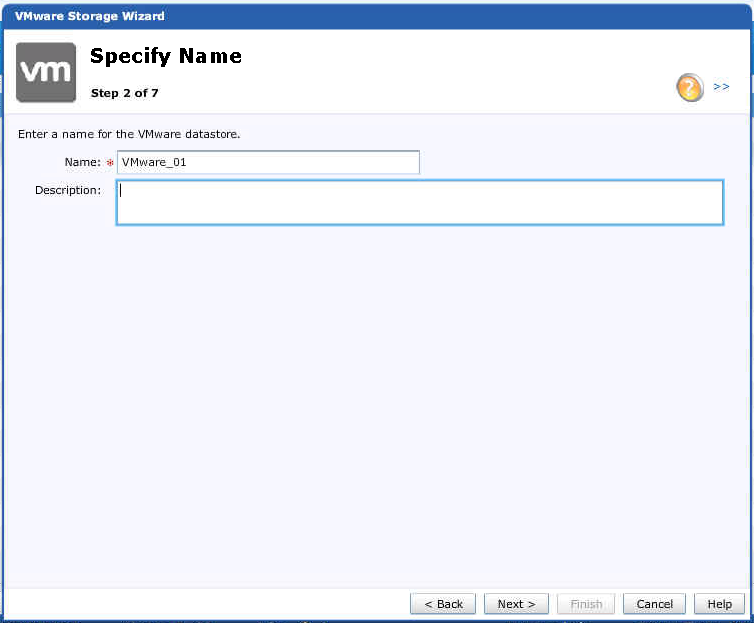 Then pick what storage pool you want to get the space from and specify a size and whether to be thin provisioned.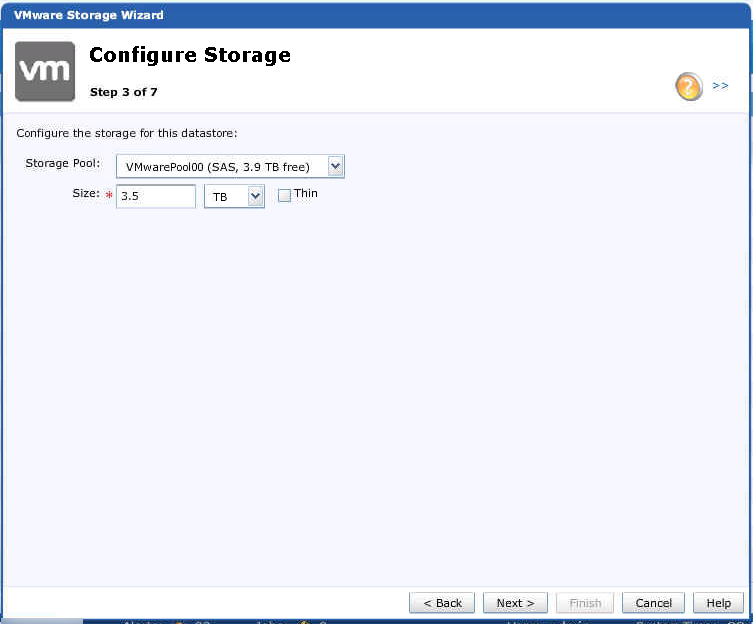 If you do not need snapshots because you are protecting your data some other way, turn it off to save storage.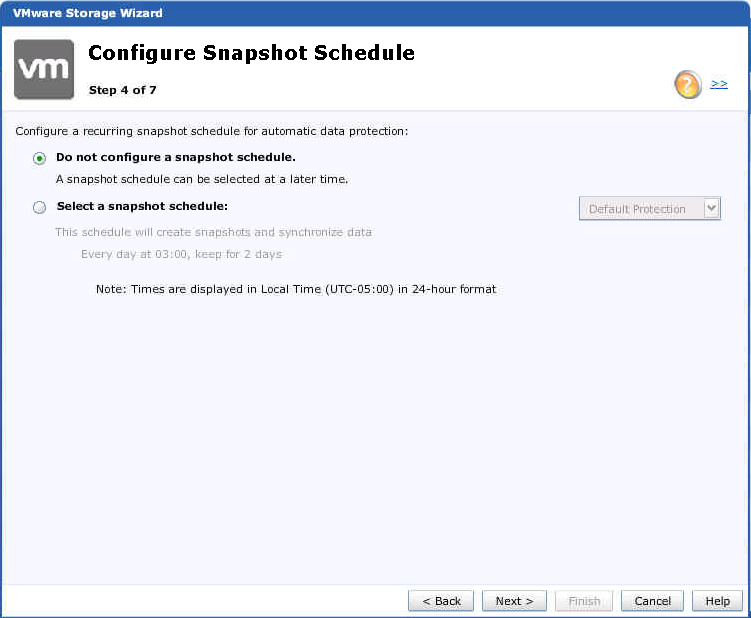 Then tell the VNXe which hosts should be able to access the LUN. In most cases all your VMware hosts will need LUN access to the datastores.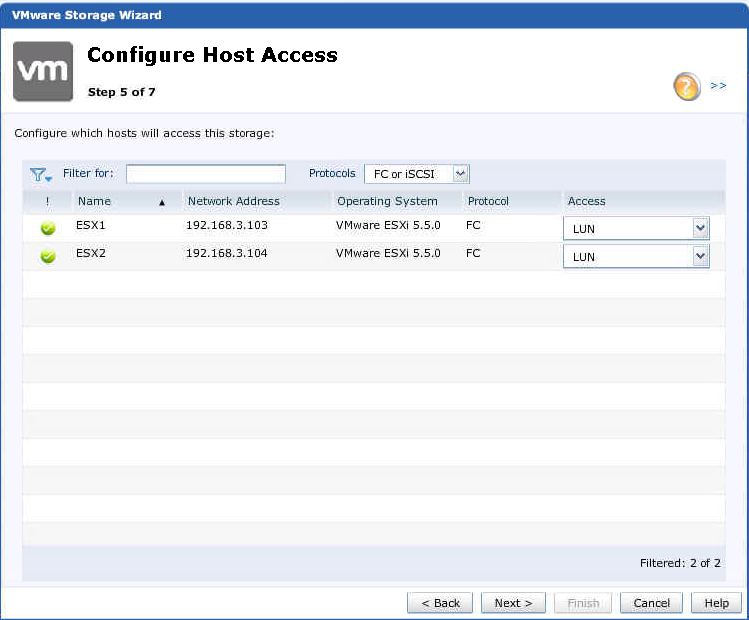 Click finish on the summary page.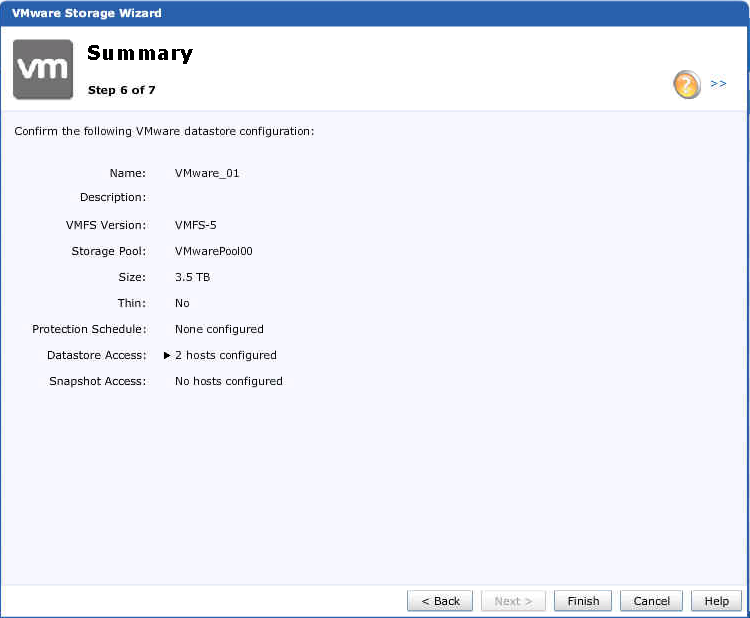 [stextbox id="warning"]
Note that for Boot LUN's you will want to allow only the host using it to boot up to access it. Each host should have its own boot LUN.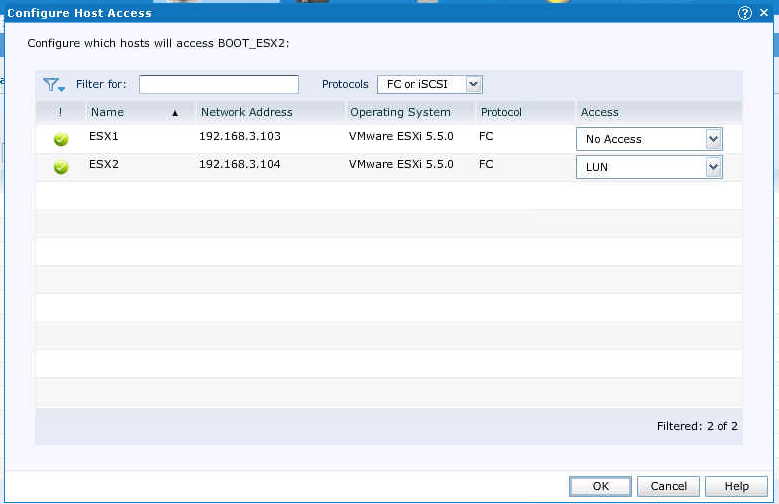 [/stextbox]