I thought I had settled on Office 365 + OneDrive on each of my PC's but lately sync issues with various office documents has been ticking me off. Then this afternoon I ran across an older email from CloudBerry about their recently release Box program.
So I downloaded the free version and gave it a go, back-ending it with some storage from my free MSDN based Azure credits 🙂
It took all of about 30 seconds to install it, and setup was super simple.
After the initial install you need to select a type of registration (free or pro) and enter your email and a name. They will then send you a code and you need to paste that in. Once that part is complete the control panel will open and you can select a storage provider, I choose Azure. Then I went over to the Azure Control Portal and create a new storage account and a new bucket inside of it. I copied out the shared key and the account name, both of which I plugged into the control panel.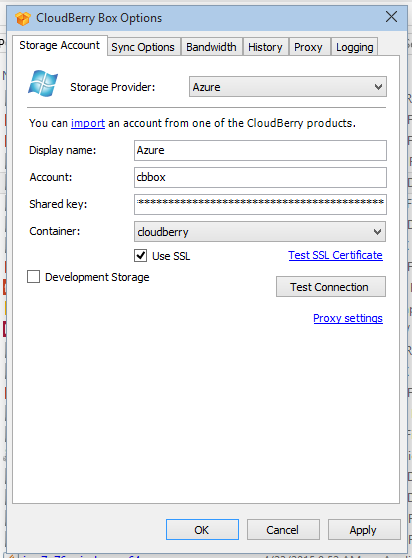 You click Test Connection, make sure that works, then select a Container name and click OK… That's it!
After that I dumped some files into the CloudBerry sync folder and magically they showed up on the other PC I had installed the client on… Ill update this post in a few weeks with my experience, and also once the encryption features are available.