This may also apply to the UCS 5108 chassis in general, but as of writing this I haven't had a chance to check one.
So here is the back of the chassis. And I figured common sense would say keep the two power ports on the right going to the right PDU, and the two ports on the left going to the left PDU… sounds logical right ?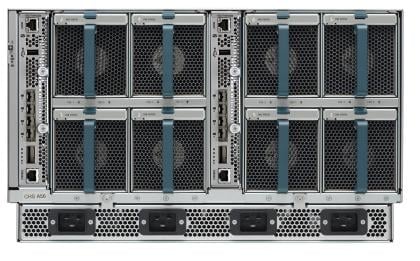 Well it turns out that the power supplies are labeled 4, 3, 2, 1 … meaning the one on the left is PSU 4, and the one on the right is PSU 1. So when the chassis figures out that it doesnt need all 4 PSU's online it will start putting PSU's in power save mode from left to right. So PSU 4 is the first to go into power save mode, then PSU 3. (Note that by default with an N+1 redundancy policy there will always be at least two online)
If you have all 8 blades, or in my case 6 on this last install, powered up this isn't such a big deal because the chassis lights up at least 3 of the 4 PSU's. So if you cable the power like i mentioned before you have two feeds coming from PDU A and one from PDU B. HOWEVER if the chassis puts both PSU 4 and PSU 3 into power save mode you are effectively drawing power only from PDU A. But what if you lose PDU A???? Will the other two PSU's come back online fast enough to prevent power loss to the chassis ?
I wasn't sure, so I went with the safe bet. I cabled the PSU's circled in blue to PDU A and the ones in red to PDU B. this way there will always be at least one PSU on each PDU.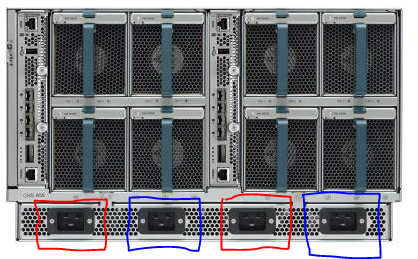 Next time I have some extra time to mess around I will do some real testing to see if the chassis goes offline during a PDU failure if cabled the first way.
Also, I guess that I should note that the reason this concerns me more on the mini than a normal 6200 series FI setup is because the FI's are in the chassis. So if you lose power and those FI's go offline you would probably be down for a decent amount of time while the FI's boot back up and then the servers power on, and traffic forwarding resumes.