Veeam is a disk to disk backup solution which makes restore times much faster than tape backups, but one of the drawbacks is the massive amount of disk space required to keep full backup images for long periods of time (as with any disk to disk backup software). Many people I talk to don't realize that if they keep a month of tapes, and their full backup is 500GB (for example) then when they move to disk to disk backups they will need over 2TB of disk space. And of course as your retention period grows so does your disk space requirements.
So what is EMC Data Domain? Data Domain is a product which involves both hardware and software, it comes as a 2u or more hardware appliance which has their deduplication software running on it, it is linux based but provides CIFS, NFS, and VTL interfaces for getting your backup data on to the appliance. At its most basic definition a Data Domain is just a linux box with hard drives in it that stores your data…but its the compression and deduplication software they have on it that makes it awesome.
So how does it work with Veeam?
In version 6 of Veeam Backup and Replication we were introduced to the idea of Backup Repositories, and a Backup Repository is nothing more than a destination for your Veeam backups. A repository can be a CIFS share, a Windows local drive, or a Linux Server; when using a Data Domain we will use the CIFS server option. More on how to set up a repository in a minute, but first lets look at how to set up the Data Domain Side of things.
Step 1. Create an MTree
Think of an MTree like a directory, data is stored in it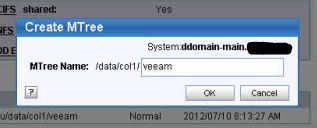 and it can be shared via CIFS protocol. To create an MTree we login to our DD Appliance and go to "Data Management -> MTree", there we click "Create" and the only thing we need to do is fill in the name of the MTree we want to make. You will want to make a note of your MTree name for when we create the CIFS share, in this case the name is "/data/col1/veeam".
Step 2. Create the CIFS Share
After our MTree is created the next step is to share it via CIFS so that Veeam can see it, to do this we click on "CIFS" under Data Management, then select the "Shares" tab. After clicking create you will see a box that asks for the share name (can be whatever you want), and then the directory path… this is where you will paste in what you copied down earlier, it should look something like "/data/col1/MTREE_NAME_HERE". Finally the last step is to tell it which hosts can access this share, normally by default no one can access a share unless you allow it. For Veeam we need to add ALL of our Veeam proxies that will directly connect to the share into the list, in this example I have added veeamprxy1 and veeamprxy2 which are my proxy host names. If you did not give your DD appliance a proper DNS server you will want to use IP addresses here instead of host names.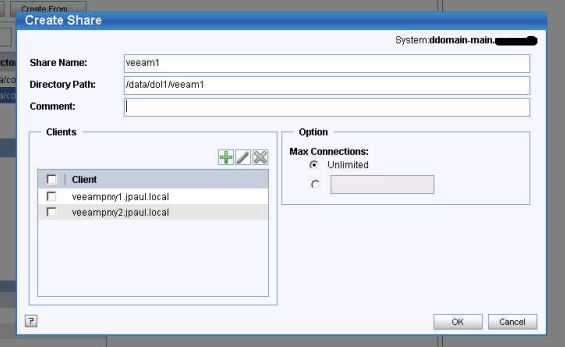 Step 3. Add a Repository in Veeam
The last thing to do is to tell Veeam about the new CIFS share; to do this we go back to Veeam's Infrstructure section and click on Backup Repositories. From this area we can now add a new CIFS share from the share name that we created on the Data Domain, the only other information you will need is the IP address of your DD appliance which you should already know since you were accessing the web interface to set up the share ;).
3a. First name the new repository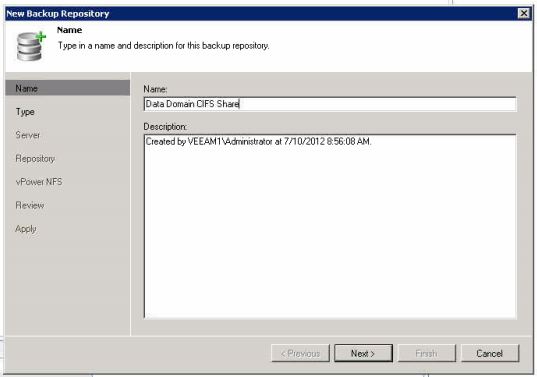 3b. Select CIFS as the repository type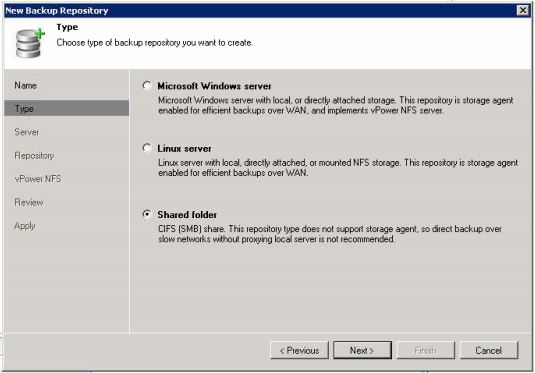 3c. Enter the UNC path to the CIFS share on the DD appliance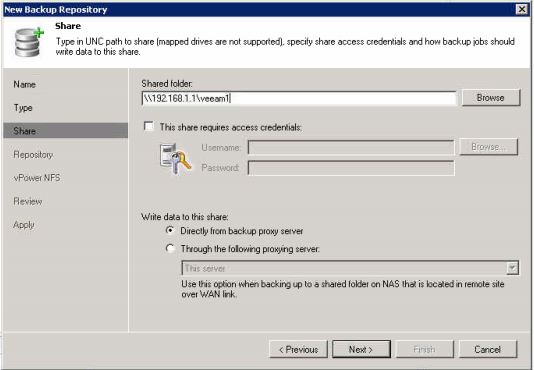 After that you can just click "Next" through the rest of the steps to complete the wizard and add the repository to Veeam. As a bit of troubleshooting on the page right after the one shown in the last screen shot (called "Repository") you can click on the Populate button, if nothing shows up then you probably do not have the proper IP address in the dd appliance to allow this host to talk to the share. If it does populate though, then you should be good to go.
I almost forgot the "Why"…
Because Veeam uses session based dedup and compression we end up with a full backup each week (which is a good thing); the downside however is that we need a bunch of storage to keep many weeks of backups. When we add a Data Domain or other dedupe appliance to the mix we are able to deduplicate those full weekly backups and only store the unique blocks one time. So for any type of long-term retention a dedupe appliance is the way to go. Also because the Data Domain is able to further deduplicate and compress the data it makes it great for replication backup data offsite.
You might ask yourself "Why do I need to replicate backups offsite if I have Veeam replicating my VM's to a DR site?"; which is a whole different post all in itself, but I would leave you with this question. If you have a disaster and lose your main site and your main Data Domain Appliance you would fire up your Veeam Replicated DR site VM's and get back up and running, but what happens when the CFO or CEO comes to you and says I need these files from 2 weeks ago? That is where a second Data Domain at your DR site holding a copy of the last month or two of Veeam backups saves the day.
Links: