Now that Veeam Backup and Replication 6 is out we can start talking about the best way to setup your Disaster Recovery site replication. Because of all of the new things included with Veeam 6 there are a couple ways we can do replication now so the idea behind this article is to show you the best way that I have found to do it with ESXi 5.0 and Veeam 6.
Let's first rewind and take a look at the old way and the challenges associated with it so that we can better understand why we will be doing replication a specific way with V6.
Let's Rewind
So back in the day, you had two choices from VMware… ESXi and ESX, with its service console. So when you are using past version of Veeam you can replicate to either ESXi or ESX, and when you replicate to ESX you had the option to replicate using the service console, this made replications much quicker. I don't know the in-depth details but I would assume that it is because all traffic would be forced through the network stack on ESXi (which has limited resources) and on ESX the traffic was pushed through the disk stack which is much more robust, not to mention that the service console has many more resources at its disposal. The bottom line was that if you were replicating to a DR site, and wanted to achieve speeds greater then 10-15Mbps you needed to use ESX and the service console method.
Obviously, if you were going to be replicating to ESX that means that your VM's could be a maximum of Hardware Version 7… which in turn means you would not have been able to upgrade to vSphere 5 (or at least not be able to replicate those VM's on hardware version 8). So in order to allow customers to upgrade to vSphere 5 and start using ESXi 5.0 hosts at DR sites while maintaining fast replication speeds Veeam utilized its new "Backup Proxy" technology in place of the ESX 4.x Service Console. (It should be noted that Veeam Backup Proxies can be used with older versions of vSphere and even VI 3.5 as well, I just mean that since there is no ESX 5.0 it allows you to move to ESXi 5 easier)
Fast Forward back to present time.
Now that we understand why the service console was important it's easy to understand why Veeam needed that Windows Backup Proxy at the DR site. It allows them to send Veeam replication traffic from one Backup Proxy at your main site across the WAN to a backup proxy at your DR site… then the DR site backup proxy can push the data down to the SAN or local storage through an NBD transfer method without using the ESXi kernel.
How it looks
If you are planning your DR strategy with Veeam then the following picture should serve as a good reference. It really doesn't matter if you have one host at the DR site, or if you have several ESXi servers with vCenter too. For simplicity, the picture below is just going to have one ESXi host.
(Click to enlarge)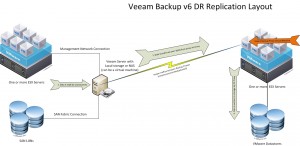 So how do you make it happen?
I will assume that you already have Veeam Backup and Replication 6 setup and have at least one backup proxy at your main site. I will also assume that you have an ESXi 5.0 host setup at your DR site with at least one datastore to replicate data to. So let's get started.
Step 1 is to create a Windows virtual machine at your DR site. This just needs to be a generic Windows install, nothing special, the only thing I did was turn off the firewall so that it was easier to install the Veeam Proxy Agent.
Step 2 is to install the Veeam Backup Agent on the new Windows virtual server. To do this login to your Veeam Backup server and bring up the console. Then click "Add Server" and select Windows Server.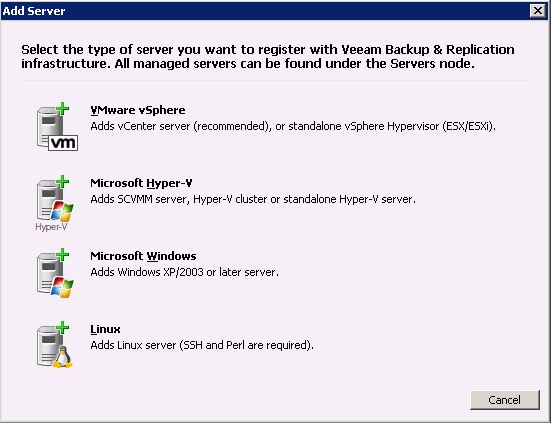 Enter the required information and click on through the wizard. After adding the server we then have to make it a proxy. This is done by clicking on the "Backup Proxies" section on the left, then on the right… right click and select "Add VMware Backup Proxy". Select the newly added server from the top drop down menu, and then enter the remaining information that the wizard asks for. You should now have your DR backup proxy added.
Step 3. Now we need to add our ESXi (or vCenter) server from the DR site to Veeam. Click the "Add Server" button at the top again, and this time choose VMware vSphere. Just like before follow the wizard but enter the information for the ESXi Server at your DR site.
Step 4. Now we can create our replica job. To do this click "Replication" in the top. Follow the wizard and when asked what destination to use select your DR ESXi host and the appropriate datastore at the DR site. Then click next, on the Job Setting's step is where we need to make some changes.
On this screen we are going to tell the job that it can only use backup proxies at the main site as a "source" proxy, and only backup proxies at our DR site as the "destination" proxy. This is what is going to get data over the WAN the fastest. In the screenshot below I have selected all of the proxies at my main site, which is why it says "Multiple proxy servers" and my DR proxy server is the 172.16.60.32. Now we can click next through the rest of the steps and then start our replication.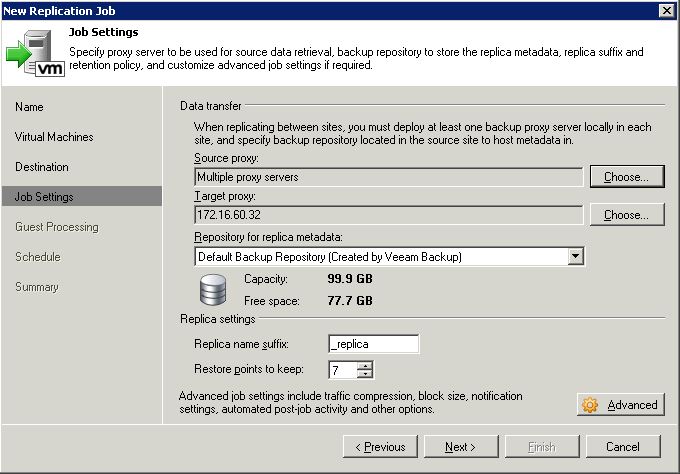 After finishing the rest of the wizard (typical stuff like windows credentials for VSS etc) you can start your first replica job.
If you have any questions let me know. I am starting to put together an article on how to take advantage of the other new replication features in v6 like the "Limited Bandwidth" setting, and the new options that allow you to have Veeam change your IP settings at the DR site. Stay tuned.