While at the office today I saw a new HP box sitting on the bench beside of mine and after taking a look at the label I found that it was a t5745 terminal with the HP ThinPro OS. I checked with my co-worker to see if I could open up the box and see how hard it was to configure.
I should mention that the only other terminal that I have used with VMware View has been the Wyse P20 (Which I have a review post started… but need to finish it). But this is the only terminal I've used that decodes the PCoIP stream in software.
Setup
So the terminal boots up a basic Linux GUI with just the HP branded software installed. It also comes with a very nice little connection manager which allows you to easily add connections to many of the different protocols.
Honestly, I am not interested in the RDP or ICA capabilities of this thing… all thin terminals do those things… but not many do PCoIP (well). Adding a VMware View connection was pretty simple as well, after clicking on the VMware View under Add, there is a simple wizard for doing so.
Step 1. Enter Server address and username and password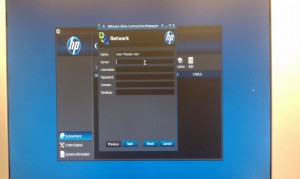 Step 2. Choose if you want to log in automatically and if you want to use SmartCards. It also provides a place to enter command line arguments.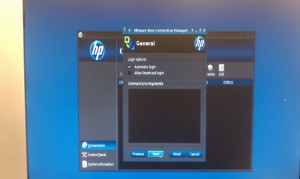 Step 3. Select the RDP options you want to use…. but im not sure if these apply during PCoIP operations or not… my guess would be not.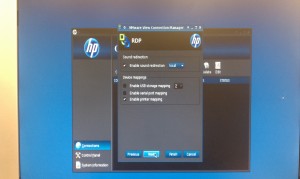 Step 4. This is just the advanced options like "Auto reconnect" and stuff like that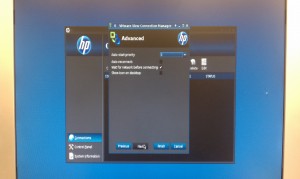 That's it for setup. A little more complex than the Wyse P20, but sometimes it's nice to have access to all those options.
Review
I added a connection to my VMware View broker which is co-located about 30 miles from the office where I work. When doing file transfers to my FTP server I normally get 2-3MB/s (upload and download) so I figure my View session will have access to about 16-24Mbps.
Anyhow, the first test I always do after logging in and letting things settle down for about 5 minutes (because I know that another desktop is booting in the background to maintain the number of always available desktops that I have set up), but once that is done I navigate over to YouTube. Our personal favorite at the office is the "Annoying Orange" video … it gives us a great video to see if Audio and Video are in sync.
When we played this video quality wasn't horrible, but the audio and video were out of sync. Again… not a lot, but enough to be annoying. When I did the same thing, on the same View Desktop, with the Wyse P20 terminal audio and video were perfect… you had no idea you were on a terminal. So my best guess is that because the HP terminal is not using the Teradici hardware decoding chip, and instead of doing it in software on the Atom CPU, it is CPU bottlenecked. I should mention however that for normal applications like Microsoft Office and Internet Explorer there were not any major issues. Sometimes flash animations would get behind a little but everything was acceptable.
Updating the terminal was very easy, I just had to jump into admin mode and run the wizard which did all the work for me… looks like it just runs an "apt-get update" then "apt-get upgrade". But when I first booted up the terminal it had the 4.0 View Client on it, after updating the latest I could get to was 4.5.
Overall I would say that if you need maximum performance and need to have the best audio video experience you can get from a virtual desktop you may want to pass on the HP, but if you are looking for a cost-effective solution to do business apps on a virtual desktop this terminal gets the job done.