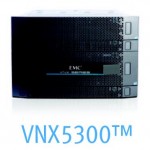 I have worked with several EMC SAN's as well as a slew of SAN's from other vendors, but I had not yet gotten the opportunity to mess around with a VNX5300 before last week. This SAN is for an upcoming project I will be installing so I figured since I wanted to make sure my Fiber Channel Kung Fu was good to go, I went ahead and racked this guy up in our datacenter.
I started racking gear about 5pm, and by 645pm I had a Virtual Machine running off the SAN! In that (almost) 2 hour time block I was able to rack the SPS, DPE, two DAE's, and an HP DL360 G6 Server. This particular SAN has 10 – 600GB SAS drives and 26 – 300GB SAS drives in addition to the 4 Vault drives. It uses 8Gb Fiber Channel as its fabric and has one 4 port 8Gb FC module on each controller in addition to the 4 on board ports. I'm also pretty sure there is a V8 engine inside of it somewhere as well.
Anyhow 🙂
After starting everything up I took a look at the Liebert nFinity 10kVA UPS that it was plugged into and the load had gone up 15%! Clearly, this isn't a Prius… but let's face it… it is faster than a Prius! VMware ESXi 5.0 was already installed on my DL360 host, so the next step was to go run the deployment wizard from my laptop.
The wizard literally takes 5 minutes, then the controller's reboot, and then you're in business. Plus these things come with Unisphere which is light years ahead of the old Clariion and Celerra management tools. The next thing I did was add my ESXi host to Unisphere, to do that I put in its IP and it instantly found which Fiber Channel ports on the SAN the host was plugged in to. (I love the vSphere integration these things have)
I also created two storage pools, one that was RAID 10 and one that was RAID 5, I put a stupid amount of drives in them because we both know I'm going to run IOMeter 🙂 on this guy later. Out of those two storage pools I created 1 LUN in each (I had room to create more, but this is just for testing).
All that was left to do was create a Storage Group so that I could tell it that my host was allowed access to my two LUNs. After doing that I rescanned my Fiber HBA in the DL360 and both LUN's showed up and I was ready to go.
I have set up a VNXe series SAN before, but this was my first VNX and I must say that I think the VNX was easier than the VNXe! LOL, The only thing that took me a couple minutes to figure out was how to provision the Cache memory to either Write or Read, but after I found the area for the setting it was easy to provision.
As I said before I did run a couple IOMeter tests on this guy and I must say that it is stupid fast! But I will wait to post those until I have it onsite with all the host's setup on it and get some good numbers.
Overall this SAN looks like the nicest one I've gotten to mess with yet!