As part of an upcoming HyperV project, I was tasked with installing 2008 R2 Server Core with the HyperV role on an HP DL360 G7 server.
So I started out by loading the Windows OS just like normal… with the HP Smart Start Boot CD, the only difference was that I selected the Datacenter "Core" install instead of the normal GUI install. Then I sat back and waited after it was done I logged in and installed the HyperV role as well as joined the machine to the domain. I was able to remotely connect to the server and create a virtual machine to install SCVMM on (which wasn't too hateful).
But then I got to thinking… Can I only assign one NIC to a virtual network? What the heck !?
Obviously, with the GUI installed I would just Team the NIC's with the HP tool and be on my way… but how the heck was I going to team the NICs when I had no GUI to run the tool from?
Well after some checking around other sites I read that the HP Network Config Utility was installable on Server Core and could be launched, could it be? Plus because I used the Smart Start CD there was no need to go out and download the software and install it because it was already there, I just needed to run the following command:

Then after a short pause, I was presented with: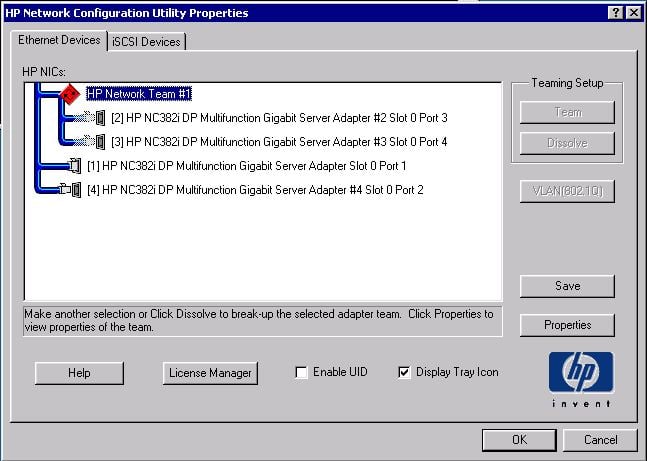 After that, it was pretty easy to set up a team with NICs 3 and 4 on the server! After doing that the NIC Team was available to assign to a Virtual Network.
The two problems with this method of teaming the NICs:
There will be finger pointing when it doesn't work (Microsoft <—> HP) and we all know how well HP NIC teaming software works these days.
The team shows up as an HP Virtual Adapter #1 in the adapter list… there is no way to tell which nics are in the team, this will make management a pain once you have several teams in the same box.