Zerto Virtual Replication 5.5 is Released!
Yesterday Zerto publicly released Zerto Virtual Replication 5.5 (ZVR) to the public. There is already a slew of great blog posts about the new features:
A quick Google search will turn up plenty of others as well, but most are just listing out the same information you can find on the official launch page over at the Zerto.com.
Therefore, instead of doing another "what's new" blog post, I thought I would post my "insiders" take on the new features in version 5.5.
[stextbox id='info']Fun Fact: ZVR 5.5 was codename Balvenie during development[/stextbox]
New Features in ZVR 5.5
Before I go into the techie details let's review the major new features in ZVR 5.5.
Replication FROM Azure back to on-premises VMware or HyperV
Crazy awesome SaaS Analytics platform
Automated VRA Upgrades
Offical Support for HyperV 2016
Official Support for VMware vSphere 6.5 (although some 5.0 versions also support vSphere 6.5)
A little history
Zerto has pursued the idea of being a "Cloud Continuity Platform" for most of its existence and ZVR 5.5 is no exception. What is a cloud continuity platform? It's essentially the ultimate tool for avoiding vendor lock in. It means that you have the ability to take your data to whatever vendor or cloud provider your want for whatever reason you have.

If we look back at the releases of Zerto and how they build on each other we can see the cloud continuity platform take shape. It also makes it pretty clear why Zerto is an exciting place to work, and why we are growing at breakneck speed.
The Timeline
Here is a rough overview of what the platform's journey has been so far:
2010 – Zerto is in stealth mode… nothing to see here 😉
2011 – ZVR 1.0 – Zerto releases ZVR with ability to replicate between VMware vSphere clusters (one site to one other site)
2012 – ZVR 2.0 – ZVR adds ability to pair many sites leading to multi-tenancy support (cloud providers start adopting Zerto)
2013 – ZVR 3.0 – ZVR adds Zerto Cloud Manager – enabling what would become a Cloud Service Provider network of over 400 CSP's
2014 – ZVR 3.5 – ZVR adds Offsite Backup
2015 – ZVR 4.0 – ZVR adds support for Microsoft HyperV, cross hypervisor replication, and replication of VMware and HyperV VMs to AWS
2016 – ZVR 4.5 – ZVR adds File Level Recovery to the product
2017 – ZVR 5.0 – ZVR adds support for replication of VMware and HyperV VMs to Azure and One-to-Many Replication
2017 – ZVR 5.5 – ZVR adds support for replication out of Azure back to VMware and HyperV
2018 – ZVR codename "Cardhu" and "Dalmore" – TOP SECRET … but these releases are going to be pretty damn awesome!
In short, Zerto supports almost all major private and public cloud platforms and it's done all this in less than 10 years! Oh, and did I mention it does all of this without agents?!?
So now that you know where we have been, let's talk about where Zerto is going next!
My take on the new stuff
Replication out of Azure
This is the first time that Zerto will bring data back down from a public cloud in an automated, low RPO/RTO fashion. In fact, in the testing I've done, I'm able to maintain an RPO of under a minute and RTO's are almost the same as what they from vSphere to vSphere.
Personally, I think that ZVR 5.5 will be the first platform to enable businesses to explore public cloud without any hesitation. Yes, older versions of ZVR would let you dip your toe in the water, but we all know if you are just dipping your toe… there is still hesitation. ZVR 5.5 with Azure not only allows you to dip your toe into the public cloud water, but it also allows you to see how your servers will perform in the public cloud with your real production workload. If Azure isn't what you expect, there is no problem with moving the VM back to on-prem. My prediction: ZVR deployments involving Azure will explode going into 2018!
Improved RTO's for AWS
OK, I'm not going to lie, RTOs for ZVR before 5.5 are PAINFULLY SLOW. But you can only do so much with what you are given. Let me explain. The first release of Zerto for AWS leveraged the "ec2-import" command for importing disk images into an EC2 instance. This is the same ec2-import command that you can run yourself via an API or CLI interface (see here for an example: http://docs.aws.amazon.com/vm-import/latest/userguide/vmimport-image-import.html), but it has some limitations. This tool was meant to be used to import a disk from a CLI or API call, but when Zerto uses it for failover of a multi-VM DR plan you can see why things might get a little slow.
What to do?
Zerto has some super smart developers, and as the saying goes… where there is a will there is a way… and Zerto's team came up with a (better) way. This new method is called zImport, and it is a way for Zerto to import data into an EC2/EBS environment without the use of the "ec2-import" command. It's also crazy fast compared to the other way, and there is really only one downside – cost. zImporter works by spinning up helper instances ($$$) that are tasked with importing a single virtual disk. If you want to import 100 or 1000 virtual disks, Zerto can spawn a zImporter instance for each one, and import all the disks in parallel. In contrast, you can only run a few ec2-import commands at the same time.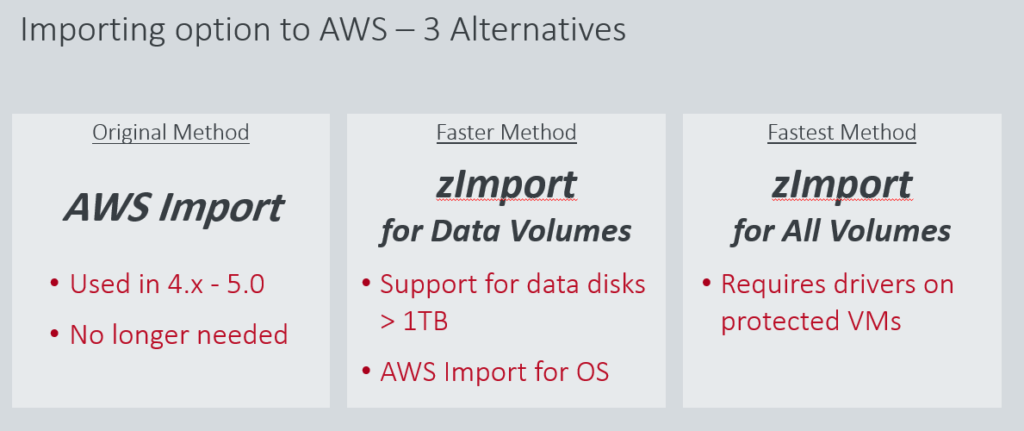 The result is a reduction in RTO from something like 170 minutes to about 26 minutes for a VM with a 50GB OS disk and a 250GB Data disk (300GB total).
SaaS Analytics Platform
If you are a Zerto customer and have not signed in to https://analytics.zerto.com yet, what are you waiting for? This new platform is going to become your new best friend; today it has a single pane of glass view of all of your Zerto installations, consolidated alerting and monitoring, and much more to come.
The SaaS platform was born out of the Zerto Mobile app idea and will become a huge piece of the ZVR suite once things get rolling. In fact, this new platform will include advanced analytics and BI type information to help you plan for capacity, as well as answer management questions of "What has our RPO looked like over the last 6 months". There will also be reports on journal size, future journal size estimates, bandwidth estimation, recovery host capacity estimation and much more. (In fact, I should probably do a whole post on the SaaS portal and what is coming… but first I'll have to figure out what I'm allowed to share)
Why SaaS?
Do you like installing updates each month? If you have been a Zerto customer since the beginning you might remember the monthly updates that Zerto released. For those of you who were not customers back then, Zerto used to have a very chaotic release schedule, and you might find that the installation that you just completed was already out of date within a month. The upside is that Zerto Virtual Replication was maturing at a very rapid pace, but the downside is that most customers don't stay up to date on new releases when you release updates like that.
A SaaS platform is the best of both worlds.
SaaS allows the core product (ZVM, VRAs, ZCAs, etc) to be released on a regular update frequency. In parallel, the SaaS platform, which is just processing analytics data and interacting with API's in the core product; can be updated literally 100 times a day without you ever knowing or caring. This results in a developer making an update to a report, or creating a whole new report… you clicking refresh in your browser… and BAM you have access to it.
That's the power of SaaS!
Automated VRA Upgrades
Zerto has one of the easiest upgrade paths ever but believe it or not, some people forget to upgrade their VRA's after upgrading ZVM. So to help with the process of keeping your ZVR environment all up-to-date the Zerto development team has streamlined the VRA upgrade process so that if you want, you can have the ZVM upgrade automatically upgrade the VRAs.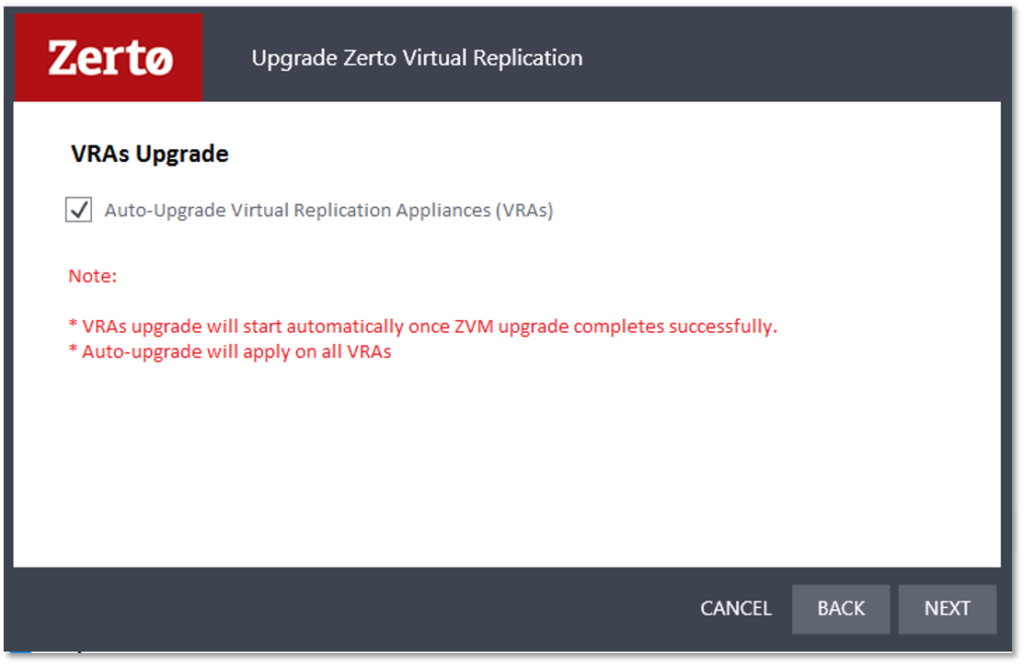 This makes maintaining Zerto Virtual Replication that much easier. (Hint: this might be a stepping stone for some really cool automation to come later too)
Who here loves APIs?
Considering that I hate programming, I have to say that the APIs are one of the ZVR features that I learn without a smile. It's not just the Zerto APIs… it's all APIs LOL, but for those of you who love them, Zerto continues to be an "API first" company. This means that as new features are added to the product they are required to have an API before being added to the GUI.
In other news, Zerto customers are awesome, and Chris Lewis has released a really nice Powershell wrapper module for the Zerto REST API. So if you don't know how to use REST, but do know how to use PowerShell it is certainly worth a look. You can find everything you need on Github – https://github.com/ChristopherGLewis/ZertoModule.
Speaking of Github and APIs, I did have to create some post-failover scripts for external DNS failover as part of my new role at Zerto. They can be found on Github too:
CloudFlare Post-Failover Script – you need the whole folder so you get the POSH module, but you just need to run the ZertoCFFailoverUpdate.ps1 script
DYN Post-Failover Script – All in one script to update your DYN "A" records.
If you know of any other cool scripts or uses of the API's let me know Ill start a list!
Support for the new On-Premises HyperVisors versions
ZVR 5.5 adds support for both vSphere 6.5 (including u1) and HyperV 2016. I think that the vSphere support is pretty self-explanatory, but there are some caveats with HyperV 2016.
The thing to keep in mind about HyperV 2016 is that Zerto supports the stuff that existed in HyperV 2012 R2. So things like Nano Server 2016 are not supported (yet).
Also since I know someone will ask… Azure Stack is NOT supported in ZVR 5.5.
Summary
Zerto Virtual Replication 5.5 is another giant step forward for IT Resilience. It enables businesses to make the private, public, or hybrid cloud decisions that best fit their business today without worrying about throwing away their investment when their plans change. I can also say first hand that Zerto is always listening to their customers, so if there is something that is not in the product today that you need, I encourage you to get involved. You can email me, call your local team, or join us at an event. Plus with Zerto well over 650 employees (and probably close to 800 or more by years end), there are plenty of ears to listen.
As a Zerto employee, it's milestones like ZVR 5.5, that make it exciting to come to work. It certainly isn't the last milestone in the Cloud Continuity Platform, and with every super secret product meeting I attend, I get more pumped up about what's coming. Can't wait to share it with you!