Normally during this time of year I'm preparing to shutdown my home lab for the summer time, mainly because its hot enough in the garage and because with kids I really just don't have time to mess with it. This year however, I have been changing that up a little with a hardware refresh!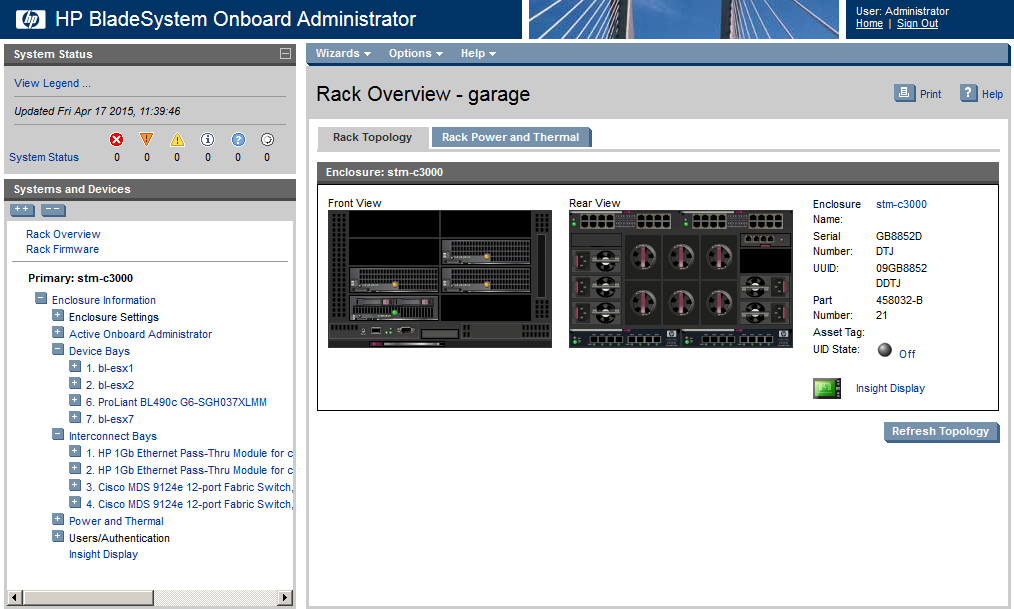 All I can say is that I've wanted a blade chassis for a while, It was going to be either a Cisco UCS or an HP C3000 … unfortunately UCS hardware is still a little too expensive for a home lab, and Kyle (you know who you are Kyle! … hasn't sent me a "demo" unit yet 😉 get working on that Kyle). On the other hand though, HP blade hardware is a completely untapped resource for VMware Lab users. Why you ask? Well for one the chassis last forever… the C3000 and C7000 chassis will hold Gen 1 through Gen 9 blades… and anything Gen 6 or newer work great for VMware.
Price is also a big factor. A typical dual quad core rack mount server with ram will run you several hundred dollars on a good day… even more on a bad day. However all of the blades in my new setup were less than $100 dollars each. Some of them I picked up for less than $50 dollars because they had no ram or CPU's (I already had both). So why the huge price different for a blade vs a rack mount with the same specs? Demand. There aren't too many people picking up C3000's for their home lab, and most companies who do want blades will be buying new ones. So typical economics 101 kicks in. Huge supply, low demand, means great prices if you are looking to buy.
Networking is another huge advantage. Most lab environments will have at least 1 switch for ethernet, and if you are hardcore you might also have a fiber channel switch too. I've wanted an Cisco MDS switch for a while as well, just to get more up to speed on NX-OS fiber channel as well as to keep my skills in use. Problem is that a 9124 can fetch over 100 bucks by itself. Luckily they also make a 9124e which is an interconnect module for the C3000/C7000 chassis. I was able to pickup 2 of them for 50$ shipped. On the ethernet side we have lots of options, we can do Cisco switches in the chassis, or pass through modules and plug directly into our existing switch. Right now I'm using pass-through modules until I can either get the Flex-10 module I picked up to work…. or until I can find a working one at a decent price…. Yes I said Flex-10, which means 10gig ethernet in the lab.
OK I know what your thinking though "That thing has to draw crazy power"…. and you are right… sorta. Total power draw while I have just the chassis on is about 400watts. That is for running ethernet pass-through modules, two 9124e fiber switches and the fans and onboard administrator. Each blade then adds about 50-100 watts to that number, where as a typical rack mount would draw 150-200 watts each, and fiber switches would draw probably 50-100 watts each too. So big picture is that for a low blade count… say 2-3 blades… its about a wash vs rack mount servers, but as i power on more blades, I'm actually saving power vs rack mounts. The only bad part about the c3000 chassis are the fans, if this damn thing had wings it could probably fly, and to do that they draw crazy power… so the biggest thing that you can do to avoid a 1000 dollar electric bill is to keep it cool and keep those fans at idle. (At idle each one only draws about 7 watts, and 90% power they are drawing about 100 watts each according to the OA.)
So my goal with this new setup are just a few things:
Have cheap access to new servers
Have a platform that can go to 10gig as soon as possible
Have fiber channel connectivity
Have good remote control capability
I think the C3000 definitely fits the bill for those objectives, and so far I'm loving the new setup.