No one can deny the advantages of a dedupe appliance, the space and bandwidth savings that they provide are astounding no matter what the brand. While being fairly affordable in all market segments, sometimes the budget just isn't there… so what to do? Well one option, now that Windows Server 2012 has deduplication built in is to use a physical server loaded with Windows 2012.
Setting up Windows and Configuring Dedupe
To get started get your hands on a server (a physical server with lots of disks would probably work best), the only real requirement is that you need two separate drives. One will hold the operating system and other stuff that normally sits on the "C:" drive and the second will become our deduplicated backup storage area. Once you have a server and your raid groups setup load Windows 2012 on to it. For this how to I am using Server 2012 R2, then configure the server with the basic settings you would normally set such as hostname, IP address, domain settings, RDP, etc etc.
Next we need to add the deduplication features as well as enable them and format our backup storage. In "Server Manager" click on "Add roles and features". Click next until you get to the "Server Roles" page, scroll down until you see "File and Storage Services". Then expand out "File and iSCSI Services", under this section you will file Data Deduplication, check the box next to it to install it. On the Add Roles and Features Wizard click the Add Features button.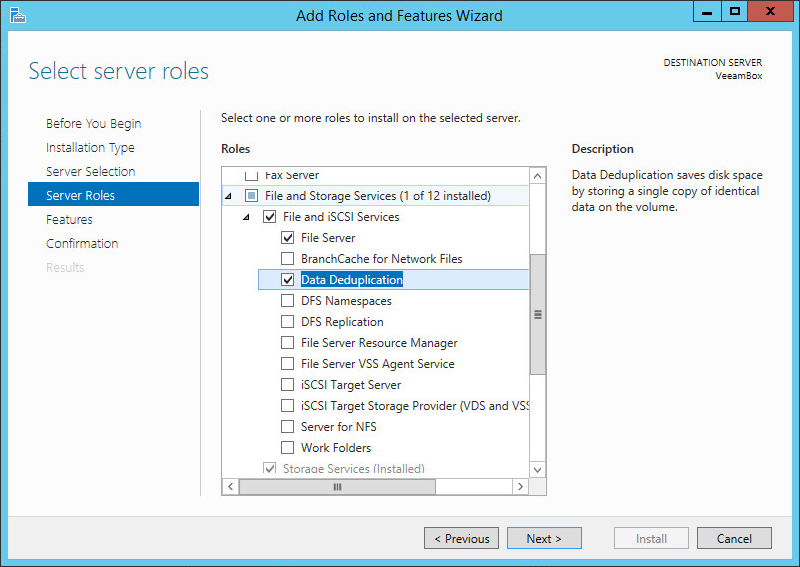 Click next through the rest of the wizard pages and then click Install. Once the installation is complete click Close.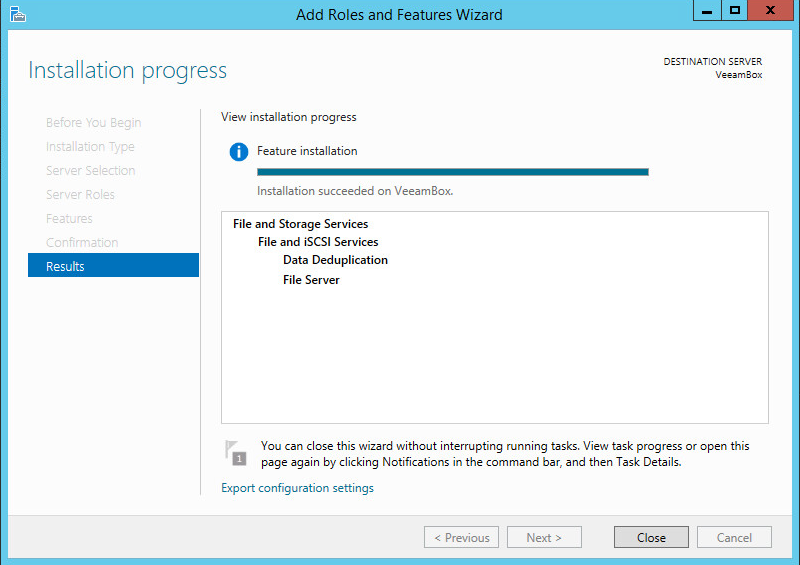 Next we need to configure our backup storage disk to use deduplication as well as get it formatted and online.
Click on File and Storage Services in Server Manager and then click Disks. You should have both your "C:" drive listed as well as your Backup Storage disk that isn't formatted.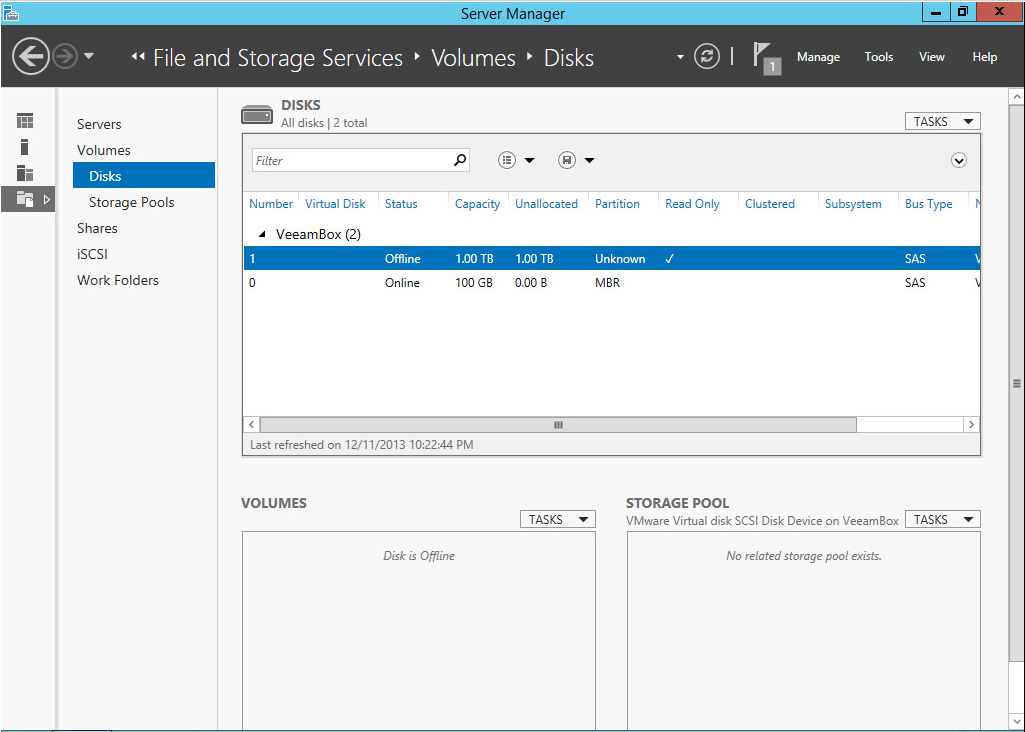 Right click on the disk you want to use as your backup storage and click "Bring Online".
Then right click on the drive and click New Volume. A wizard will start, click next on the first page and then select the disk you want to format on the second page, then click Next. A box will pop up telling you the drive will be formatted, click OK to proceed.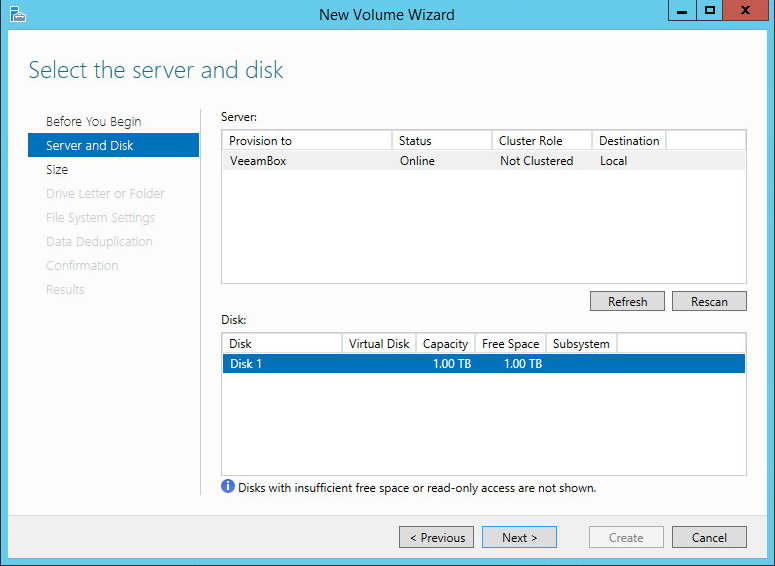 The next page will allow you to set a size of the new volume. Unless you have a good reason not to, set the size to the maximum available.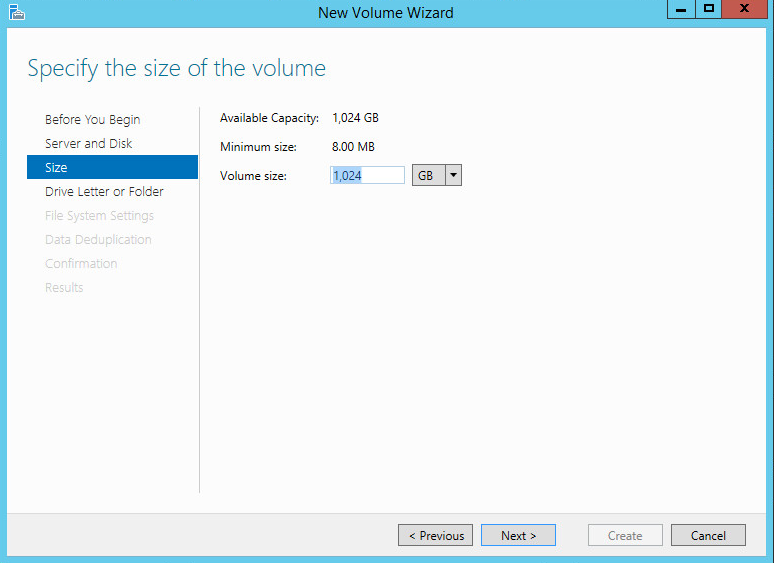 Next assign a drive letter.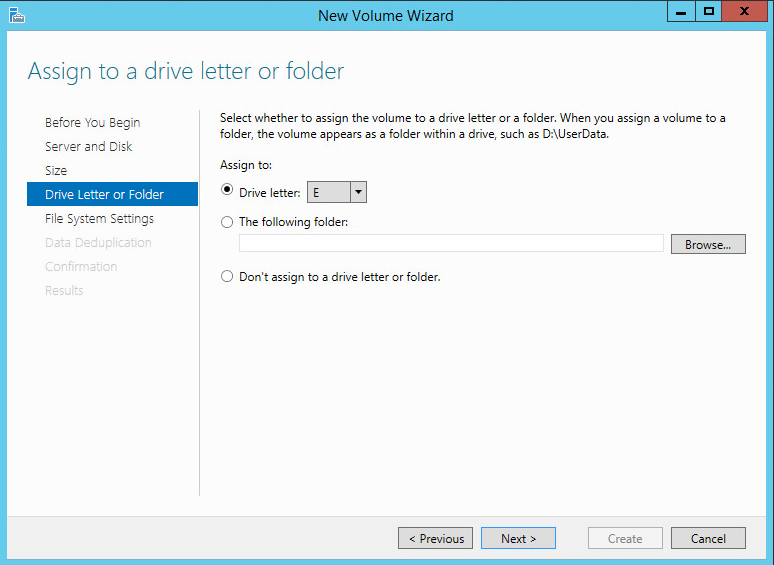 The default settings of NTFS and "Default" Allocation Unit Size work fine, so just give your volume a name and click Next.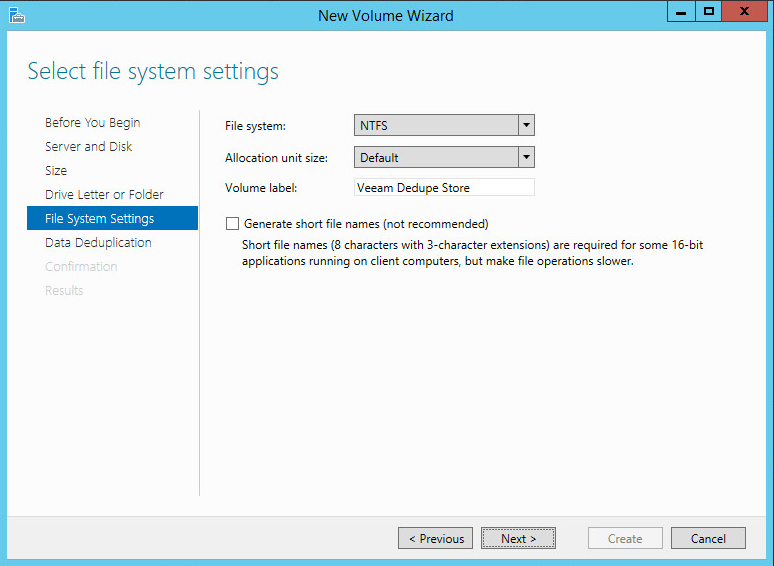 Next we get to the actual deduplication settings. First Enable dedupe by selecting "General purpose file server" from the drop down. Then select the number of days you want to keep data "undeduplicated". This settings is important, as it will determine when one Veeam session gets deduped among the rest of the sessions. If you have enough storage to store at least 2X the amount of a complete full backup of everything + 1 week of changes then you can set this to 6 or 7 days. This will ensure that at least one full backup is not deduplicated and your SureBackup and normal restores will happen as quick as possible. If however you are tight on space, you can set this as low as 1 day. This will yield the most space savings, but at the cost of slightly slower SureBackup jobs and normal restores.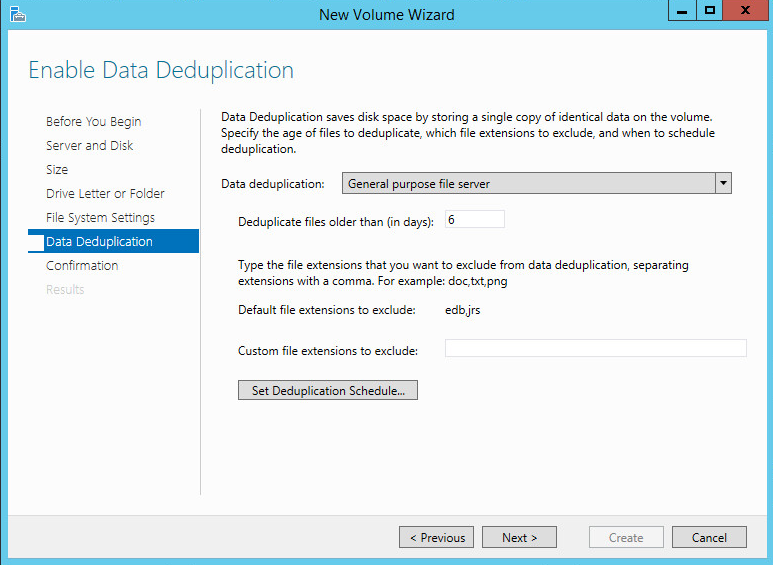 The last thing you will want to setup before clicking Next is the deduplication schedule. Click the Set Deduplication Schedule button. This step basically allows you to control when the dedupe process has priority over everything else. For me I pick a start time of 5AM, and allow it to run for 10 hours. This will allow Windows to make dedupe a priority from 5AM to 3PM every day…. which will work perfect since my backup will happen from about 7pm to midnight. You can adjust as needed.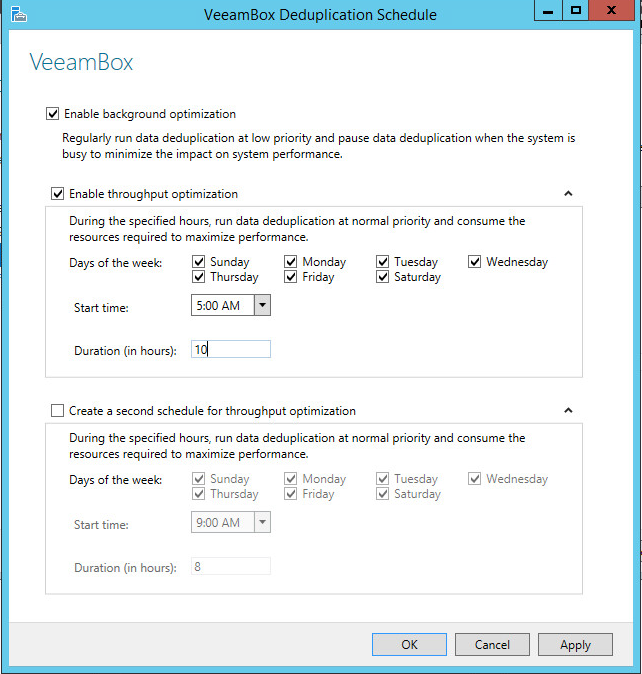 After clicking Next you can review what will happen and then click Create to start the processes. After the drive is ready to go you can click close.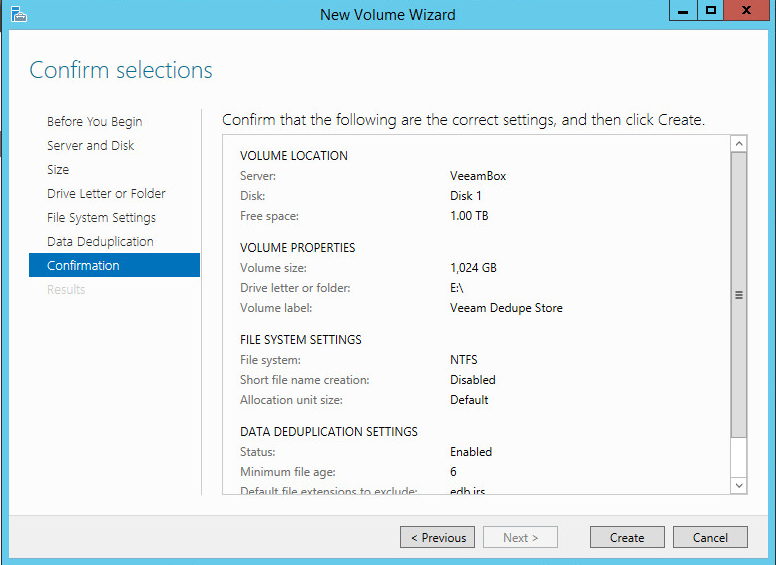 If you click on the disk in Server Manager you can now see the deduplication ratio and deduplication savings at the bottom. Right now it will obviously not look very cool since we have no data.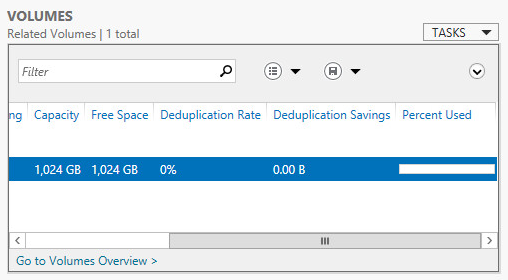 Configuring Veeam
I wont take the time to walk you through a Veeam Backup installation since there are other articles on my blog that do that. Once you have Veeam up and running though, we need to configure the backup repository to point to our Dedupe drive. To do that open Veeam and head over to the Backup Infrastructure section. Click on Backup Repositories on the left and then right click in the white space on the right, select "Add Backup Repository".
Give you repository a friendly name and description then click next.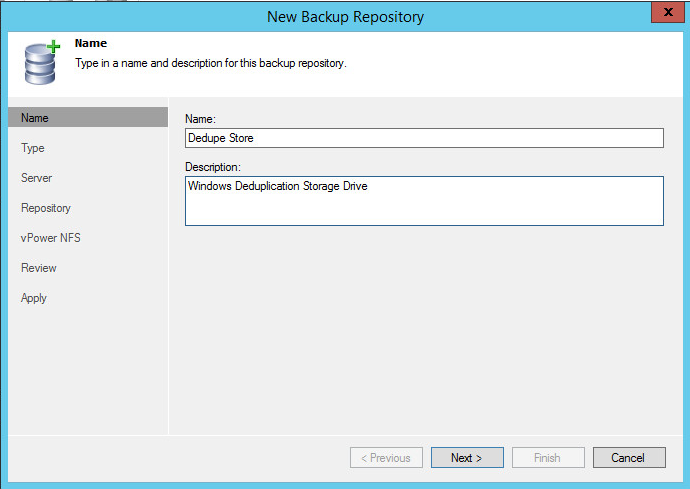 Click Next on the Type page, as "Microsoft Windows server" is what we want.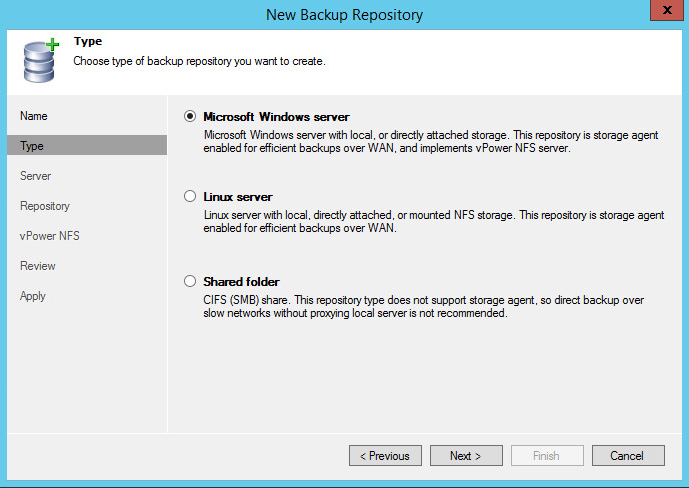 On the next page click "Populate", and then select the drive you created in step one. Then click Next.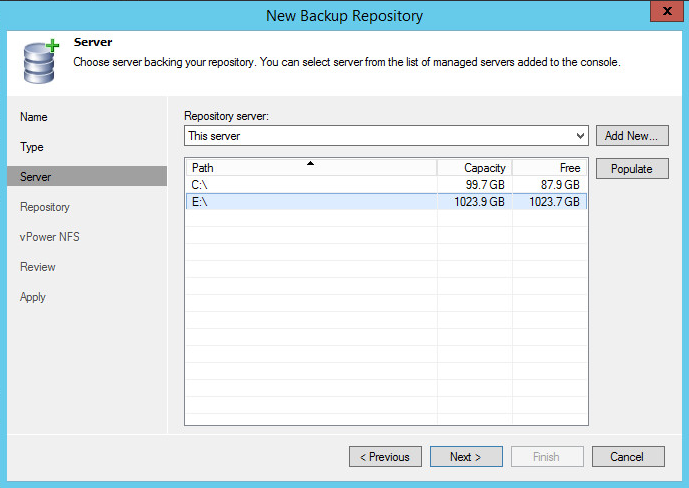 On the repository page click on the Advanced button and select the boxes next to the two dedupe friendly settings. Then click OK and Next to proceed.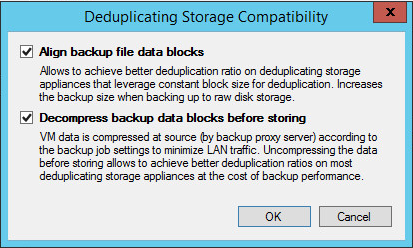 Go ahead and leave all of the vPower settings alone unless you have a reason to change them. And then click Next and Finish to complete the wizard.
Lastly while you are still on the Backup Repositories page, we will delete the "Default Backup Repository" just so you don't accidentally select it for a job. However before we can delete it we need to reconfigure where the configuration backups will land. To do this click on the Blue drop down menu in the top left corner and then select Configuration Backup.
Change the backup repository to the new Dedupe Store and click OK.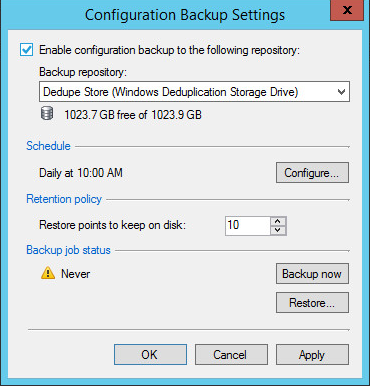 Now you can right click on the "Default Backup Repository" and select Remove.
You can now configure your backup jobs and use the new Dedupe store to store your backups. To see the savings that the deduplication of Windows is saving you, refer back to the disk section of Server Manager after the number of days you configured to wait for files to dedupe. In my example I will need to wait a week before I will see any benefits.
Stay tuned for the second post I'm working on where I will test using DFS-R to replicate the Dedupe Backup data to another Windows 2012 Server. Hopefully It will only replicate dedupe data and not rehydrate the backups before sending them to its DFS-R partner, but we shall see.