From the Zerto site:
Zerto provides enterprise-class business continuity and disaster recovery (BCDR) solutions for virtualized infrastructure and cloud. Zerto won Best of Show at VMworld 2011, as well as 2011 Product of the Year Gold Award because our software, Zerto Virtual Replication, is the industry's first hypervisor-based replication solution for tier-one applications. Zerto Disaster Recovery solutions replace traditional array-based BCDR that was not built to deal with virtual environments.
I started investigating Zerto this last week after a colleague reminded me about it. I had actually talked to the Zerto folks back in 2011 at VMworld, but I really didnt get to know the product. This time, however, armed with my home lab and my gear at a colo I was determined to get it working and see what it could do.
Before we get started let me explain how my gear is setup. This site, along with a few others, is running on a VMware cluster in Dayton Ohio at the Servlet Co-Lo facility. I have two HP servers and an HP MSA1000 Fiber channel SAN along with a PIX 520 firewall (yes it's old but it works :). At home I have two HP DL360 G5's and a VNXe3100 iSCSI SAN, and a Pix506e firewall. Between sites there is a VPN connection which allows all traffic to pass untouched. Because I have no Tape backup, and only one storage device at the Co-Lo, replication is the prefect fit to get my blog as well as the other sites out of the building and to another location…. in this case about 50 miles away.
In the past I have used Veeam replication which worked OK…. as long as you didn't need to change anything major and had to resync, remember I only have a 4Mbps connection at my house… and its crappy to say the least. So my biggest issue with Veeam is the resync… it has no way real way to journal changes and just sync those. And since I am using HP Storage at the Co-Lo and EMC storage at my house array replication is out… not that replication was even heard of for the most part when the MSA1000 came out lol. So what to do ?
Zerto is a hypervisor level replication product that hooks into VMware ESXi and basically splits the writes of the VM's its protecting. Then it sends the writes to a journal where they sit until they can be sent to a DR location… sometimes that is instantly while other times it might take a little while because of network throughput or latency. The key take away here is that Zerto DOES NOT use VMware snapshots! This is huge especially if you have ever experienced a VM that has went over the 32 snap limit.
So enough mark-etecture, lets show you how easy this is to get working.
Step 1. Install Zerto on a windows machine at each site.
Unfortunately I didn't get screen shots of this part, but basically if you can install VMware… this should be a breeze. You click next a couple times, tell it what IP it listen on and what your local vCenter IP is. Oh I should probably pause to mention that you will need vCenter at both sites…. this tripped me up at first, but I'm told that future releases will not have this requirement. After the simple install the rest of things are done through your vCenter Client… Yes this product is 100% integrated in vCenter.
Repeat this procedure at your DR site, using your DR site vCenter info instead of your production site.
Step 2. Open vCenter and go to the Zerto tab
The firs thing to do (and again sorry I didnt screenshot this part) is to enter your Zerto license key. Zerto is licensed per VM… so if you have 100 VM's and you only need 10 critical VM's replicated in real time to your DR site then you only have to license 10! Also you only need to put the license on one Zerto site… the rest of the sites you will simply select the "Pair to site" option and put in the IP address of the site you want to pair with.
Step 3. Install VRA's
After entering your license key you will see a box similar to this…. the part we are interested in at this point is the "Manage VRAs" button. Click it so we can deploy "Virtual Replication Appliances"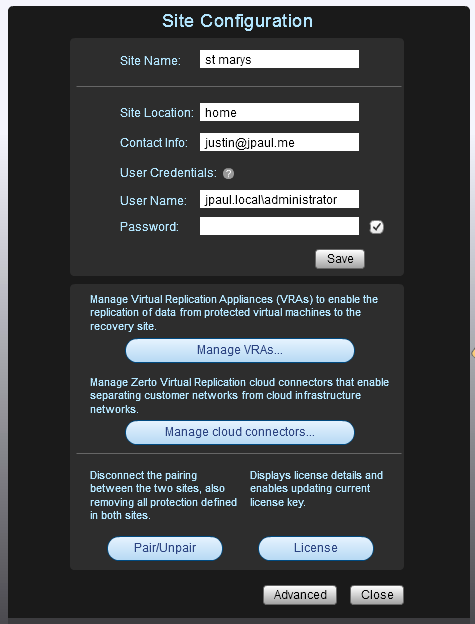 After clicking "Manage VRAs" you will see a box without anything in it, but a button on the right that says Install New VRA, click it and fill in the information needed to install a VRA on EACH of your physical hosts…. you will do this at each site… be it the production site or the DR site.
After installing all of your VRA's you should see them in the list.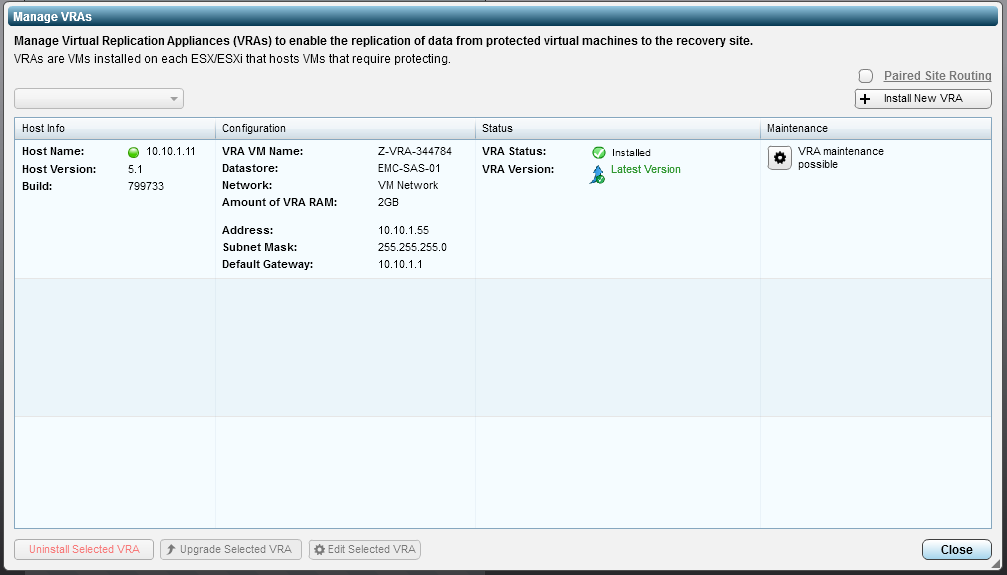 You can close the VRA Manager after you install VRA's for each of your hosts.
Step 4. Create a Virtual Protection Group (VPG)
If you have ever worked with EMC RecoverPoint you might be noticing some similar naming, while there are some similar terms and the CDP technology does pretty much the same thing…. Zerto is very different under the hood than RecoverPoint… which is an array level replication technology. Anyhow….
Back at the main screen you should see a "New VPG" button, click it and you should see this box.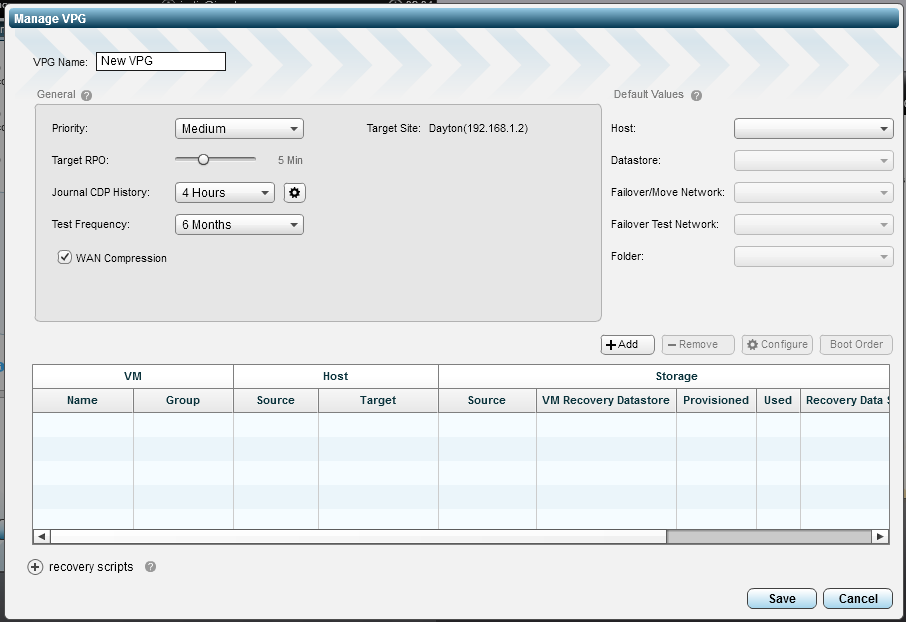 A VPG is basically a group of virtual machines that you want to protect together…. this might be all of your AD servers, or a SQL server and the front end server for the app…. basically its just a way to group VM's that need the same protection.
On the left side you can see the protection sittings, basically Zerto just wantes to know what is the worst case recovery point objective it should try to meet? It will try to get to as close as it can to CDP (or real time) as possible, but if bandwidth gets scarce it will use these settings to determine who is first in line. CDP journal history is basically how far back in time do you want to be able to go… this of this like a DVR… if you set it to 1 hour, but the show you wanted to watch aired 3 hours ago… you wont be able to go back and watch it.
On the right side you can see a group of drop down boxes where you select which host, or cluster you want your VPG to replicate to, as well as which datastores to put stuff on and some network settings. Fill those in and then click "Add" above the VM list. After the Add popup appears select all of the VM's you want in this group and click ok. Then click Save to create the VPG.
Thats all it takes to get it working! From this point forward I will show you the progress as Zerto replicated my blog VM to my home cluster. Some screenshots also show other VPG's and VM's that I started replicating as I was writing this article, but to add more replications simply click the Create VPG button again and create a new group.
So what happens next ?
The next thing that happens is an initial sync, this part can take a while and will depend completely on your connection and how much data needs to be replicated. In the case of my blog and my home connection I was able to do the initial sync of 13GB of actual data in about 9 hours. But I was only seeing about 1-2Mbps of throughput during those 9 hours.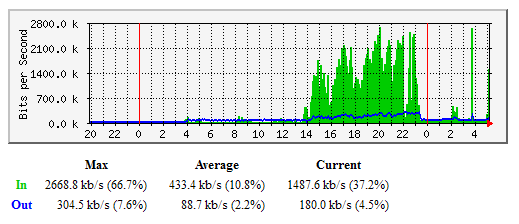 I told you my connection sucks 🙂
Anyhow, if you click on the VPG List tab, and then click on the name of the VPG that is syncing you will see a more detailed progress window.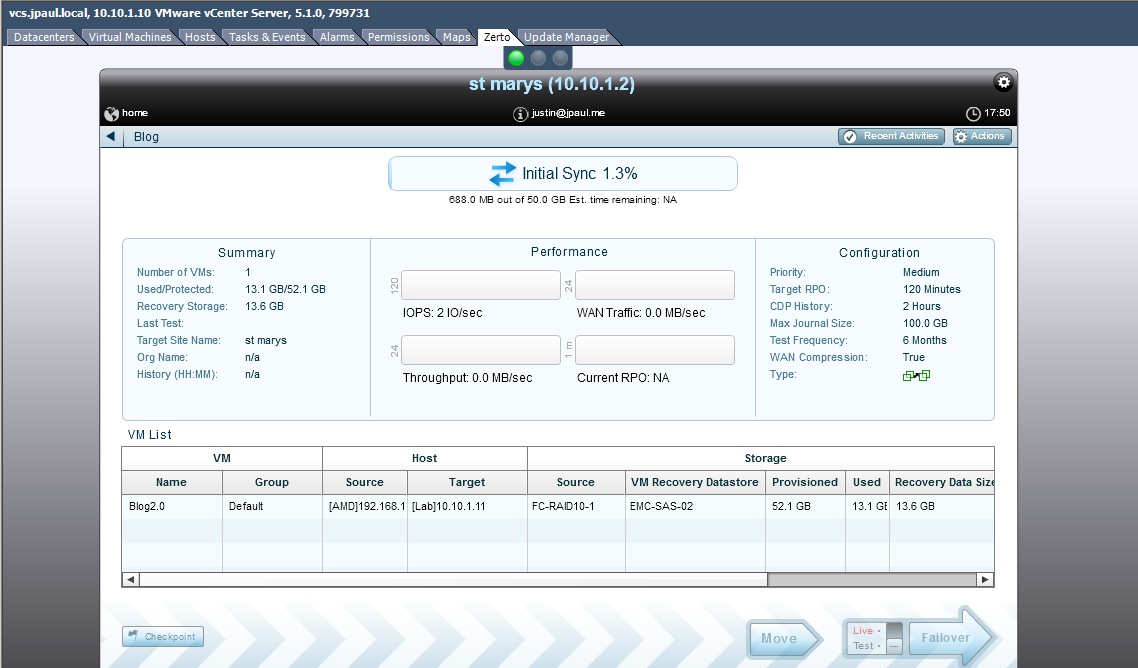 And when it gets done syncing the VPG the box will look like this.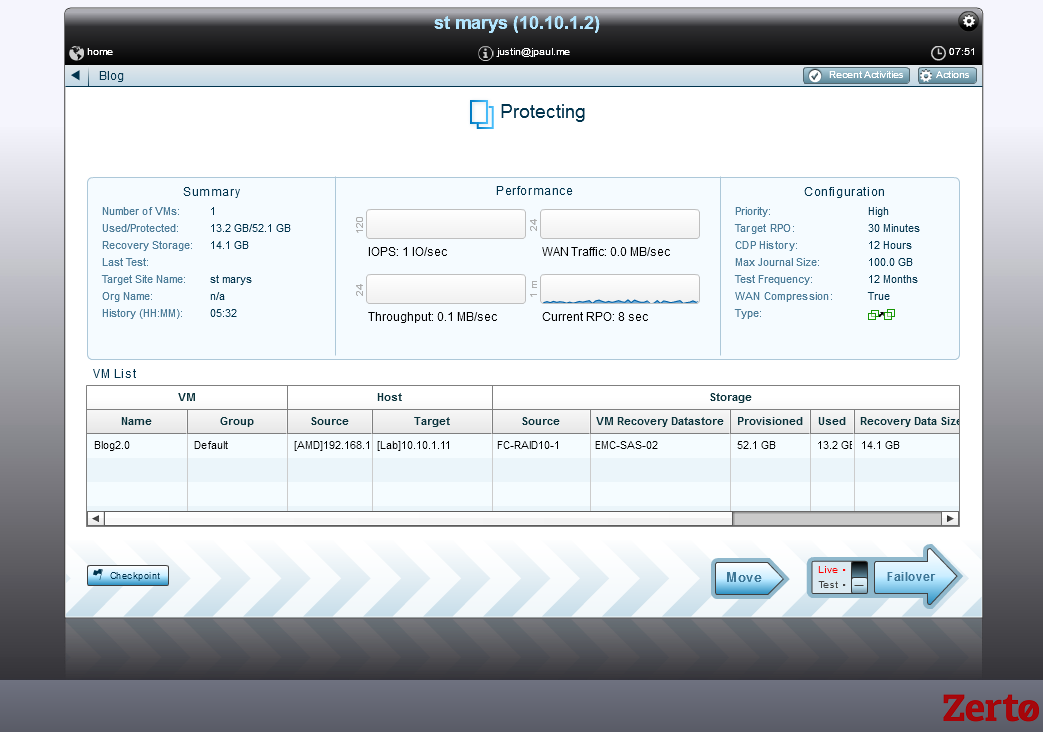 If you look closely on the right you can see that my target RPO is 30 minutes, but the bottom right graph shows actual RPO as 8 seconds! Remember though that number changes and in this next screenshot you can see the RPO of this VPG while I'm doing initial sync's of two new VPG's. Now the RPO is about 1 minute, still within my 30 minute requirement, but because of extra latency and my connection being about pegged on bandwidth usage something had to give a little.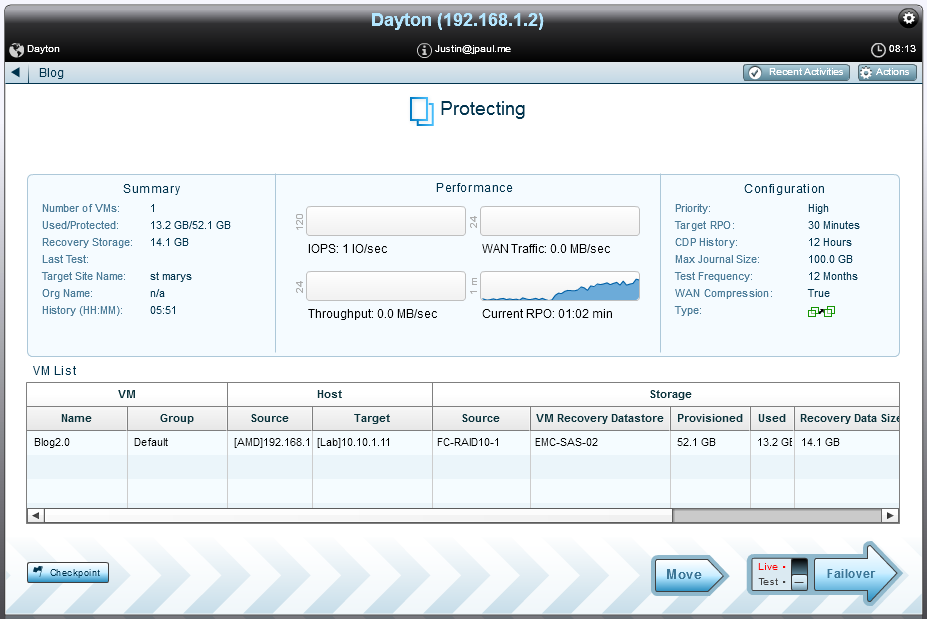 Overall Zerto looks like a very sweet product, and my testing is far from over. My next steps will include doing replication to the Hands on Labs vCloud… yes you heard that right, Zerto is already vCloud ready, and if you don't have a DR site you can pair up with a vCloud service provider and replicate everything to them! Hopefully I will also talk Tom Nats, from Bitrefinery into doing a post or screencast for us on how they leverage Zerto to replicate client data to their datacenters in Colorado.
That pretty much sums up how easy it is to get your data to a DR site with Zerto, and while you are waiting on the next articles here are some more screenshots from my initial Zerto encounter.