Last week I unboxed my first EMC VNXe 3100 SAN for a client. At first glance the VNXe looks much like the Clariion AX4, the only thing that is different (physically) is the front bezel and the interfaces on the controllers. Once you power it on though…it's a whole different story.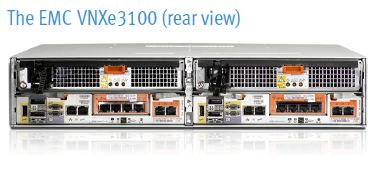 Let me just say that Unisphere is a much-needed improvement over the previous generation interface (Navisphere Express for this price range). It's very easy to understand and the VMware integration is unmatched! There is a wizard for creating a new VMware datastore that not only provisions the SAN but will also go out and adds the needed initiator/target information to each ESXi host and then makes the host rescan its HBA's and find the new LUN: AWESOME! It doesn't stop there either, instead of having to discover initiator IQN numbers or making you add them manually… Unisphere allows you to enter your vCenter server information and it will go out and look for all the hosts you have and then get their IQN numbers! This is some pretty sweet stuff.
Besides VMware datastores there are also wizards for other purposes too, here is a screenshot:

So if you're on the dark side (Hyper-V) then there is a wizard for that, and well as one for setting up an area for a Microsoft Exchange store.
While setting this thing up I found that it was super easy to get the license key installed. When the initial management IP addresses and stuff were set up it asked to go out on the internet and register the SAN, and then it provided a link to a license file. I downloaded the license file and then it went right back to the Unisphere interface and was like … click here to upload the license. I uploaded it and it unlocked all sorts of fun features, I managed to find a list of features and if they are included in the base license or if they are an upgrade. (Also included but not in the chart is the deduplication license)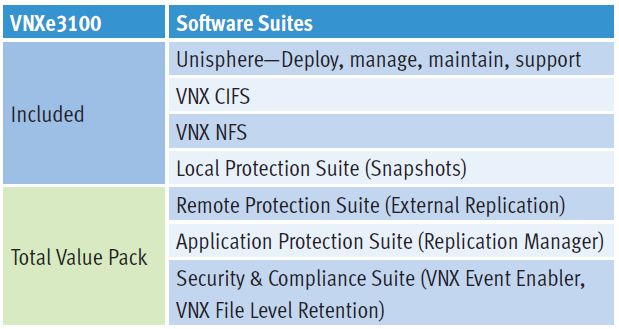 Getting into the meat
After running what seemed like 10 start-up wizards it finally asked me if I wanted it to automatically provision a hot spare and a storage pool… I figured sure why not, after all it probably knows better then I do on how to set itself up right? Well after letting it settle down I was able to get in and take a look at what it did. Before I get into that too much though let me give you some details on the hardware in the SAN I am using. It has 24 – 300GB 15k RPM SAS drives, they are the 3.5″ drives and 12 are located in an expansion DAE. It is also equipped with the additional 4 port 1GB iSCSI interface cards and redundant controllers.
Anyhow, after letting the auto provision wizard run I noticed a new Hot-Spare pool along with a "Performance Pool". I also noticed an "Unused Drives" pool. When I opened it up I noticed there were 3 drives that had not been used, I thought … well, how odd is that… why would it leave disks unused if I told it to auto-provision. Well after talking with EMC and also finding this document, I learned that the VNXe3100 is only scalable in a limited number of ways. Depending on the type of disk you have, and the type of pool you want, you are required to add drives to that pool in a certain order. (Check page 19 of the document for details, but basically, when you do a RAID5 pool you have to add disks in groups of 5, RAID10 is groups of 6)
Also because this SAN is designed for the guy who doesn't have a storage admin, you don't get to pick which drives are used for which storage pools. Maybe I am just being too picky… or maybe I just got spoiled when I got to mess around with the P2000 SAN, but either way I do not like how the EMC makes the number of drives static. I'm told however that the larger models of VNX's are less restrictive because they are designed for people who have SAN administration experience…. I guess only time will tell… so I'll keep you posted after I get my hands on one.