Well it's that time again. Time to vote for your favorite virtualization blogs of 2013. Last year I was voted number 49, which I didnt think was too bad for a site that had only been around for 2 years.
Anyhow if my posts have helped you out please head over to http://www.surveygizmo.com/s3/1165270/Top-vBlog-2013 and vote for JPaul.me!
It is located about 3/4th the way down in the left column as "Justin's IT Blog". Thanks again for reading!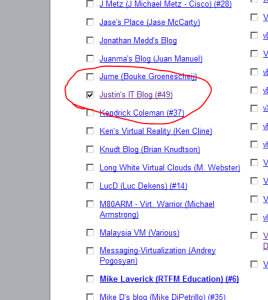 Thanks everyone!