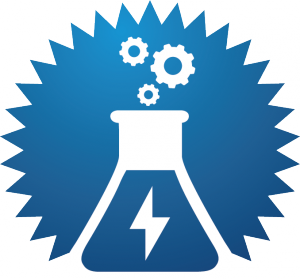 In order to put together an environment that can be used for the Hands on Labs I needed to layer together many VMware technologies. On the software side these technologies include: vSphere 5, vCloud Director, VMware View, vShield Edge (now vCloud Networking and Security), and Sliderocket.
I could have made it happen without View, but the reality is that View is much more efficient than sending raw VMRC streams across the internet.
Sliderocket is being used to the Lab Manuals.
vSphere is not only used in the lab content, but also is what back-ends  the lab… it runs on the physical hosts doing all the work and is the foundation, just as it is in most production environments.
vCloud director is what gives me user separation, also without it I could not easily and quickly provision labs because it uses linked clones and such on the back-end. Both of the first two labs are about 120-140GB in size, but because of linked clones it only takes about 10-20 seconds to provision a lab on the current hardware.
vShield (or vCloud Networking and Security) is being used two-fold here. vCloud uses it on the back-end for some of the labs, but the heaviest use is to hide all of the View virtual desktops. The two servers running this are hosted at a datacenter that only gives me networking on the public internet…. no backend private networking. So to protect 25 desktops from the open internet (and so I didn't need to consume 25 public IP's for them) I have a port group that is isolated except for a vShield Edge router as the default gateway. I will do a Visio diagram when I have more time to help explain that part. As a side note a simple vShield Edge router was able to handle all of the VMRC traffic as well as View PCoIP traffic yesterday for 20+ users… I was pretty impressed, next time if I have help with the labs I would like to monitor some of the back-end more and see how some of the components react to that much traffic.
As for hardware, the labs are using two physical servers, one is running all of the backend infrastructure (View, vCloud Director, vCenter Server, all virtual desktops)  and the second is only running lab vApps. The lab is fairly modular, as I need to add capacity new Provider vDC"s would just get created and lab users assigned to that vDC.
Specs are: Supermicro based server with dual Intel Xeon 5650's, 98GB of RAM, and hardware RAID10 with 6 x 600GB 15k drives.
Going forward I will probably need to use VMware orchestrator for automation so things are such a manual process for provisioning