Today one of the emails that made it through my spam filter was from some company advertising a "Free VMware Monitoring Tool", normally I would have just deleted it and moved on, but for some reason, I decided to check it out. So far I'm glad I did.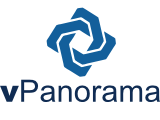 The product is called vPanorama (which also seems to be the company name), and their website is http://vpanorama.com. After checking out their site and the pretty screenshots I decided tsigned up and download the virtual appliance. The deployment was very easy, just import the OVF and boot it up… it pulled a DHCP address and I was into the web interface in no time.
Adding devices was made fairly easy by their quick-start wizard, but it could still use a little refinement. The biggest problem that I see is people being patient enough to wait while it discovers everything. I mean it should honestly say ok at this point go get something to drink and come back and click refresh, because after about 10 minutes of playing with it not only had it discovered my ESXi 5.0 hosts but it also found my two 3560G switches in the lab.
So in my lab there are 5 hosts, two SAN devices, and two Cisco Switches fro the most part. The ESXi 5 hosts have both a Standard Virtual Switch and a Distributed Virtual Switch, and connctions to both switches. So what would all this look like in vPanorama?
Thumbnails (click on each of the 5 images to enlarge)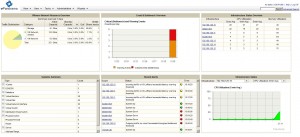 SO even though it has all sorts of pretty pictures I wasnt really sure what this was going to show me. But if you look at the top menu in the last picture you can see a navigation bar. In the View menu there are functions that allow you to look at what elements could be causing a bottleneck in your infrastructure. It will also let you configure your physical switch ports (yes it hooks into your cisco configs and can change port settings). It also monitors iSCSI and Fiber Channel SAN usage and IOps etc.
Overall this looks like a pretty neat tool and the best part is that it is free for 250 VM's or less. As I explore this program a little deeper I will update the article with my experience.