Since it's fathers day, I thought I would share one of the non-IT, family, related projects I've been working on. (Don't worry… I didn't actually spent time on fathers day to write this… it's just the power of scheduled publishing)
While I was growing up I can remember my grandfather doing a lot of woodworking. It didn't matter if it was framing up an addition to a house or a small wooden toy… he had no problem building things.
I remember getting two things from him (and I still have them)… both were handmade and built to last. The first was when I was 5 years old … it was a wooden truck, but not just a small toy truck. It was a truck about the size of your average rocking horse that could be ridden around, it had working steering and even a cargo area.
The second was a 3'x4′ barn for my toy tractors… it was equipped with sliding doors and a roof that hinged back so you could climb in and out of it easily. My friends and I have years of memories playing with both and I don't think there are too many store-bought toys that I still have and cherish nearly as much.
So what does this have to do with my latest project?
Well, Elizabeth is just about 6 months old… should be walking within the next 3 months or so. Between relatives and family friends we have somehow amassed more toys then I can remember having while growing up. So I figured what better thing could I do then to start my little girl off with a hand-built toy box?
Of course, there are probably two million places online that are willing to sell you plans to make one for 20+ dollars, but I finally found one that I liked and also was free! (Visit their website for the plans). Basically, it's just a square plywood box with handles and a lid.
So I made a trip to Lowes and picked up all the needed supplies and headed up to the parents' house for assembly. Several hours later, with the help of some of the guys, we had both toy boxes assembled. (The plans are for 1 sheet of plywood and it makes 2 boxes) But I guess I shouldn't give my friends too much credit because I'm pretty sure they just stopped by for the beer.
Here is the finished product: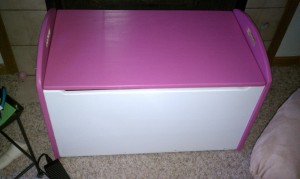 The only thing left to do is add some purple letters that spell out "TOYS" to the front.
All together I only have about $100 bucks in all the needed supplies. I sprung for a little higher quality piece of plywood. But the expensive part is all of the hinges and spring loaded arms that keep the lid from falling and smashing fingers and heads (trying to prevent some crying down the road 😉 ). We also picked up some pink, purple, and white paint.. so that was around 20-30 dollars as well. But out of that we got two toy boxes, one for grandma's house and one for home, so the price wasn't too horrible.
Hopefully, she will come to appreciate her handmade toy box as much as I love the stuff that my grandpa made for me.