Recently I signed up for the FREE Kaseya's IT Toolbox, which is a remote support tool from the same people who make the enterprise versions that MSP's (Managed Service Providers) and large IT departments use.
For the "Family and Friends" IT guy, or even small IT shop the free version works great! It allows you to have agents on up to 25 machines by default, and works with most operating systems.* It is a fairly stripped down version of its big brother but still allows you to remotely control the desktop, has a file manager, and a video chat application. If you need more features such as remote command line, registry, event viewer (from the web interface), and task manager, then you can pay $9.95 a month plus $1.50 per machine per month to get access to all of those features. Even the paid version of the IT Toolbox is a steal if you need to manage PC's for the family and don't want to fully connect to their desktop each time.
Here is the list of features between the free and paid versions: (click to enlarge)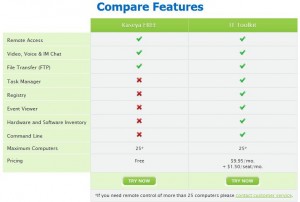 Getting Started
To get started there is a very simple sign-up form which asks for basic information, then they will email you your password and that's it! The first time you log in you're asked to changed your password and then you're presented with the dashboard. I have to say that for the "Family and Friends" IT support guy this is a very nice interface, it gives you a heads up on which PC's are online and offline as well as has a quick and easy way to connect to the machine you need to work on. As you can see in the next screenshot I have agents deployed on Windows machines, a MAC, and even an Ubuntu machine. I will, however, note that the Ubuntu agent is pretty much useless as it doesn't allow you to connect to the desktop, nor does it allow you to get file access…. maybe in the paid version, it will allow you to access the command line? But I haven't tried that out yet.
The dashboard: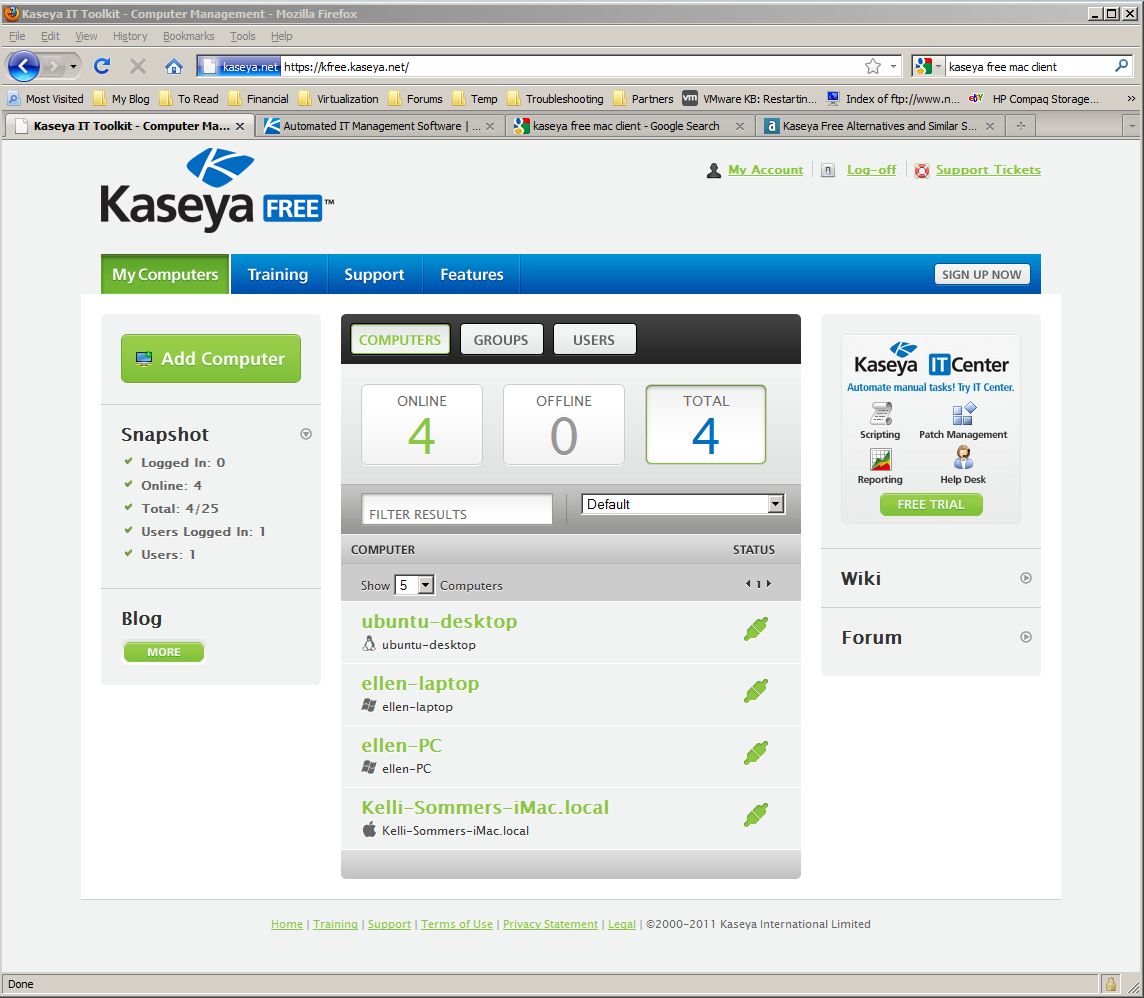 Adding Machines
The first thing you will want to do after signing up and looking around is to add some machines to your dashboard. To do this you have three options. To get started all you need to do is click the large green "Add Computer" button on the left then choose to copy a link, send an email, or install on the local machine. I tried out all three methods and all work great. I would say my favorite is the email option. It allows me to send an email to someone, and at their convenience install the agent. After the install is started it is hands-free, the only thing the person will see if a progress bar followed by a message that says it was successful. After that it only takes a few seconds for it to pop up on the dashboard, the only time there could be problems is if the person has a 3rd party software firewall that won't allow the program outbound.
The "Add Computer" interface: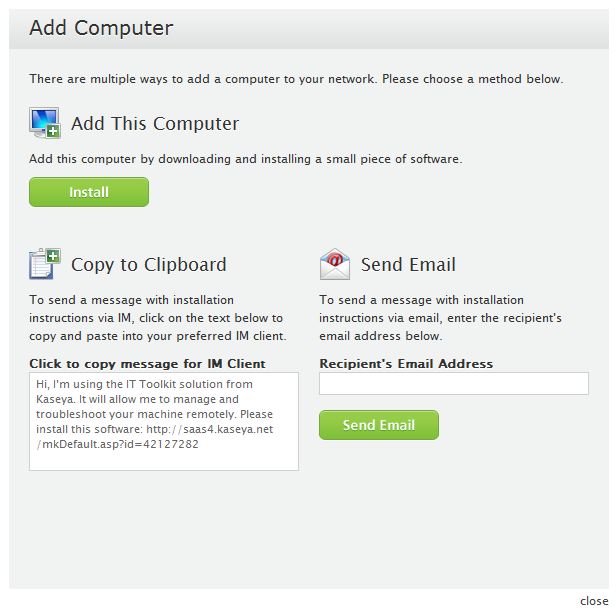 Live Connect
After adding your agents and the computers check in to the dashboard you now have the ability to launch Live Connect. Live Connect is a framework that allows for total control of a remote machine. Now depending on the license level (free or paid/enterprise) you may have access to different objects inside of live connect.
The free version has three main objects:
Desktop Access
File Transfer
Video Chat
I question how useful video chat is, but desktop access and file transfer are very handy.
Here are screenshots:
Desktop Access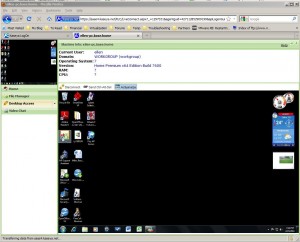 File transfer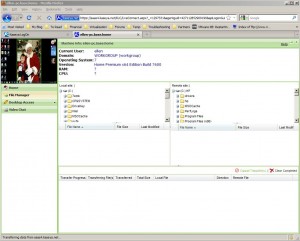 Video Chat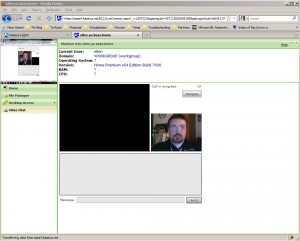 Overall Experience
I think this is a great tool! I've used the enterprise version and I have to say that having access to something like this for personal use is invaluable. The only thing that I can really find that is a negative is responsiveness. My guess is that there are so many people taking advantage of this free service that the servers are working pretty hard to keep up. Other than that, this will definitely be in my IT Toolbox for some time to come as I don't know of any competitors with the features and the price that Kaseya is offering.