For a little over a year I have been lugging around a 180Watt AC adapter whenever I go onsite or travel with my laptop. It's HUGE, it gives a new meaning to "power brick" because it literally is the size of a brick.
I was looking for a replacement, something smaller, as all the other technicians got a more reasonable sized adapter with their laptops. While on the HP site I found a super slim AC adapter, which was only 65 Watts, but the spec sheet said it would work fine with my HP Elitebook 8530w.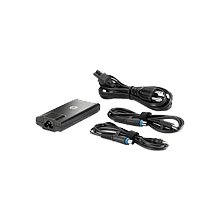 I had the company order me one and I got it on Friday… perfect timing as we normally have to travel to both my parents and the wife's to visit family. I must say it has to weight at least a pound less then the one its replacing, and serves the same purpose. Obviously it doesn't charge the internal and extended battery back up nearly as fast, but it will keep the laptop running.
The only thing that is worse then the big one is heat. This one gets much hotter which can be expected since it is so small, but I'm willing to give up not being able to hold it. List price on the adapter is $79.00 from HP at this page or if your a NewEgg fan you can grab it here (after they are back in stick) for $99 bucks.
Bottom line if you travel or just don't like carrying a lot of excess weight then this is a must have!
Part Number: AX727AA