As promised this is the first of a couple articles on the backup products I have been watching. I plan to go through them in alphabetical order, starting with Appassure and ending with Veeam. In the middle I plan to also check out Avamar (Including the VMware vDP), Backup Exec, and Unitrends. These reviews will have some space between them because of limited RAM in my lab, because of this I can only test one product at a time. Without further a due…

It has been a few months since I have worked with AppAssure, I believe the last version I worked with was four dot something, and it was mainly used through its Kaseya integration framework. This time I am looking at the latest and greatest, AppAssure 5, and using its interface without any third party plugins.
Setting up a "Core"
To start my testing I created 2 new Windows 2008 R2 virtual machines on my home lab, one would be my primary Appassure "Core" and the other would be a secondary core that I would use for testing local replication. I started off with 4GB of RAM in my primary and 2GB in my secondary, but I eventually bumped the primary to 8GB.
Before we get started let me explain the term "Core" as used by Appassure. A Core is a Windows machine that has Appassure Services installed. A core is responsible for scheduling jobs, processing data for dedplication and placing that data on a backup repository. It is also responsible for testing SQL backups and maintaining a catalog of what a repository holds.
The installation process was super easy, I just downloaded the installer and ran it… clicked next about 10 times and that was it. It was nice enough to download and install all of the prerequisite software automatically and install it. After the installer finished I went to the web interface and started with the setup wizard. Before we get to the wizard though you will be asked to enter your key, take care of that first and then you will see the setup wizard.
Setup Wizard Step 1: Name the core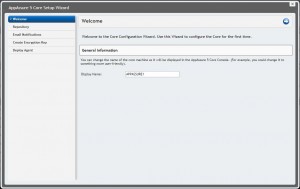 The first thing I did was name my primary core APPASSURE1
Setup Wizard Step 2: Create a repository
Next up we need to define where we want our backup files to go, in this case I had a second VMDK drive mounted to my cores at E: so I picked E: and also specified that I wanted the repository to be 500GB in size. Note this is a required step… you have to specify how large to make the repository, and when you do so Appassure will go out and eat up all the space right away. After a week of testing I only had 94GB of data in the repository but it was still using all 500GB on the drive. I assume this is because it does global deduplication and they want to make sure that their space is in tack and nothing else can use it.
Setup Wizard Step 3: Email Notifications
For me this step was option… after all this is a lab environment and I really dont care if the backups fail. But if you like your job… you should probably configure this 🙂
Setup Wizard Step 4: Create Encryption Key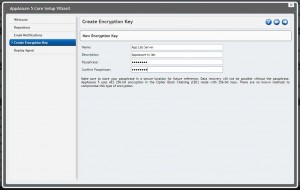 This step allows you to pick the password that will be used to encrypt your backup files… it is also the password you need to provide to access your backed up data in the event you lose your core and need to rebuild it. KEEP THIS SAFE!
Setup Wizard Step 5: Deploy Agent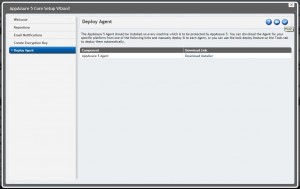 This step allows you to download the Appassure agent to whichever machine you are running the wizard from to protect that machine. Personally I skipped this step and planned to use the bulk deploy wizard later on.
Ok, now that the wizard is complete we see the home screen…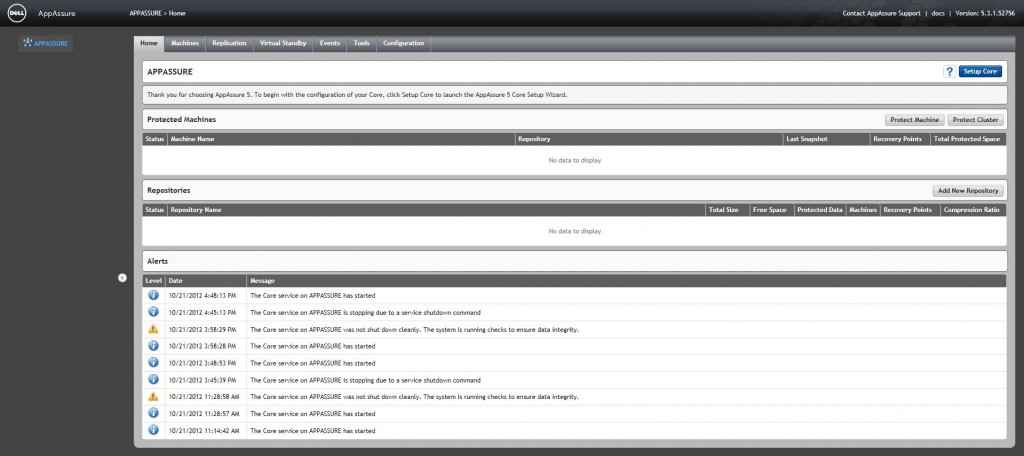 At this point we have the product installed but we have protected no machines.
Replication Setup
If you are installing a secondary core where you want to replicate you backups to, follow the same steps as we did to install the primary core. After you have installed your secondary core you just need to make your way over to the "Replication" tab on the primary and add the secondary core into the Outgoing Replication list.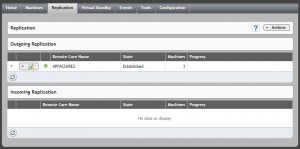 That is pretty much it, now when we protect a machine we can select if we want to have that machine replicated to our other core.
Protecting Machines
Now that we have the application setup we might as well use it. So lets take a look at the different ways we can protect our machines.
Your options include:
Active Directory
vCenter
Manually
My first try was with vCenter, however it blew up with some message about how the certificate was not found, or something like that… I assume this is because I'm running vSphere 5.1 in my lab and Appassure currently only supports 5.0. I did point Appassure at a 4.1 vCenter server later in my testing efforts and found that it worked fine.
 NOTE: By default if you deploy agents remotely, and tell Appassure to automatically protect the machine, after installation the machine WILL REBOOT AUTOMATICALLY.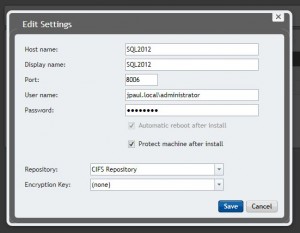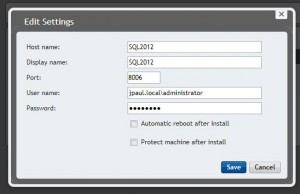 If you do not want the machine to reboot automatically you need to turn off automatic protection and uncheck the reboot machine option, or install the agent manually.
If you are having problems determining if the agent is installed on a machine check for the Appassure service, or for the presence of an AppRecovery folder in the Program Files directory on your C: drive. After you have successfully installed the agent, the next step is to create a protection schedule. Do that by going to the "Machines" tab, and then clicking on "Actions" in the top right corner. Enter the machines admin username and password along with its IP or Hostname. After doing so you will then see the options to protect that machine.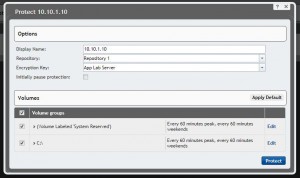 Retention Policies can also be customized to fit your needs per machine if needed.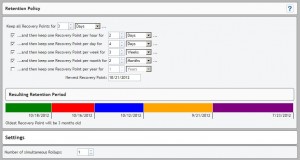 To verify that your machines are being backed up you can navigate to the "Tools" tab and on the left bar there is a "Reports" section. Insite you wont find much… which seems to be a big concern of many appassure users (they are asking for better reporting)… but you can see a decent amount of information about your backups.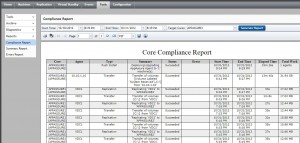 Replication: Getting your stuff offsite!
This has to be one of the stronger points of the Appassure product. Replication with Appassure is stupid easy, all you need is another core… it doesn't even have to be your core. In fact Appassure has a strong managed service provider following, so if you are looking for someone to host your backups at a secure facility there are many to choose from. But if you already have infrastructure somewhere else, then all you need is another Core server at that site and you're good to go!
To setup replication you login to your primary core server and select the Replication tab, then select "Add Remote Core" from the "Actions" menu on the right. The wizard will ask you how to connect to the remote core and after communications have been established you're ready to tell it which machines to replicate.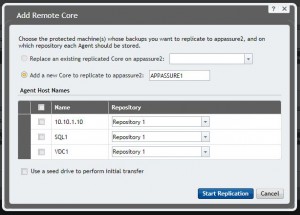 After that the remote core is listed on your local core under the Outgoing Replication section.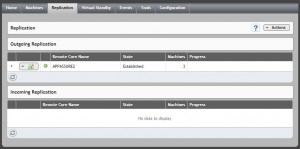 What about Restoring things?
Because Appassure protects physical machines as well as virtual machines we have a bunch of options for restoring things.
They include:
File level recovery
Bare Metal recovery (back to a physical box)
Recovery to a Virtual Machine
Rollback (pushes hard drive into to a Bare Metal instance or a running server)
While I did not restore any of my lab VM's during this review I have restored both an Exchange server and a SQL server with previous versions of Appassure and there were no real flaws or major issues with the restore process.
So what is my opinion?
If you have a mixed environment of physical and virtual machines I think that Appassure could be a great solution for you. It does have some quirks (but all backup applications do), but overall it is a OK solution. I still have some questions for the guys over at Appassure, and as soon as I hear back I will update this post, but my biggest reservations are around the SQL attach-ability testing as well as some other focal points like reporting and integration with vSphere. For example in previous editions of Appassure you were required to have your Core running a particular version of Windows in order for Item level recovery to work, and in Appassure 5 it looks like you need to have a local instance of SQL that matches your production version of SQL in order to do those attach-ability checks.
Overall I like Appassure, they have come a long way since I first saw the product and I think with a little more maturity and Dell's pocket book it could be a major player in the backup space. I like its simplicity when it comes to setup and replication, but it does lack some things like a wider OS support list (it is getting better though), and vSphere integration (think CBT), but their agent does a bunch of that work for them. Overall, if you are 100% virtualized, Appassure would not be my first choice, but if you need support for physical machines then this is defiantly on the table. It makes DR for physical servers as easy as DR for virtual servers, maybe I am just spoiled and don't have to worry about physical servers these days.
Anyhow stay tuned as this article will surely be updated as I learn more.
Note: This is not a compensated review,  I have received nothing other than an extended trial license for testing and reviewing the product in this post.