I've done several posts about the P2000 series of SAN's from HP, but all of the posts had to do with the iSCSI or Fiber Channel models. This post is to catch you up on the SAS model and what it can provide for you. I decided to put this post together because after my SMB Cluster v2.0 post I got some questions on the SAS model.
Overview

(Rear View of a P2000 SAS Model)
SAS is the same technology that is used inside of most new servers these days, think of SAS as the industrial version of SATA. Therefore you can think of the P2000 SAS SAN as the industrial version of eSATA. The technology is used by alot of major manufacturers to connect additional disk shelves into the controllers, these include (but not limited to) EMC, HP, NetApp, Dell, Compellent. However, not many manufacturers actually connect to the computing power (ESXi/ESX nodes in this case) with SAS, the P2000 does have that option though.
The Good
Let's first talk about why you would want to pick the SAS P2000 SAN over all of its sister models. To start I would mention the most obvious reason: 6Gbps SAS connectivity is much faster then 1Gbps iSCSI. Even if we do multipathing with iSCSI we still would not achieve 6Gbps into a single ESXi node… at least not without using 6 gigabit NICs per node. Next is probably the biggest seller for me, and that is direct connectivity; meaning that we need no switches between the ESXi nodes and the SAN. This will save us thousands of dollars. However if you grow more then 4 hosts you could purchase a SAS switch from LSI and expand the SAN beyond 4 hosts.
Provisioning of the SAN if very easy and simple too, and you have complete control over the disk drives and how they are allocated. (Not the case in the EMC VNXe competitor) So if you want a 2+2 drive RAID10 volume you can do that, or if you want a 6+1 RAID5 you can do that too.
The other thing I really like about the P2000 (be it the SAS or iSCSI or FC) is that you can reuse your 2.5″ SFF drives in this chassis.
The Bad
The downside of the P2000 SAS SAN (if you want to call it one) is that you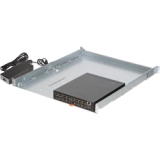 can only connect 8 hosts to it (4 if you want redundancy). Sure you could use a SAS switch to expand that number, but then you are looking at 3k per switch and then another 450$ list for the shelf that holds them. So the total of about $7000 dollars, but that is right in line with a pair of Cisco 3750 switches I suppose.
This SAN will also (most likely) NOT integrate with your current fabric… most places that have a current aging SAN are either iSCSI or Fiber Channel, so with this SAS model you will be starting from the ground up…. which may not be a bad thing depending on where you're at today.
The only other downside that I see from the P2000 is that its competition now offers is a unified solution. The VNXe is able to serve CIFS and NFS without any other front-end device. I don't know the roadmap but my guess is that this may be remediated when/if the P2000 line moves to the Store 360 OS. Personally, I don't have much use for a SAN that can do CIFS shares, but I do see benefits to adding NFS to a box like this.
The Bottom Line
In my opinion, the SAS P2000 is the best way to go if you are going to purchase VMware Essentials or Essentials Plus, and don't foresee yourself upgrading past 3 hosts in the next 3-4 years. Why? Well if you read my SMB Clusters version 2.0 post it will explain my reasoning, but to put it simply we don't want to put cash into SAS switches, and we still want to use a direct from SAN type backup method… so that fills up the 4 port controllers. It's also a very easy SAN to work with and gives great value/dollar spent even though it is just block level storage. This model, like the rest of the P2000's, keep things simple… they provide block level storage to a server… that is all.
As always if you have a question let me know.