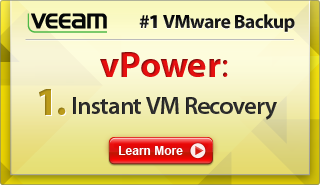 This week Veeam Software signed on as my first sponsor. I'm pretty excited to have them as a sponsor because their software is great! Their Backup and Replication product is responsible for backing up the VM that runs this site as well as the rest of my lab, not to mention many of the VMware projects that I've installed.
I look forward to writing more articles about their products and hopefully being able to share some hints on new product releases and features as they are made public.
Thanks again Veeam Team!
Posts I've done so far related to Veeam:
Stay tuned for more!