One thing that I see a lot of while I'm onsite are APC SmartUPS, and at one time I even had a couple.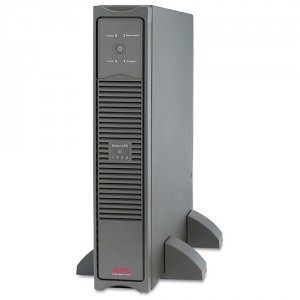 I always ask the customer why they didn't go with the Liebert models that we offer… and normally I always get the same answer… price.
They say we are too high to compete with an APC 1500, but what they don't know is that they bought a line interactive UPS, not a double conversion "true online" UPS. And for most people that means nothing, unless your an electrical engineer or something, and to tell you the truth it meant nothing to me until about a year ago when our Liebert rep, Doug Davidson with Uptime Solutions out of Dayton, Ohio, stopped by with this demo setup and showed us the difference.
My first thought for this article was to have Doug do a demo and record it, but then I managed to find the same thing on YouTube so I figured why bug him. The video is not the best, but you can see the difference. Here is the link.
So a little background information… the APC SmartUPS 1500 is comparable to the Liebert PSI series of UPS's. Both are line interactive and DO NOT actively use the battery unless there is an extreme power sag or complete power loss. The GXT series is the base model of double conversion… true online…. UPS from Liebert (they also have the N-finity, and I'm sure other big stuff that I cant remember). The GXT passes the incoming voltage through an inverter and turns it into DC power, the DC power runs into the battery, and then another inverter converts DC voltage back to AC and out to the load. This ensures that the current that comes out of the UPS is the best you can get, no matter if you are pulling power from a generator, or just a crappy power source…. your servers never see any of the spikes, sags, or the messed up sine wave.
I encourage you to watch the video, its pretty easy to tell why the GXT series from Liebert is not as "cheap" as the APC … and other brands. And if you are an APC fan true and true… at least make sure your next purchase is one of their higher end models that are true "online" UPS's. I will close this post with mentioning that when you look at pricing, ask for the pricing for continued maintenance past 2-3 years…. compare costs for a total of 5 years of coverage. You will be surprised to see that the total cost of ownership for a GXT series UPS is cheaper then a lower end series.