The 3rd-floor View
Last week was the second annual ZertoCON in Boston. It was an amazing 3-days which included everything from a partner day, instructor led deep dive training, hands-on labs, sessions, keynotes, a party, and lots of 1:1 and group conversations.
Oh! and BTW, we were on the 3rd-floor of the Hynes Convention Center…. hence the "3rd-floor view" title… haha.
Announcements
Day two, Ziv Kedem Zerto's Co-Founder and CEO, announced the headlining feature of the upcoming "Balvenie" release – replication out of Microsoft Azure. This feature will make Zerto the first, and ONLY product to do agentless replication to and from Azure to VMware, HyperV, and Zerto Cloud Providers. Zerto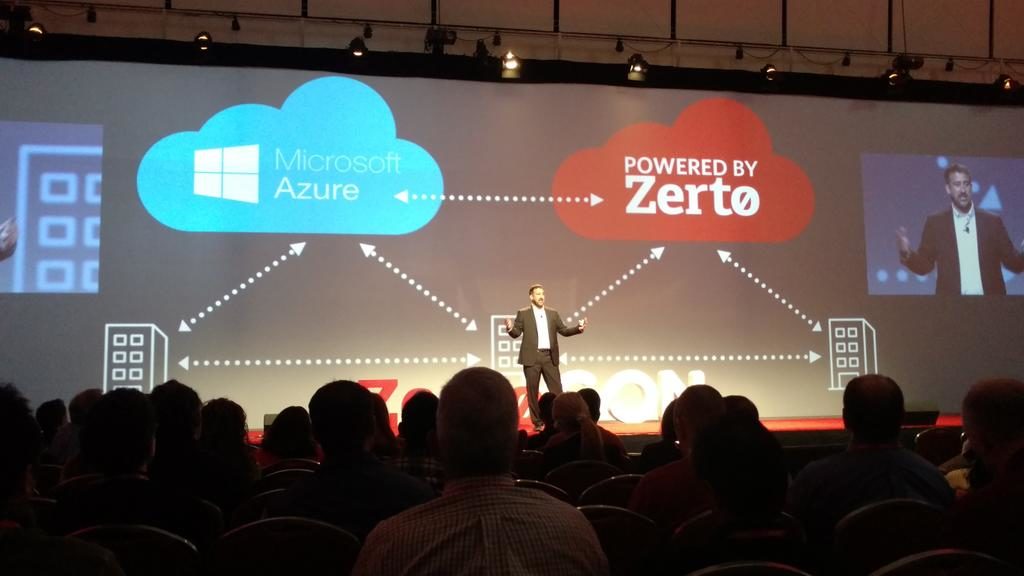 Then on Wednesday, Rob Strechay VP of Product, announced the entire list of features that will be in "Balvenie" as well as future release names during his product roadmap keynote. Before Rob was at Zerto, we were using Greek gods and goddesses, such as Athena (which became Zerto Virtual Replication 5.0). Rob is a big fan of scotch so we quickly switched to scotch brands. So if you hear anything about Cardhu, or Dalmore …. it might just be about one of the future Zerto releases. 😉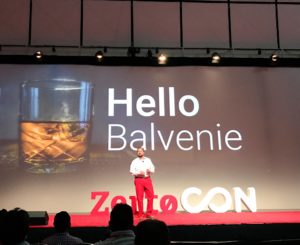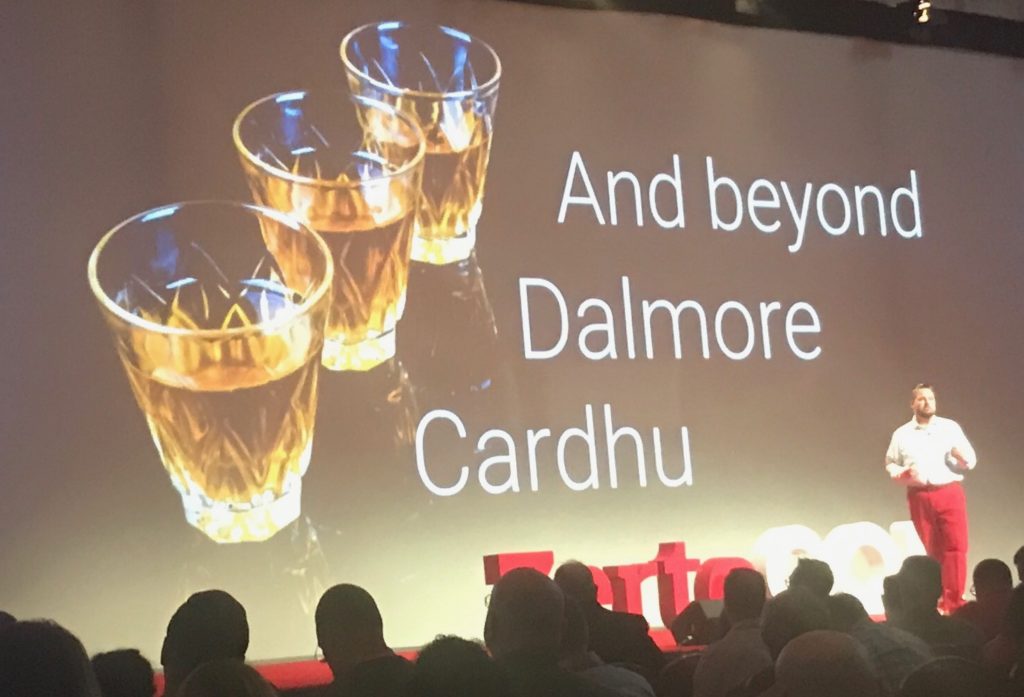 The other major feature enhancements to Zerto Virtual Replication focus mainly around the new Zerto SaaS portal for advanced analytics and all sorts of awesome reporting and planning forecasts that will be able to come from it.
Hands-On Labs
Everyone loves to get their hands on new tech, so Zerto's Shannon Snowden, along with partners OnX and iLand put together some great hands-on lab scenarios for attendees to go through.
Shannon handled the AWS lab, while OnX designed and hosted the Azure lab, and iLand designed and hosted a VMware / DRaaS provider lab. Combine these great labs with the Zerto Support, SE, and Sales team members that helped staff them and you get a product environment where attendees were able to do nearly 2000 failovers, moves, file level recoveries, etc.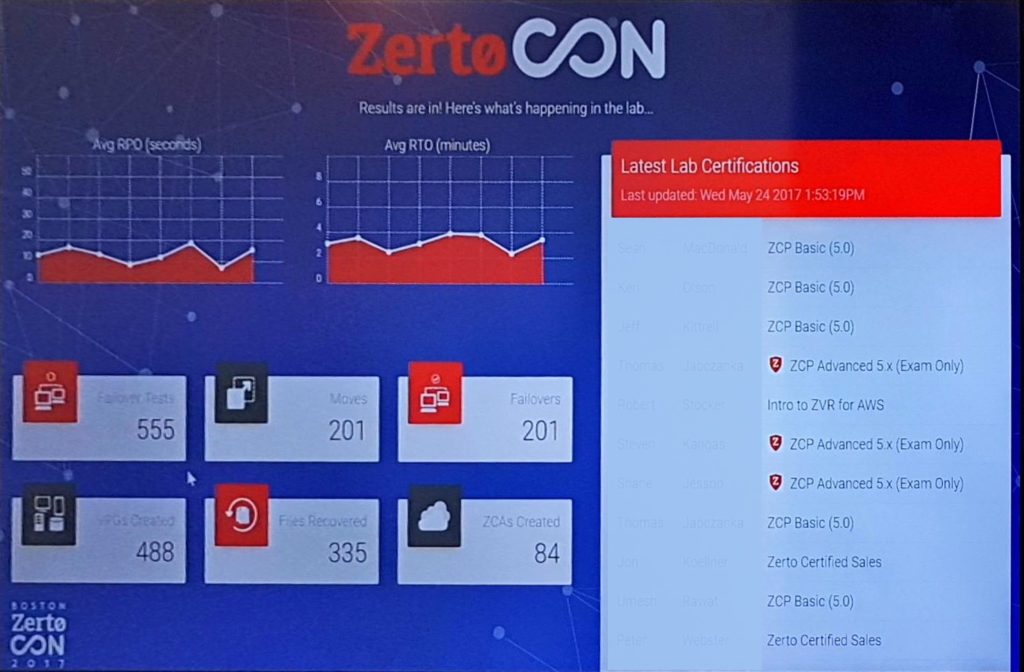 Advanced Training
Zerto has free video-based learning that anyone with a MyZerto account can take, but if you're a real geek then you need to come to ZertoCON. ZertoCON 2017 was the first time we (Zerto) have offered deep dive instructor-led training. I want to give a big shout out to Kevin, our training development guy, as we wouldn't have the training material without him! All-in-all, we had 93 attendees for our inaugural ZCP-Advanced class with most of them taking and passing their ZCPA cert right after the training.
This class was true information overload too! Even I learned some things, but for attendees, they received over 7 hours of training from Jack Bailey, Darren Swift, and myself. How they had the brain power left to take a 70 question test afterward is beyond me!
So congrats to all those who got their ZCPA!
(BTW if anyone from Zerto Marketing reads this I'll take a 3x "Too legit to Auto-Commit" t-shirt! k, THX!)
Two questions for you, my readers, 1.) would you be interested in taking this deep drive training if Zerto rolls it out on a more grand scale? 2.) Would you prefer in-person training or WebEx based training?
Partners
Zerto get's a lot of support from partners, both service provider partners as well as technical alliance partnerships. This year at ZertoCON the following partners joined us:
| | | | | |
| --- | --- | --- | --- | --- |
| Microsoft | Exagrid | Expedient | Hosting.com | PureStorage |
| Spectrum / Navisite | Nimble Storage | Nutanix | Pivot3 | Tegile |
| embotics | EnsureDR | GreenHouseData | iLand | Kaminario |
| Peak10 | phoenixNAP | Tierpoint | QTS | Webair |
| AWS | EchoStor | IBM Cloud | OnX | US Signal |
| Virtacore | | | | |
I want to personally say thank you to all of them!
Community
HANDS DOWN THE BEST PART OF ZERTOCON!
I've been to many conferences, everything from VMworld to EMC World, HP Discover, Interop, vmug user conferences, one-day conferences, etc. But without a doubt, ZertoCON has been the most fun and most rewarding in terms of community. I've heard that other conferences were personal back in their beginnings too, but it seems as though the bigger they get the less personal they are. Knowing the Zerto marketing staff as well as I do, I know their goal is to never lose the personal feel even as ZertoCON grows.
For example, day one was ZCP Advanced training, but during the rest of the conference, people stopped to ask me questions that they had thought of later. It was also cool to have that personal "I Know you" relationship with people you saw walking between sessions, doing labs, and even at the ZertoCON party. Don't get me wrong, the vExperts have this sort of comradery when we are at VMworld, but at ZertoCON it was extended to anyone who wanted to participate.
Lastly, Zerto has always listened closely to its customers and partners. ZertoCON is also a great example of this value, and because of it, they make sure to have plenty of the senior management team, product owners, developers, etc, on hand to answer questions and brainstorm new ideas.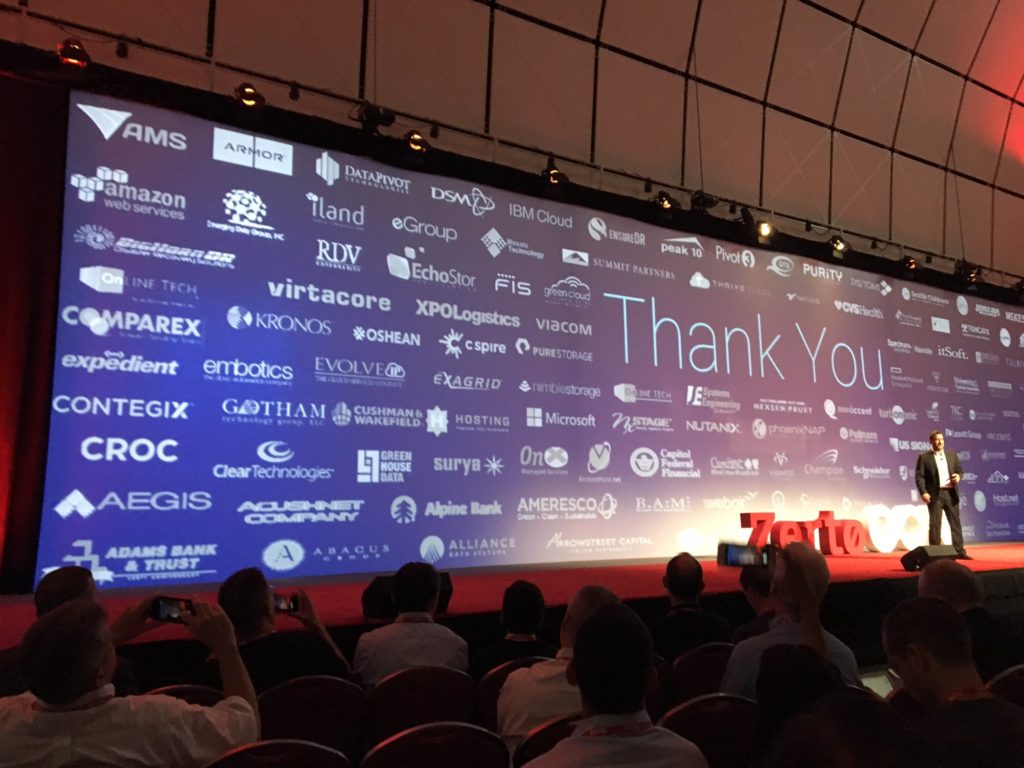 On to ZertoCON 2018
Planning has already begun for the next ZertoCON, so if all of the stuff above sounded too good to miss, then I would get it put in your calendar ASAP. (Plus if you book your hotel now you won't get hit with those awesome last minute prices.) As a special bonus I think we are doing 60% off the conference pass (as of this writing too), so check out https://www.zerto.com/zertocon for details on 2018.)
What would put ZertoCON 2018 over the top for me?
Even more labs! (maybe some partner integration labs)
more geek sessions
even deeper dive training (scripting??)
blogger meet up / social media get together
AC/DShe (remember our VMworld 2016 party 😉
What would you like to see at ZertoCON 2018? Maybe tweet to @ZertoCON with Hashtag #ZertoCON2018 ?