Vembu VMBackup is Backup and Disaster Recovery software that supports VMware vSphere,Microsoft Hyper-V, and even physical servers. VMBackup is designed to back up and replicate the virtual machines by taking snapshots of the VMs at the host (hypervisor) level.
Disclaimer: I was recently asked to review this software and while Vembu is a sponsor of my blog they, nor anyone else, have ever paid for a review by me. I also work for Zerto, so I have chosen not to review Vembu's replication piece because let's face it… my expectations for replication are pretty high in that area.
However, having worked with Veeam, as well as other backup products, in the past I thought it would be fun to see what some of the alternatives have to offer in the snapshot based backup space. So here we go!
Navigating the Interface
Before we dig into the meat of Vembu VMBackup I thought I would take you through the GUI a bit. I'm happy to report that it is all HTML5 and works great in every browser that I tried. In my opinion, it has a clean and organized look to it.
(Remember you can click any of these screenshots to get the full-size version)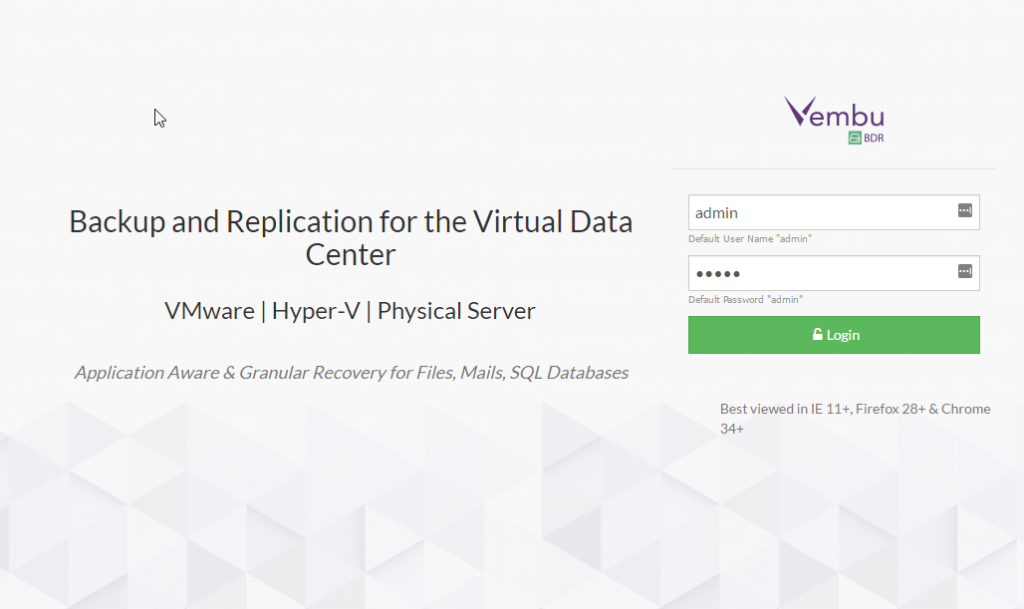 Here is a shot of the dashboard. You will spend a bunch of time here and it's also where you can launch the live stats pop up boxes. (Keep that in mind for later.)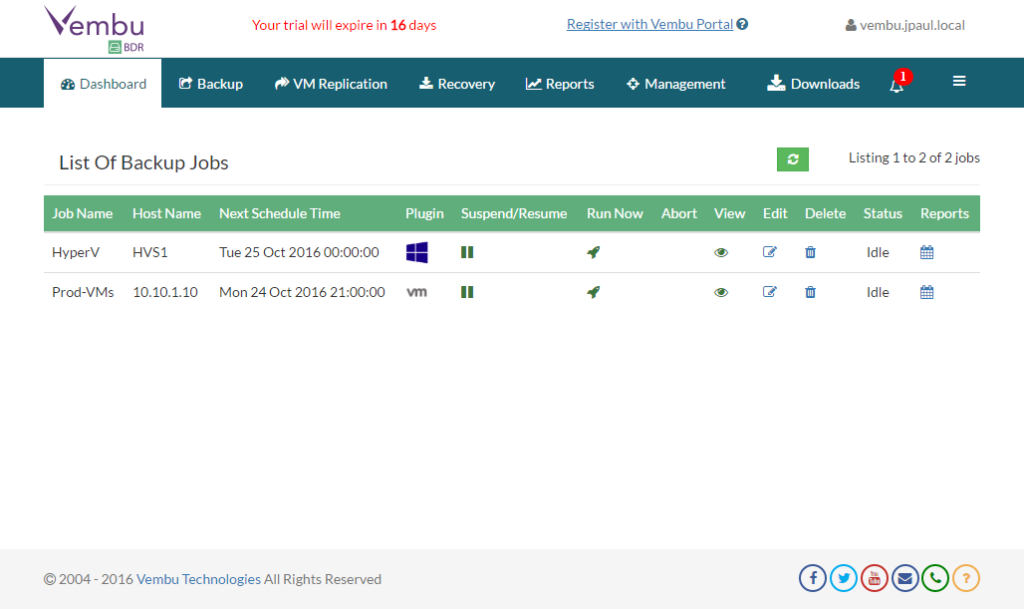 The Management section
There are six main sections to the Vembu Backup Interface that would get used day-to-day.
The first one that you will want to visit after installation is the Management tab. Inside of there, you can configure your backup storage location. In the limited testing that I did, I found that there are two key things to remember.
[stextbox id="alert"]
Move the default location off of your C: drive
You are better off to NOT use a dedupe storage device
[/stextbox]
These recommendations come from trial and error, and to be honest the Storage Management section is an area that I recommend that some improvements be made. Mainly because it was not obvious how to move the default location off the C: drive. Personally, I would rather remove the C: drive from the list all together. In my opinion, backup data should never go on a C: drive.
My "no dedupe storage" recommendation is because I was sending backups from Vembu to an Exagrid, and the dedupe rate was about 1.01:1. I also didn't see any options to turn of Vembu's compression, or optimize it for a dedupe storage device.
To make up for this pain point, Vembu has created a pretty neat file system, called VembuHIVE, that allows data to span multiple disks together to form a large backup repository. In other words, you can simply add a new drive to the server and the backup data is spanned from the old drives to the new drives. That feature is pretty awesome and is becoming more common in other backup software as well.
Normally the inability to support a dedupe storage box would be a deal killer for me. However in this case, while not really my preferred method, the design choices do make sense because of the way Vembu "grew up". Remember that Vembu has been in the MSP space for a while, so there is a pretty good chance that their software is running on a lot of physical Windows backup servers at client sites. Why is this relevant? Well if you are in the MSP business you make money by keeping costs low, and we all know that dedupe appliances are pricey.
(BTW, when I say that dedupe devices aren't supported, I mean that the VembuHIVE chunks don't seem to dedupe well on the Exagrid test unit I have. They might dedupe better on different vendors' dedupe boxes but I haven't tested them.)
After you have your backup storage setup you can start backups.
The Backup Menu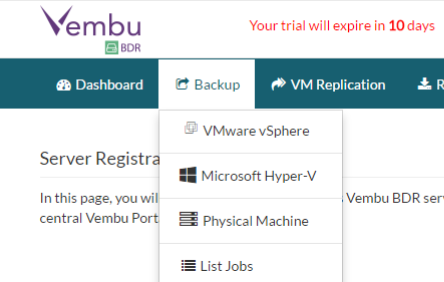 Remember that Vembu can back up both virtual and physical machines. I personally haven't gotten a chance to back up a physical machine because all I have are my desktops. But I have tried both the VMware and Hyper-V backup features and both work well.
The only issues that I ran into with my VMware backups were some errors about CBT. I would venture to say they were VMware problems but I didn't investigate too deeply. Remember it's just my lab… stuff is broke all the time.
Some other common screens
These are just some other random management interface screenshots that you can expect to see along the way. This first one is a live window of the backup job. It reports current progress and what is left to process.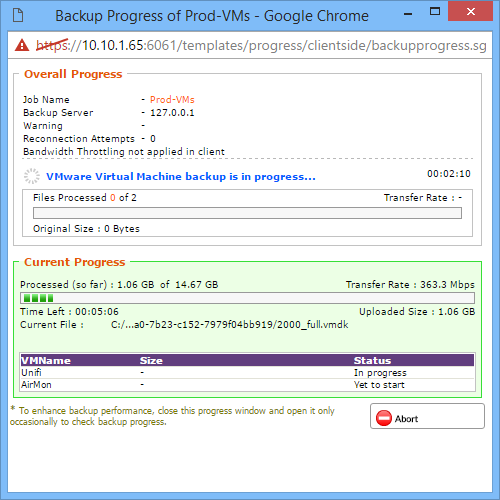 This is one of the backup reports. It is showing a list of the jobs that I have run over the last few days and what the overall status of the job was.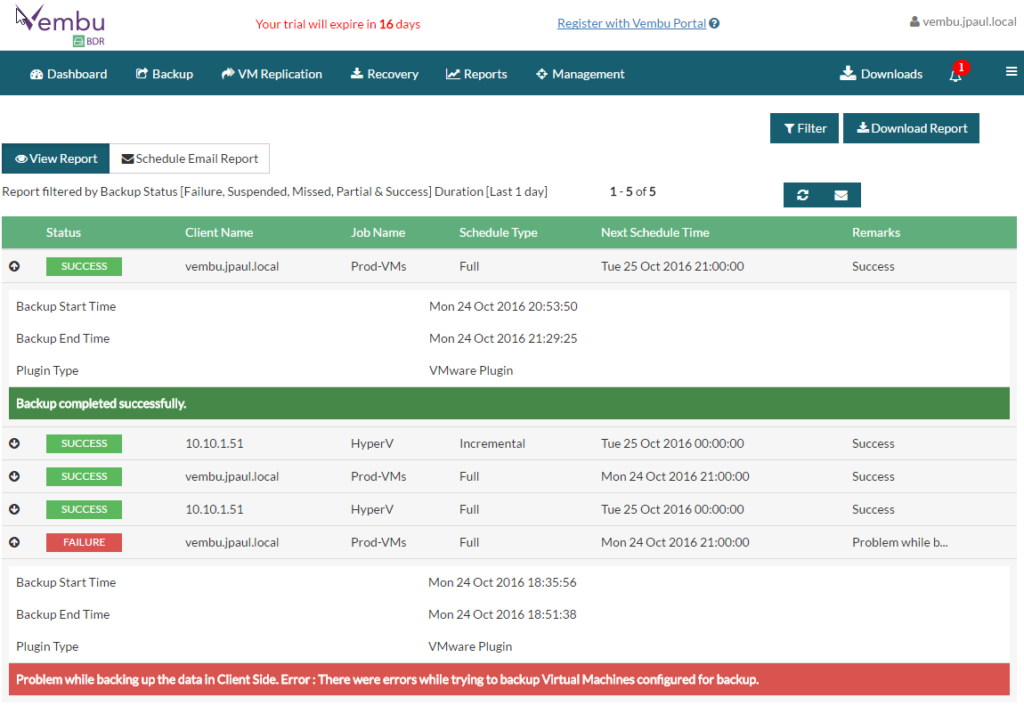 And finally an email report, I get these every time a job completes. They are pretty easy to read and get the important information across.

Now let's talk about how we get to the point where we can see all of those pretty pages and reports.
VMware Backup and Restore
VMware Backups
VMware backups are started by telling Vembu about your vCenter Server (you can do ESXi directly if you want). The process is pretty straight forward. You simply enter your hostname and credentials.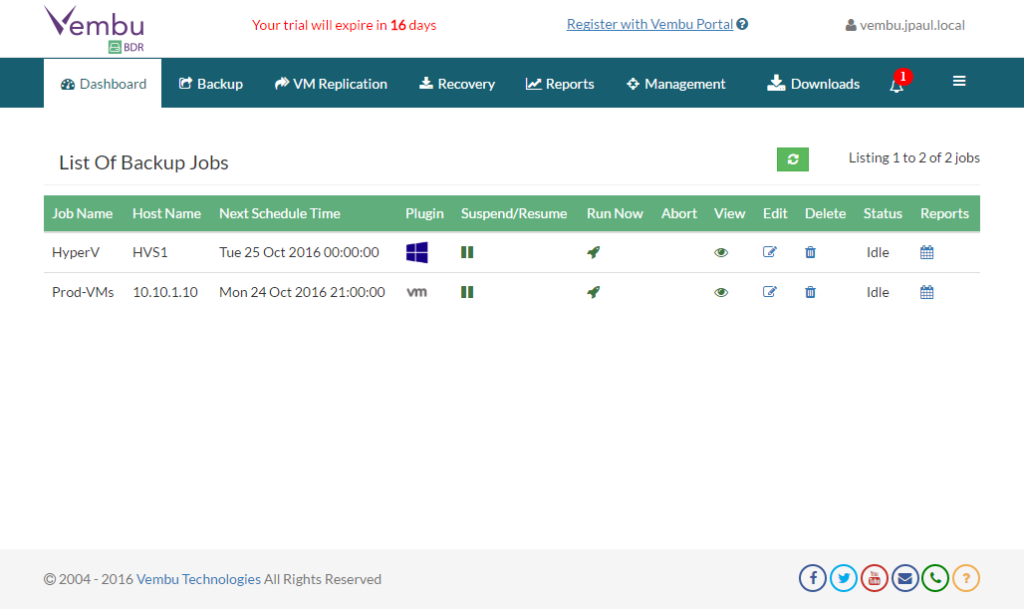 As you can see, in this list I have a job called "Prod-VM" that is backing up VM's from my 10.10.1.10 vCenter server.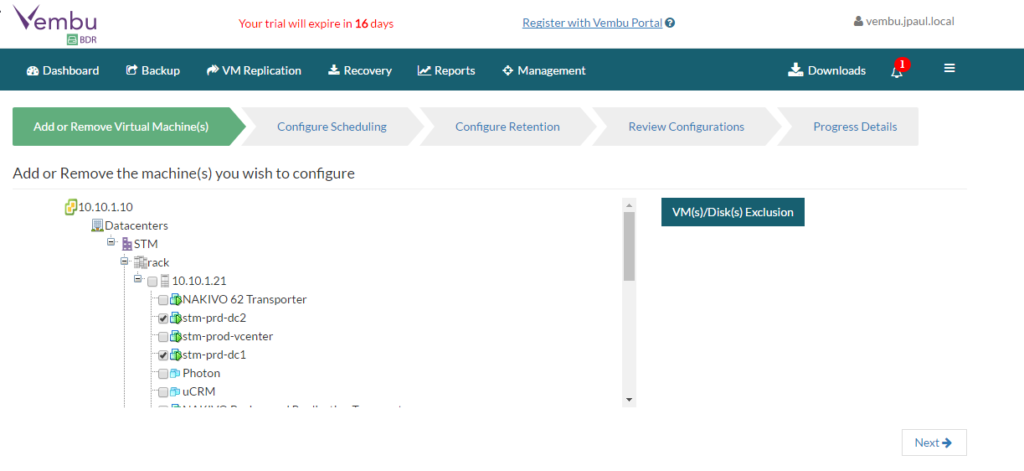 In the list of VM's you will want to select all of the VM's that you want in this backup job.
Now we select our backup schedule. For me, that means one time per day, at night. There are options to backup as often as every hour, but remember these backups leverage VMware snapshots so be careful and make sure that they are consolidated after each backup.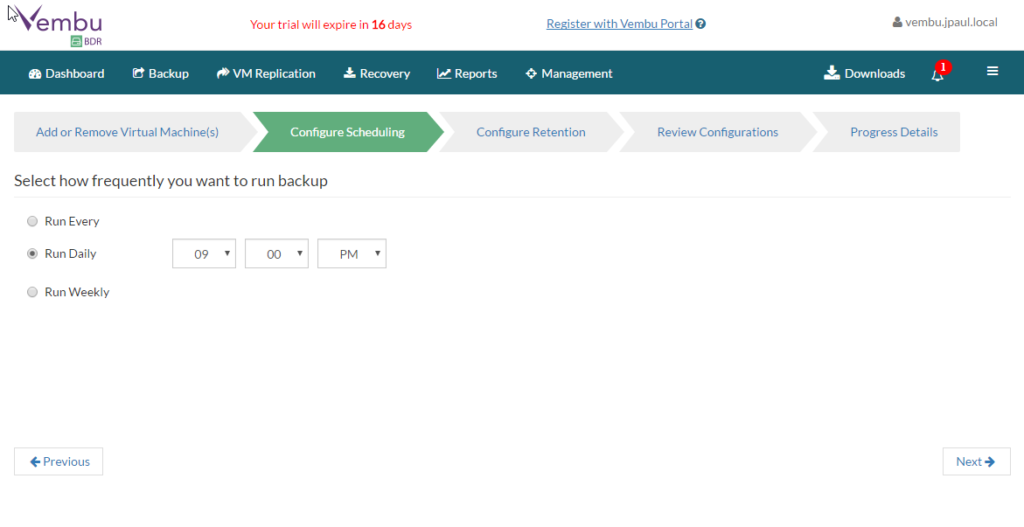 Retention settings are up next. Basic and advanced settings are available. The basic setting just retains a certain number of backups, while the advanced settings roll up points into a GFS schedule.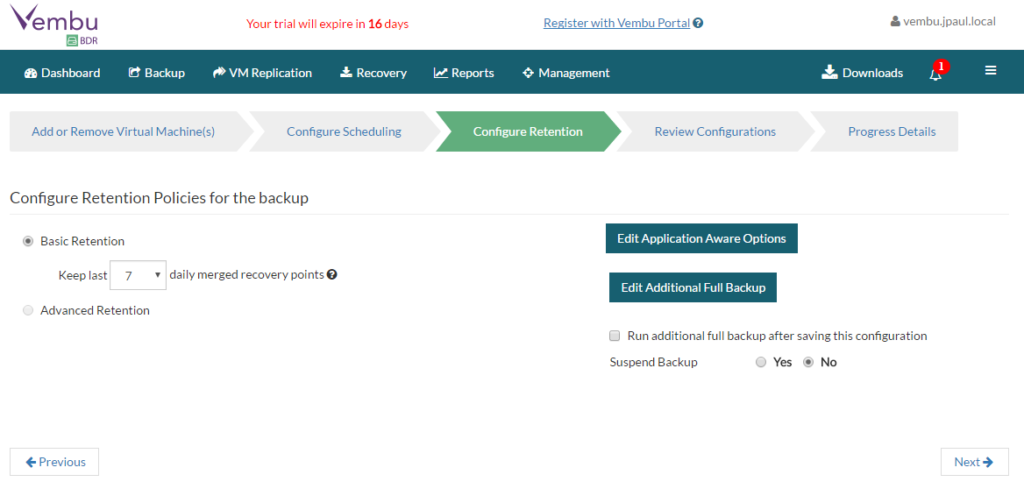 Next you can name you backup job, as well as view a short summary of the job.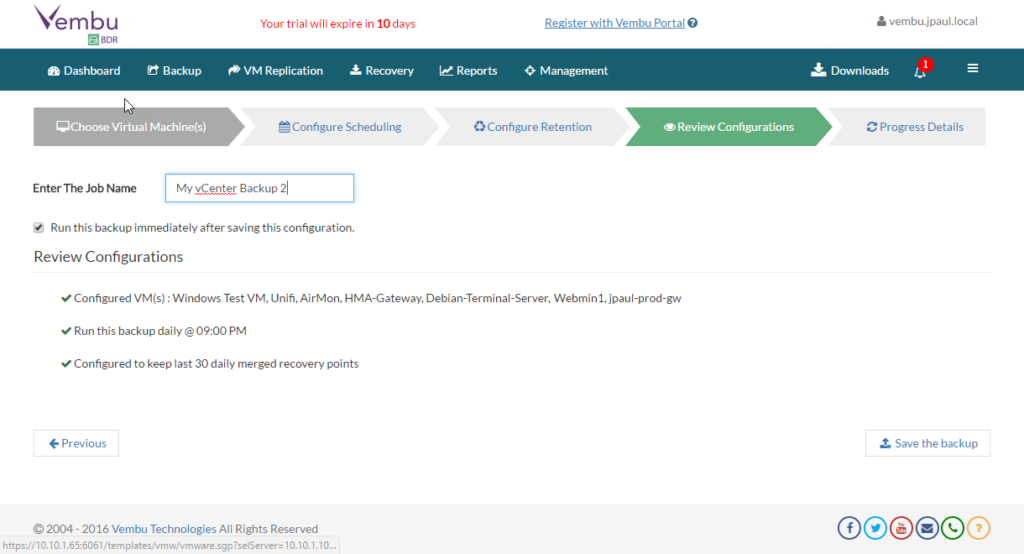 Finally, click save and then monitor job progress or wait for the status report email.
VMware Restores
VMware restores are pretty typical, meaning that you pick what you want and it restores it to the ESXi host that you want.
Here is the process. First, you will want to navigate to the Recovery section in the main blue nav-bar. Inside of there, you will find a list of the backup jobs that you have created. Click on the restore icon to start the wizard.
Next, you have to tell Vembu what type of recovery to perform. Essentially they have to know where to put the VMDK or VHDX and what type of destination will receive it. To do a simple full VM restore that goes back into VMware I choose "Live Recover to ESXi Server"

Next up is to select the snapshot to restore. I'm doing a backup each night so I can select any of the ones in the list.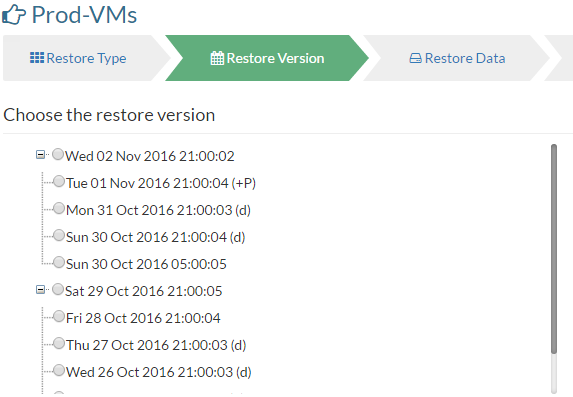 After selecting the snapshot it will allow you to select one of more of the VM's in that snapshot.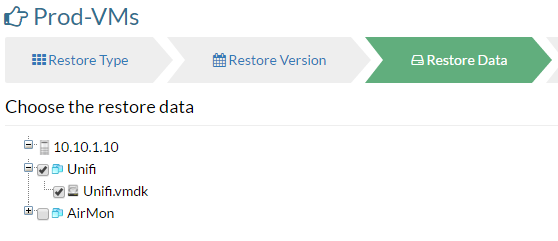 Then there is the destination. For me, that means vCenter / ESXi. You also can pick the datastore and the VM name to restore to.
One suggestion that I would make here is that there is no option to restore different virtual disks to different datastores. So while this is simple it might make restores harder for customers who have VM's that are larger than a single datastore.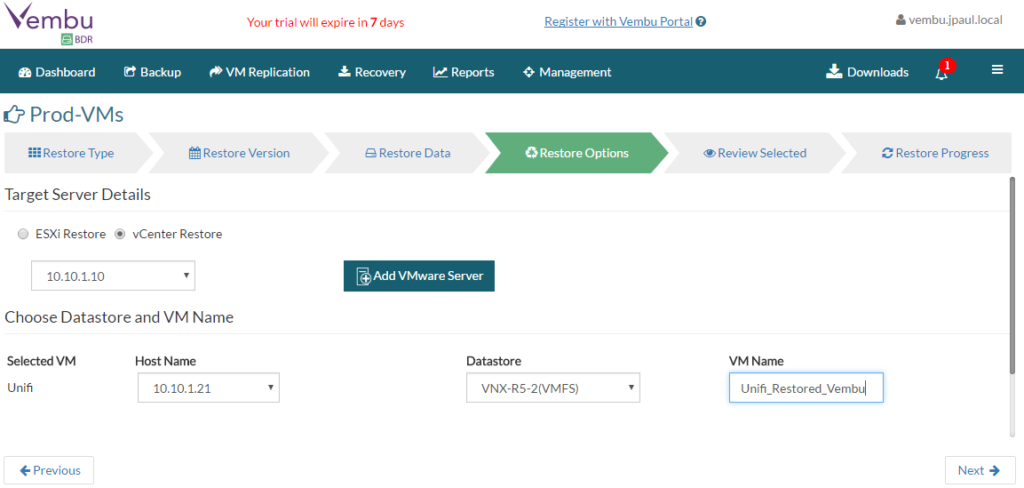 Lastly we have our review page. Here we are reviewing what will happen and we can select finish to kick off the restore. (You can't see that button because it's not in the screenshot)

In order to get detailed restore information you will want to navigate back over to the Dashboard section and look for an activity under the client tab. There will be one with a green down arrow. If you click it, it will launch the "live" details pop-up.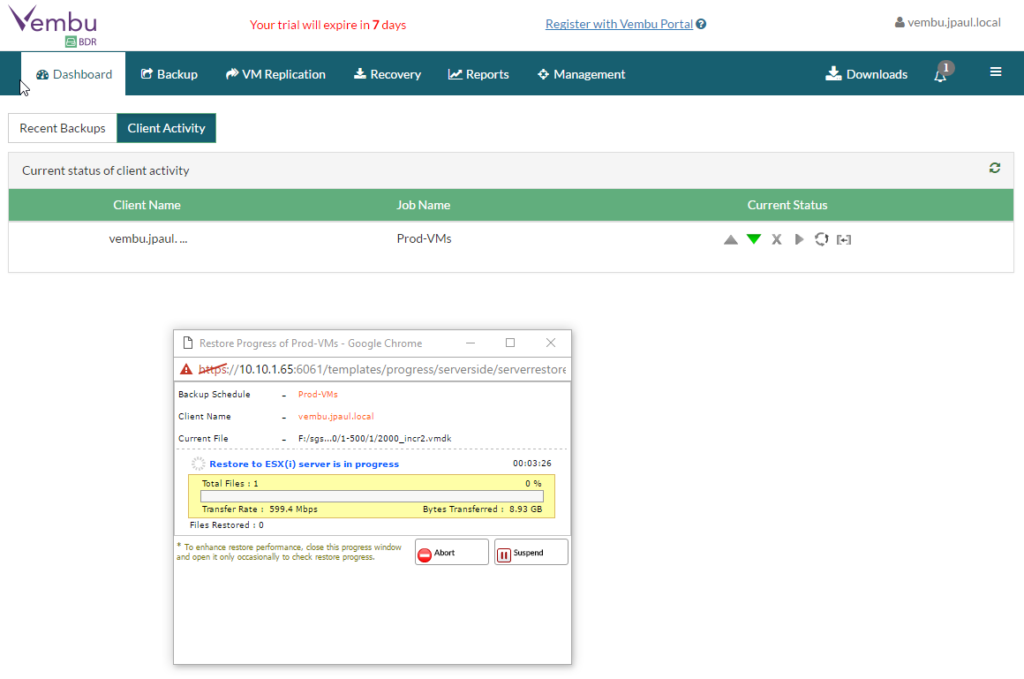 Here is a closer shot of the live details restore dialog. Also after the restore has completed you will also get a follow-up email letting you know that it has finished. That's a nice touch if you decided to run and grab food while it was restoring.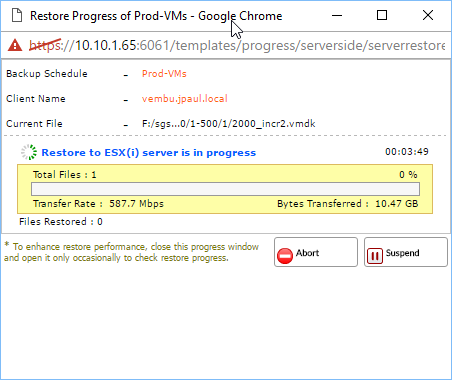 I didn't try all of the VMware restore options. I figured that a full VM restore is probably the most common, maybe I'll do the others in a future deep dive article after I have more time with the product.
Hyper-V Backup and Restore
Hyper-V Backups
Hyper-V backups are the same process as vCenter with one exception, at least from what I could tell. The one exception is that I didn't see anything labeled as "SCVMM", so I'm guessing you have to add each Hyper-V host individually. My biggest concern with that is what happens when your VMs live migrate to another host? If I had a second Hyper-V host setup I would tell you, but I don't.
Anyhow here is the process for what I could test. First off you have to add your Hyper-V hosts to Vembu. I tried to add an SCVMM machine but got an error.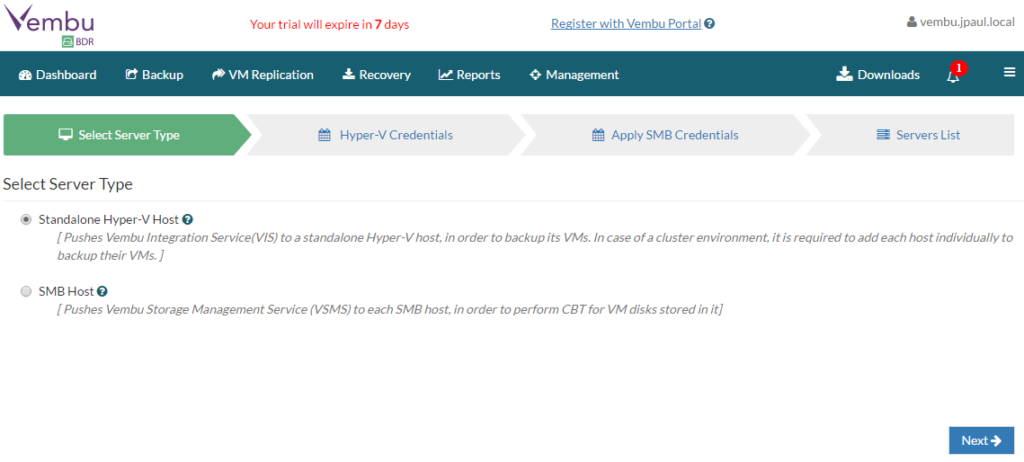 Then enter the host's specific details like credentials and IP or hostname.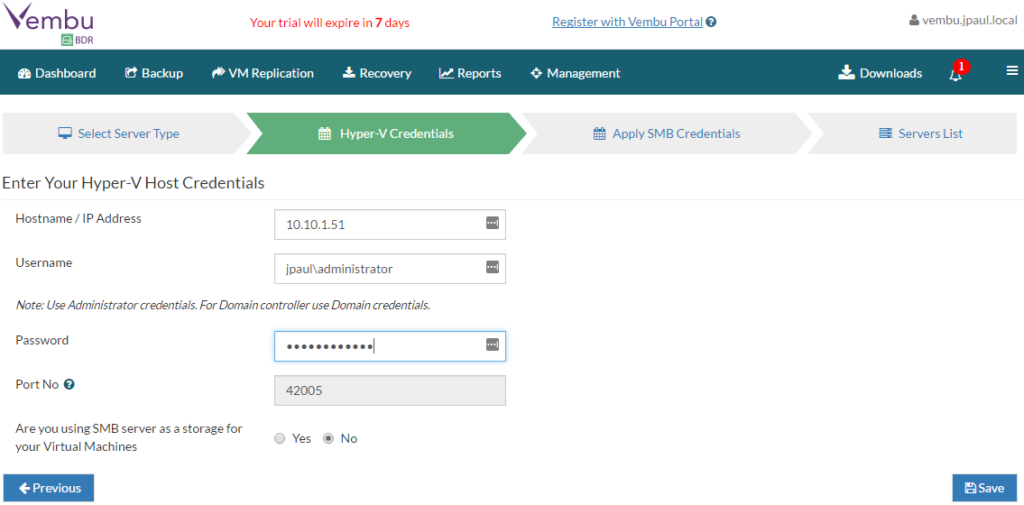 There are two more steps in the wizard to add a Hyper-V host, however, it wouldn't let me go back through those steps of the wizard since I have already added my host. Anyhow you will figure it out, it's not hard.
After adding your host you can then start to create backup jobs. To do so, click the icon under the Backup Now column.

In order to back up a VM, you will want to select it in the list. You can also exclude VMDK files if you would like by clicking on the blue button to the right.

Now we schedule the job. You can run it as often as hourly, or daily, or weekly.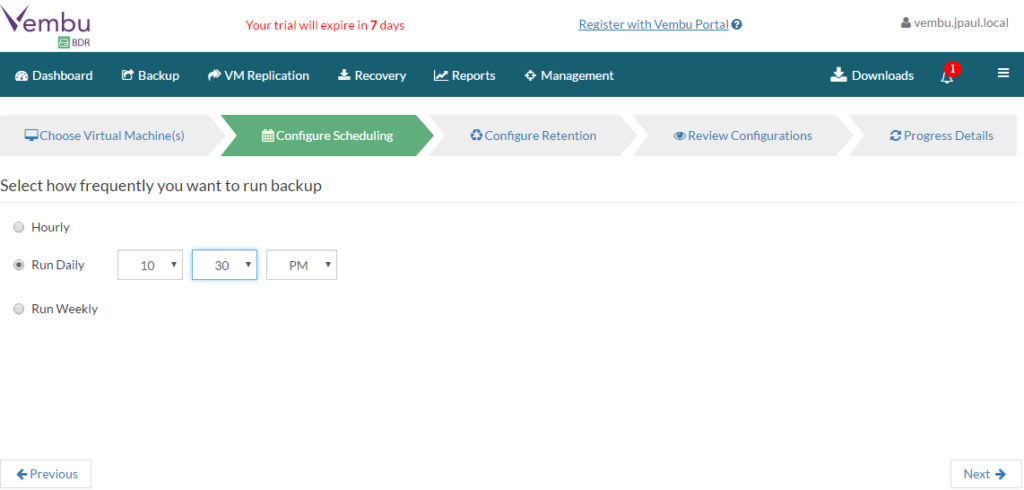 After scheduling when to run you can then select how many backups to keep in total. Under the advanced setting, you can also pick a typical GFS configuration as well.
Also on this screen is where you can also configure periodic full backups as well.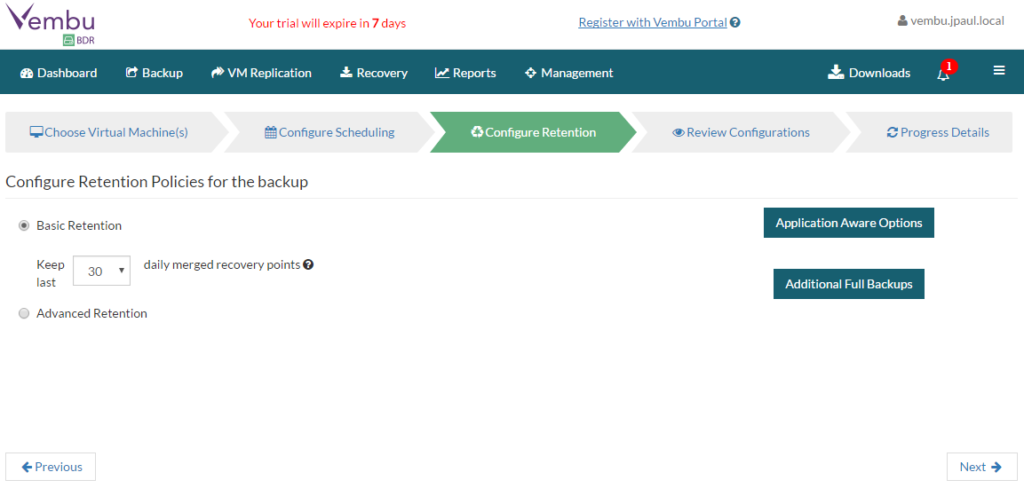 The last thing to do is give the job a name. Personally, I like naming the job at the end because it gives me a chance to grab the VM's first and figure out what will all be in the job.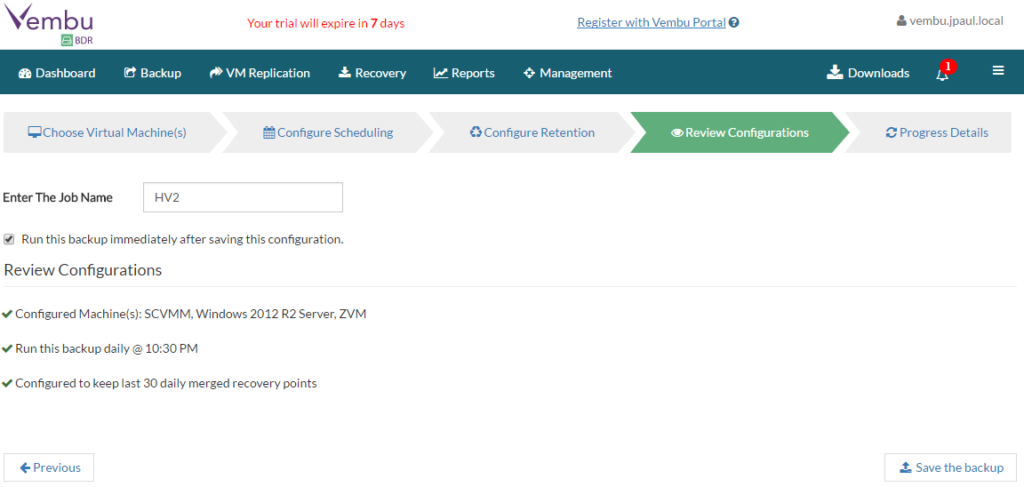 If you want to see the real details of the job then you will want to go back to the client activity dashboard and launch the live stats pop-up.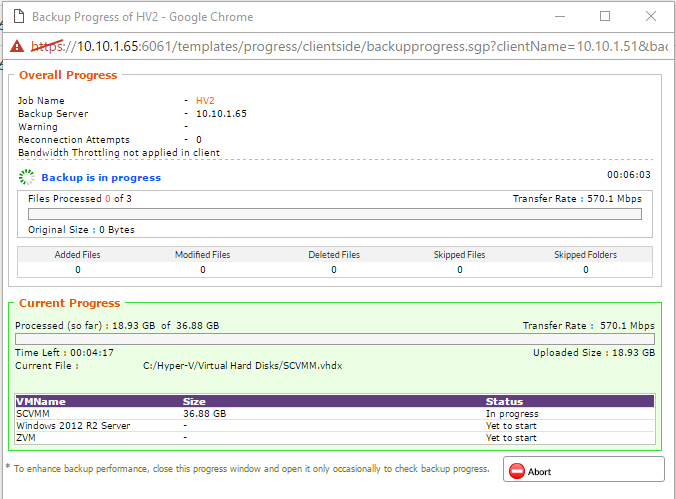 But in the end what good are backups with the restore. 🙂
Hyper-V Restores
If you read through the VMware Restore section…. you can probably skip this section. 🙂 LOL
There is really only one difference, and it's pretty annoying to me. Vembu makes you enter your Hyper-V server UNC path where you want the data restored to. It makes no sense to me because the software already knows where my Hyper-V server is…. Why not just pull that info?
Here is what I'm talking about.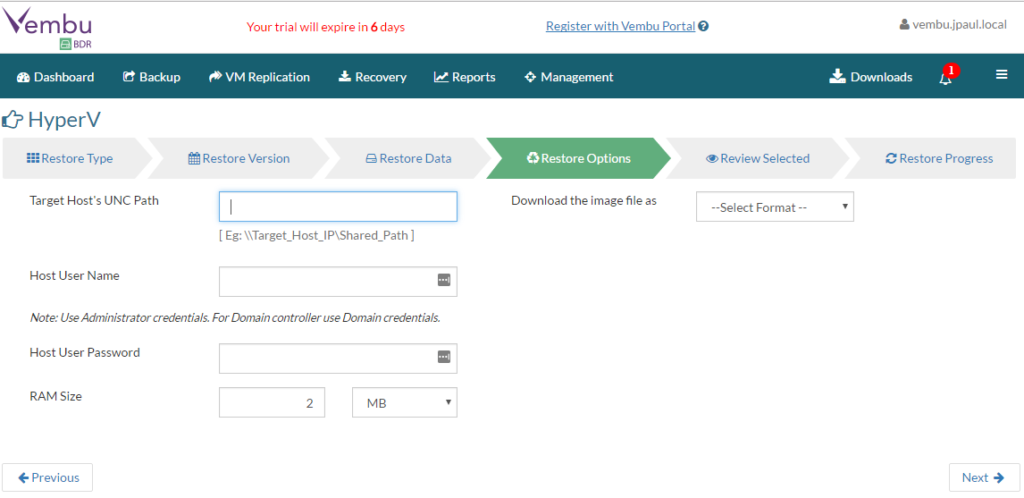 I'm sure this will be fixed in a future release and will act more like the VMware restore process. It's certainly not the end of the world, just something that delays restore time because I might have to go look up the info.
At the end of the day, the bottom line is that Vembu was able to restore everything I asked it to do… both Hyper-V and VMware.
Pricing
[stextbox id="info"]There are few companies that have an MSRP that is also their street price. So please do your homework before purchasing. These prices are just what I could find online, and I have to believe they are MSRP. Check out my "What I learned about IT purchasing" article if you need the inside scoop on how many companies operate.[/stextbox]
Vembu VMBackup is priced a little differently than most of the products you are probably used to. Instead of the traditional perpetual model where you buy the software and then pay an annual maintenance fee for upgrades and support… Vembu has rolled it all into a single line item, but you pay the same price every year. So the upfront cost to get Vembu is relatively low compared to a more traditional model like Veeam.
For example, let's say that you have a four host cluster, here is roughly what pricing would look like.
(Remember this is purely theoretical because it's been almost 2 years since I quoted Veeam to a customer.)
Prices for the VMware licenses:
| | | |
| --- | --- | --- |
| Year | Vembu | Veeam |
| 1 | $360 * 4 hosts = $1440 | ~$3055 * 4 hosts = $12220 |
| 2 | $1440 | $12220 * 15% = $1833 |
| 3 | $1440 | $1833 |
| 4 | $1440 | $1833 |
| 5 | $1440 | $1833 |
| 5YR TCO | $7,200 | $19,552 |
Prices for the Hyper-V licenses:
| | | |
| --- | --- | --- |
| Year | Vembu | Veeam |
| 1 | $240 * 4 hosts = $960 | ~$1330 * 4 hosts = $5320 |
| 2 | $960 | $5320 * 15% = $798 |
| 3 | $960 | $798 |
| 4 | $960 | $798 |
| 5 | $960 | $798 |
| 5YR TCO | $4,800 | $8,512 |
This assumes that pricing doesn't go up on either product, etc etc. (All pricing was obtained via the vendors website.)
So Vembu is about half the cost over 5 years compared to Veeam.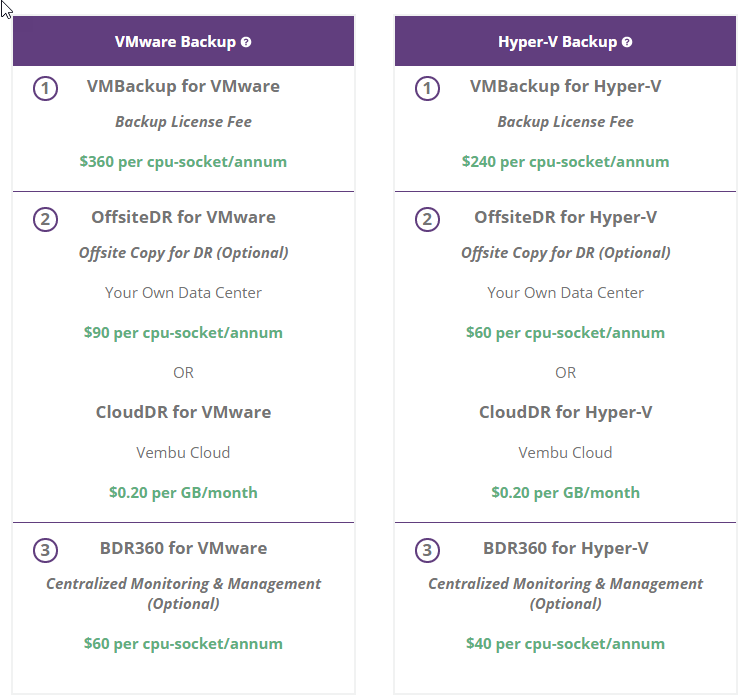 Closing Thoughts
Vembu seems to be breaking into the virtualization space and is quickly releasing new features. There are some things that I think Vembu will need to put some dev time into. Mainly to refine the logic behind the scenes, as well as the stuff I listed throughout the article.
The Hyper-V UNC path stuff aggravates me too LOL, but overall the product was able to back up everything I threw at it. And as you can see from my screenshots, it has been running pretty well for almost the full 30 days of the trial key.
I would like to see a few other things added to Vembu too. First would be global dedupe. In my opinion, the savings of global dedupe shows a real value when customers start asking for GFS scheduled backups, or the ability to retain many full backups. I wasn't impressed with the dedupe rates that a 3rd party dedupe box was able to do, so IMO they should just build it in. If they did, and they combined it with the ability to scale out disks in a backup appliance, I think customers would find that as a great selling point.
The last feature that I would ask to be added is more stats around compression rates. If they are in there, then they are hidden pretty well because I wasn't able to find them. Actually, while we are at it… let's just say more stats in general… if there is a metric somewhere show it to me.
Vembu does have some of the "nice to have" feature's like item level recovery of the major Windows applications already built-in. So overall I think that Vembu is a pretty good contender and will gain traction as features are added and more customers look to exit from higher priced backup packages. After all … most backup software uses the same VMware API's for Data Protection… and most are able to perform both file and item level restores. So it really comes down to what type of interface you want to work with (ie your personal preference), what special features each package has, and the most important…. what your budget is.
As always thanks for reading!