If you have been considering Cisco UCS blades for your upcoming server refresh, but know that you won't ever need more than a single chassis of blades… then go grab some coffee or a red bull and read on!
The UCS "Mini" as it's being called, is the same in every way to the tried and true UCS platform… same blades…. same chassis… same UCS Manager software. There are only two (main) differences
the Fabric Interconnects – up until now the FI's have resembled Nexus switches… they are 1u each… have LOTS of universal ports on them… and make a shit load of noise. (pardon my french)
the IO modules – on a traditional UCS design each chassis receives a pair of IO modules that are then connected to the traditional fabric interconnects
With the UCS Mini Cisco has collapsed the Fabric Interconnect into the IO Module form factor. So instead of inserting IO Modules into the chassis you insert the Fabric Interconnects into it and tada… UCS Mini. Why? well some customers just don't need to be able to scale to 100's of blades… but they do want the goodness of UCS profiles and unified connectivity.
Cisco 6234 Fabric Interconnect
So here it is, the device that makes the UCS Mini… the Mini.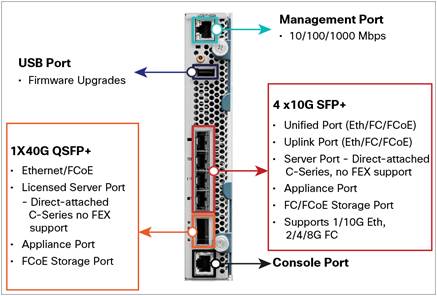 As you can see there are not a lot of ports on this guy. But for a maximum of 8 blades (and up to 7 rack mount servers) you really don't need a lot. In fact I just posted a UCS Mini Design post today too, so check it out… it explains how I would be using the ports on the new 6324.
Cisco has also released a bunch of new documentation on what the limits and configuration details are on the new 6324. Make sure to review these before finalizing your designs though, as there are more strict limitations on certain features.
They can all be found below:
Just for reference here is a high level picture from the datasheet of what the complete solution can look like: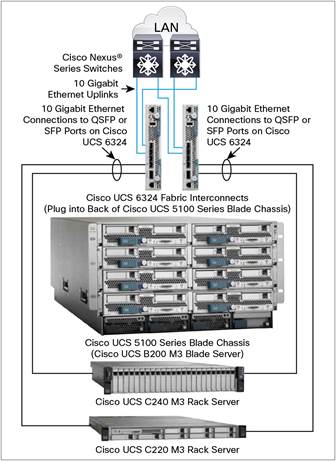 Other new stuff on UCS Mini
Before I forget there are also a few other new things to talk about on the UCS Mini, the biggest one (at least in my opinion) is that you can now order the 5108 chassis (when purchasing for the UCS mini only!) with 110V power supplies…. this is huge for SMB's who dont have 4x20Amp C19 sockets just sitting around. This is achieved through better dynamic power capping capabilities as well as staggering the boot of blades.
USB firmware upgrades are also now a reality for the UCS Mini, and there is one other port on the 6324 that I haven't mentioned yet, and that is the 40Gig QSFP port… or the "scalability port"… this port is what you can use to attach UCS C series systems to the 6324 fabric interconnects or if you have some bad ass switch with 40Gbps QSFP ports then you are all set!