It's been pretty well-known that Zerto had plans to implement an Offsite backup feature into their Replication/DR product. And well the day has come to announce that it, along with Zerto 3.5 is now ready for you to install.
So lets first talk about what Zerto's backup feature is and is not. (ie. the marketing stuff, with a tech explanation.)
It is not:
a full featured … replace your current solution… backup product (in my opinion)
it does not support tape (although you can write the files out to tape with another product)
it does not do incremental backups, all backup images are full backups
It does not remove whitespace from the backup images (READ… you will need lots of disk space or a dedupe appliance… which I recommend anyhow)
It is (or does):
a working product that will restore your VM's
a great way to have backups at your DR site
a way to save bandwidth to your DR site
a way to extend your protection window at DR past 96 hours
capable of dumping full backup images to an SMB/CIFS share
uses the data it has already replicated to DR site to create backup images
therefore has no impact on production site
Things to keep in mind:
Backups/Restores are subject to the same VPG restrictions as failover… Meaning that you cannot restore or backup just one VM from a VPG. Keep this in mind when deciding how to group your VM's into VPG's (although I almost guarantee they will fix this in future releases)
Because whitespace is not removed from backup images they are "full-sized" so even if your VM is thin provisioned in vSphere their backup images will take up the entire amount of space assigned to the VM. YOU WILL WANT A DEDUPE APPLIANCE!
Because this version does not have file level recovery built-in, no matter what you want back… you will have to do a full recovery of the VPG that the VM is in. So this is truly a DR or last resort option.
Where I see the new backup feature fitting in:
I've been using Zerto 3.5 for a few weeks now and have the backup feature in use for both my blog and my test sharepoint site. Here is my protection strategy for my VM's.
Primary Protection – what I use to restore a file or a VM if something becomes corrupt:
Veeam Backup's nightly to HP StoreOnce VSA
Secondary Protection – what I use if my colo facility (or colo gear) becomes a pile of ash, or if my ancient EMC CX3 SAN finally gives up on me:
Zerto Virtual Replication from Colo to my home lab equipment (this gives me the latest 24 hours of changes)
Tertiary Protection – this is what Zerto 3.5 and offsite backup adds:
Zerto Offsite Backups going to Windows 2012 Dedupe Pool (this gives me copies of my VM's if I need to go back greater than 24 hours even if my colo gear melts down)
Lastly before the geek stuff… there are some other features that were added in 3.5 too:
Improved alerting with probable cause and solution information included in the alert
Simplified management with more informative and clearer VPG status information
Easily change target datastores leveraging Storage vMotion
Now for the geek stuff/screenshots
The first thing we need to do is create a backup repository.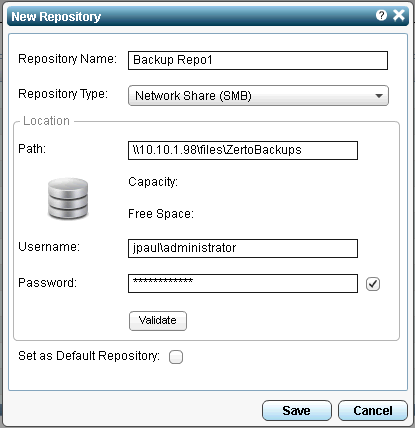 As stated before Zerto will work with any device that can present an SMB share.
After creating a backup repository you can navigate back to your VPG list and choose "Extended Recovery" or if you have Zerto Cloud Manager installed and have created profiles, select one of your profiles that have the Extended Recovery option on.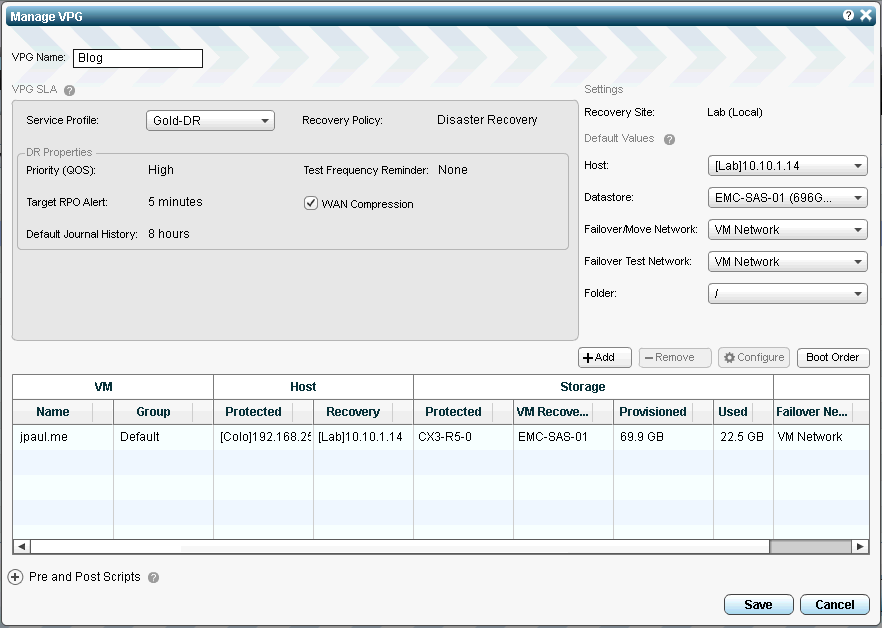 Up in the gray box (if you don't have ZCM) you can see how in the upper screenshot it says Disaster Recovery…. when you want to do backups for a VPG you change that to Extended Recovery…. Again I have ZCM installed as well so I have service profiles that I have created "Gold-DR" means no backups, but a high QOS setting and 5 minute RPO alert level. In the below screenshot I have changed to "Gold-ER", which is a service profile for extended recovery.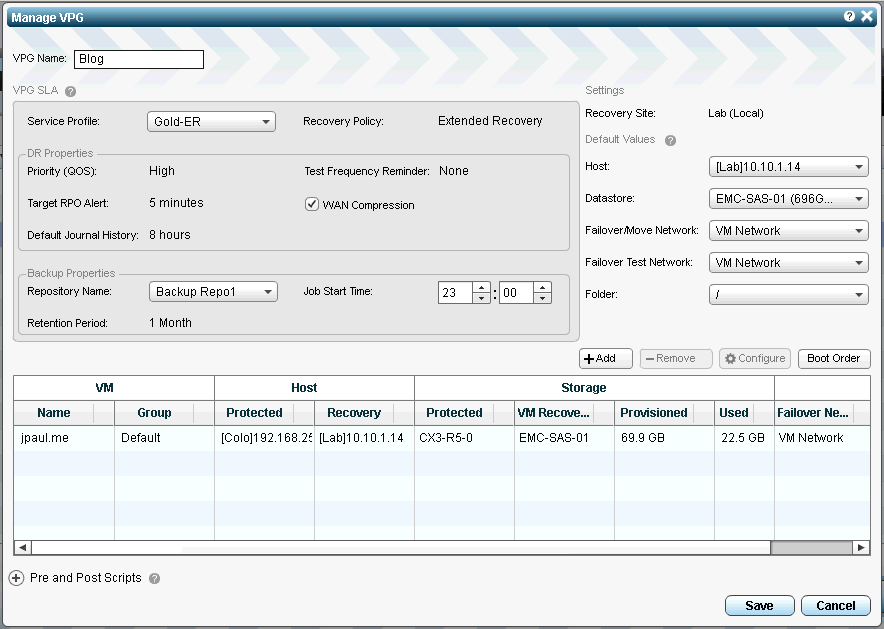 As you can also see that now adds some options where you can pick which backup repository to use as well as when to start the backups. Also there is an option to create a backup weekly or daily, again it's just not shown here because of the ZCM being installed. If you aren't using service profiles your more granular backup options will look like: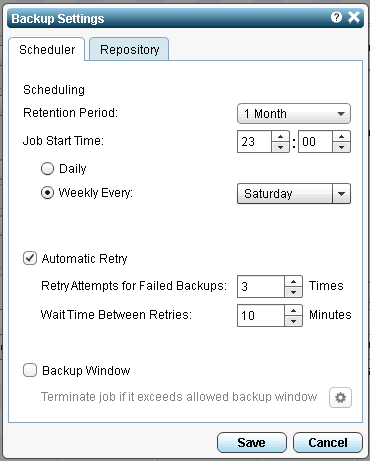 You can choose a backup retention period from 1 month to 1 year, the start time, how often (daily or weekly) as well as if you want to retry if there is a failure as well as the backup window.
After you have added Extended Recovery to a VPG you can then manually kick off a backup or wait for the scheduled time.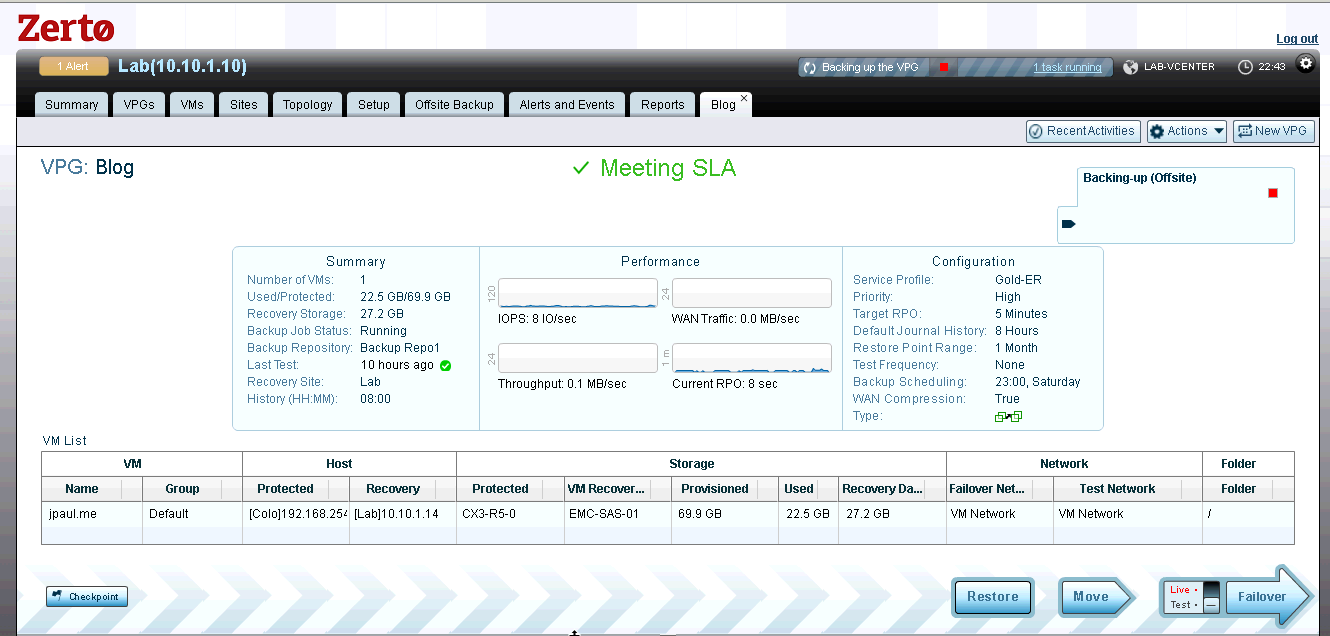 As you can see it shows you on the VPG screen that a backup is happening, as well as in the task panel at the bottom.
Just like there is a VPG tab that lists the VPG's, there is also now an Offsite Backup tab that lists all the backups.

So the important part … the restore…There is a wizard to get things going for you: