This morning as I prepare to meet with a coworker to discuss cloud pricing and what our company intends to offer I was thinking about why a company would want cloud (or ITaaS) services. The feed back I normally get is that most IT people are gun shy about the idea because they think that they will be out of a job after moving the servers to the cloud. While management likes the idea because they see less Capex and just an Opex. So I was trying to come up with a really cool way of explaining why you… the IT person… will still have a job even if you move to a cloud infrastructure.
I like to relate situations to other things that most people have had experience with in order to better explain them. Somehow while thinking of a way to explain why the cloud isn't going to take your job I thought of playgrounds and parks. Let me explain.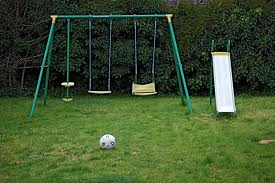 When I was a kid mom and dad along with my aunts and uncles all had small play equipment in their yards. Sometimes it was just a swing set (which was boring) and sometimes they were the more elaborate ones with slides and a small tree house looking area. It's safe to say that the play ground equipment in the yard also changed over the years, after all wood deteriorates and metal rusts, and sooner or later it needed replaced. Overall though those swing sets got me by, somehow I managed to always be entertained while out there. I'm sure my dad and uncles were less enthused though, because they were the guys who had to maintain that equipment… and buy it… and mow around it….you get the point. (btw the home play set represents your private servers at your job and you and your dad are the "IT guys", but I'm sure you picked that up already)
Now lets think about a public park. Normally there is a really cool playground with small pebbles or mulch surrounding everything so your kids don't get hurt. Sometimes there are benches where parents can sit and watch their children play too.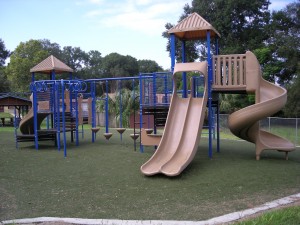 Where I grew up the town did a great job of maintaining the equipment and even upgrading it with more features through out the years. It was also right by the baseball fields and public swimming pool too, so it was easy to get to and use. The bottom line is that I still got to play… even though I didn't own it. Sure my parents paid taxes, which in turn bought all that stuff, but without other families paying part of the bill the community as a whole would have never had that awesome of a playground. Plus lets look at it from my dad's perspective… HE DIDN'T HAVE TO MOW AROUND IT! Nor did he have to build it, or maintain it. All he had to do was pitch in on the bill, and to him it was still a win because his kids still had fun. (if you haven't already figured it out… the park and public playground is the cloud 😉
Lets go back to thinking about IT now because you might be thinking but wait… our dad is now out of a job because we won't need the play set at home. But lets think about it, just because we don't have a swing set in the yard doesn't mean there still isn't grass to mow and trees to trim. Plus you have to remember that dad isn't the only IT person represented here, you ( the kid playing) is also representing an IT person too. There are still operating systems to install, applications to maintain, and user problems to worry about. The cloud is just freeing up your time from maintaining infrastructure and giving it back so that you can handle the day to day stuff and working on more projects.
Anyhow that is my stupid little explanation of why you're still going to come to work every day even if you migrate all your servers to the cloud.