This is going to be the first post in a series on how I am building and testing my vCloud. I will be using vSphere 5 and will opt for the Linux vCenter appliance as well as ESXi 5.0 and the latest beta versions of vShield and vCloud Director.
Hardware
Lets first talk about the hardware setup that I will be using along with the general layout template that I will try to follow. VMware has published a doc on how to build a public multi-tenant vCloud here, this document will be the roadmap for my test lab.
Here is the diagram from the above-listed document that explains the main hardware overview: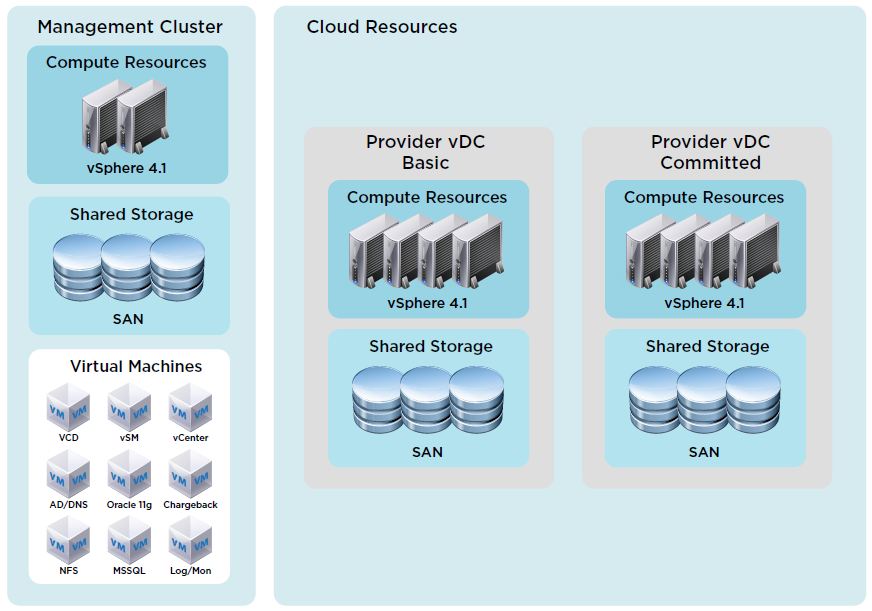 There are three major groups of hardware in the diagram, however, my tests will only consist of the "Management Cluster" and the "Provider vDC Basic", since this is just a test I won't be using two Provider vDC's. Also for the management cluster, I will be using just one ESXi 5.0 host instead of two because I don't need HA at this time. My "Provider vDC" will consist of at least two DL385 G2 servers with Fiber Channel storage to my MSA1000 SAN. Obviously, none of this hardware is going to be screaming fast, but it will work great for what I want to test.
So here is what we will have:
Intel Xeon based ESXi 5.0 Host for Management (local storage):
vCenter Appliance
vShield Manager
vCloud Director
Chargeback Server
Oracle 10g XE DB Server
HP DL385 G2 Cluster (at least 2 hosts):
ESXi 5.0
vDistributed Switch (Customer VLANs)
Standard Switch (management)
HA, DRS
Fiber Channel Shared Storage