VMware is targeting SMB's and branch offices for its latest vSphere add-on. The vSphere 5 Storage Appliance offers customers the choice of putting internal storage in their ESXi servers and then create a shared storage repository out of it. This allows you to avoid buying a SAN, but still have high availability, and if one of your ESXi servers crashes your data will still be accessible via the other server.
If you follow my blog you may recall reading a post about the P2000 that will sound very close to this post, check it out here. In that post I compare the costs of a hardware SAN like the P2000 to the costs of the Hp P4000 Virtual SAN.
In that article I also compare costs between then, here is an excerpt.
Cost for:
Part
HP VSA (2 node cluster)
HP P2000 (SFF iSCSI)
Chassis / Node License
$8780 ( 2 x 4390)
$8950
300 GB Drives
$5400 ( 12 x 450)
$2700 (6 x 450)
Totals
$14180 ($7.88/GB)
$ 11650 ($6.47/GB)
So lets compare these to the new VMware Storage Appliance and see what we come up with. First I should mention that the VSA software can be used with ANY version of vSphere, however the only bundle is if you purchase it with Essentials Plus. For the scope of this post we will assume you are purchasing the Essentials Plus bundle.
VMware vSphere 5 Essentials Plus will cost $4,495 plus $1,124 for 24×7 subscription and support for 1 Year. The Essentials Plus kit with the Storage Appliance retails for $7,995 and support is $2,623… a difference of $4,999. The image below shows that $3,500 of this is for the VSA … the difference is then an uplifted support contract. This will get you licensing for 3 hosts so that each of your hosts that are licensed for essentials plus can also run as a storage node. (Note, if you purchase the VSA separate from this bundle the price goes up to $5,999)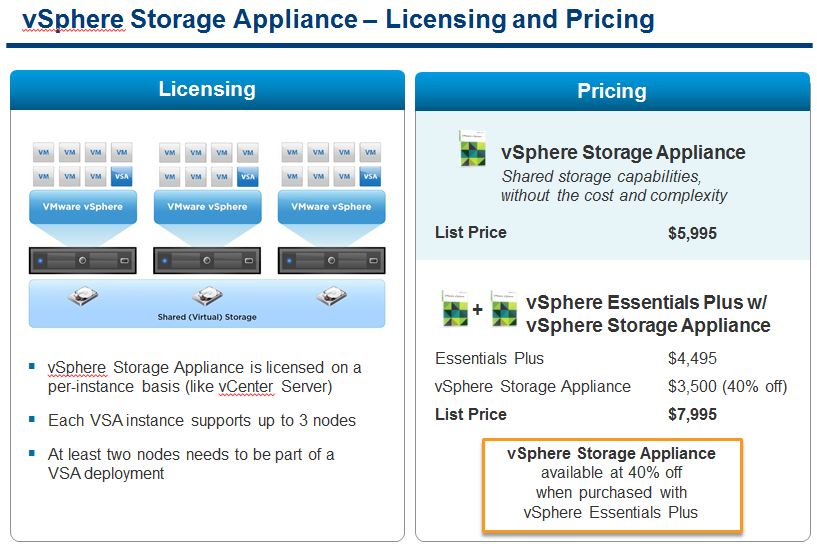 In order to keep things apples to apples we will assume that you are only going to use two of your three licenses. This will make it apples to apples for the HP VSA pricing above… it will also require us to buy less drives and not skew the results too much.
So our node licensing price would be $4,999 and our drive costs would be the same as the HP VSA, so $5400. This gives us a total of $10,399, which is less then both of the options listed in the chart above. (This is why I said we will only use two nodes, if we would use three, and purchase more drives for it… then it would actually be cheaper to buy an HP P2000 SAN)
It looks like from the financial side of things the new VMware Storage Appliance will be a pretty decent deal. Obviously this should only be used in environments that fit. A hardware SAN will probably (in most cases) perform better that a virtual SAN, but for an office with 25 people or less there should be no noticeable issues with using this product.
Personally I have only used the HP VSA software once for a customer, but they have been running for almost 2 years with it and have had no issues or complaints thus far. They have several offices across the country and probably 50 users total.