I must say that I am very bias about this terminal, I love this thing. The first time I worked with this terminal was at VMWorld 2010, they were the terminal that VMware was using for their lab environment. Then recently we got a unit in at the office for a customer demo, and I got a second chance to play with one in combination with my VMware View 4.6 install at the co-lo.
Everything that I have thrown at the Wyse P20 in terms of applications and multimedia just works…it just chugs along and gets it done. YouTube audio and video is almost always synced and there is very little lag. The environment that I used to test the terminal is my VMware Lab equipment that is colocated about 30 miles from the office.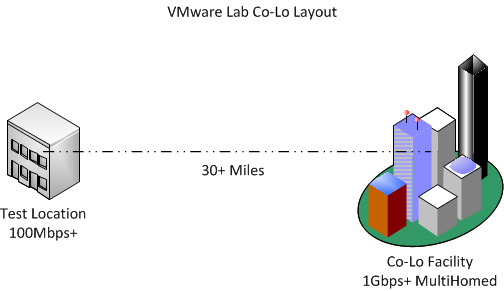 The test layout: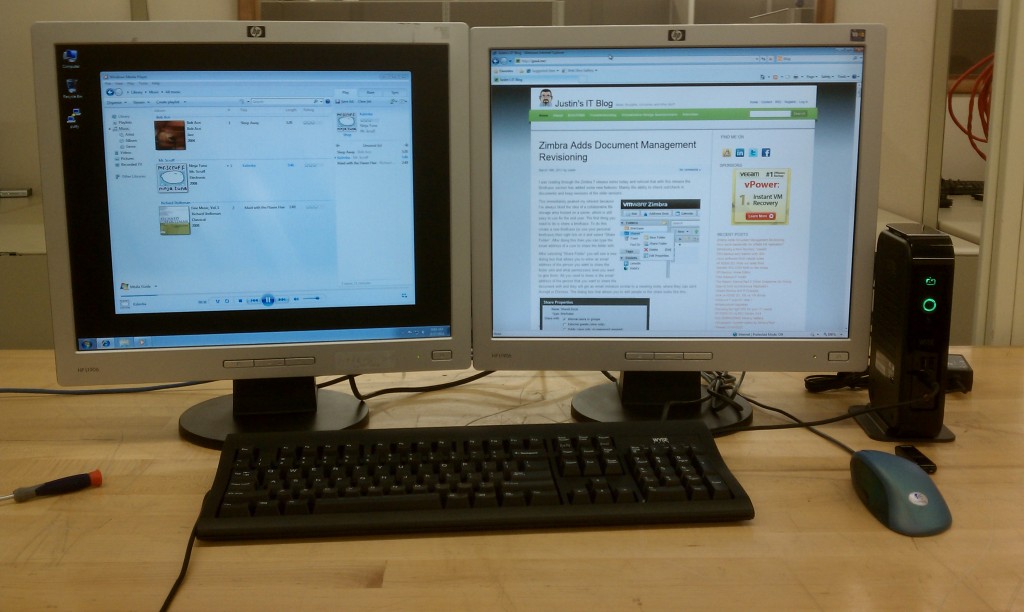 The test desktop is a Windows 7 Pro machine and has 1 vCPU, 1GB of RAM, and about 25GB of HDD space on the SAN. The hardware driving this is a pair of HP DL365 G1 servers which have 2 x Dual-Core Opteron 2218 processors. The only problem that I have on the server side is when I do full-screen video or multiple monitors and video on one monitor and other apps on the other. But besides those scenarios, there really isn't a CPU bottleneck.
What's in the box
Besides the terminal, the box includes a Wyse Keyboard and mouse, power supply (which is super tiny), and a small base which allows the terminal to stand on end. The keyboard is pretty heavy duty compared to some of the bundled keyboards these days, and the power supply is well almost non-existent. You can spot it however if you look just to the right of the terminal in the picture above.
What makes it special
There are terminals everywhere that sport the VMware View client, but what makes the Wyse P20 special is that it has a Teradici chip in it that does all of the PCoIP decoding and encoding in hardware…. not in software, which is what most terminals do. The P20 only has 128MB of RAM… normally a terminal will have 512-2GB of RAM, but again since the only CPU in the box is the Teradici chip and its made to do PCoIP it doesn't need as many resources.
Setup
I didn't take a screenshot of the setup screen but that is only because it was so simple. Because this terminal will only do VMware View all you need to do is log in to the admin interface and put in the IP or DNS name of your broker, that's it!
Specs
CPU Chip: Teradici 1100P PCoIP™
Memory: 128MB RAM
I/O peripheral support:
Two single-link DVI-I port (1 VGA adapter included)
Four USB 1.1 ports (2 on front, 2 on back)
One mic in
One line out, One headphone socket
Enhanced USB keyboard with Windows Keys (104 keys)
USB optical mouse included
LED's: PCoIP LED and Portal power button LED
Button: Device power button and Remote PC power button
Networking: 10/100/1000 Base-T Gigabit ethernet
Display:
VESA monitor support with Display Data Control (DDC) for automatic setting of resolution and refresh rate
Two independent full resolution frame buffers
Single and Dual: 1920×[email protected], Color Depth: 8, 15, 16 or 24bpp.
Physical characteristics:
Height: 8.27 inches (210mm)
Width: 5.33 inches (135.4mm)
Depth: 1.81 inches (45.9mm)
Shipping Weight 8.15 lbs. (3.7 kg)
Power Worldwide auto-sensing 100-240 VAC, 50/60 Hz. power supply
Average power usage with device connected to 1 keyboard with 1 mouse and 1 monitor: 15.36 Watts
Temperature Range: Vertical position: 50° to 104° F (10° to 40° C)
Humidity:
20% to 80% condensing
10% to 95% non-condensing
Warranty Hardware warranty: 3 years limited hardware warranty
What I didn't like
One thing that I did find that I didn't like about the terminal is that it only has USB 1.1 ports… I don't know if that is a limitation of the PCoIP protocol or the CPU, but it is the only thing that was a turn off about the terminal. I wouldn't let it keep me from buying one though, I also tried the terminal out at home and at my parents, (I have a 3Mbps DSL, they have 1.5Mbps DSL) and it still worked fine for business type apps, so it would still be perfect for the remote worker.
Other Info
Official Spec sheet can be found here.
Wyse apparently OEM's this same terminal to multiple 3rd parties's
10Zig v9000 Review — http://myvirtualcloud.net/?p=1261
EVGA version or buy the same thing from HP for more $