Update Oct 2016 – Please note that the version of Zerto used for screenshots in this article is version 3.x. While similar, the user interface in current Zerto releases if very different looking and uses an all HTML5 interface. I have many newer articles that have screenshots of the newer versions.
Well its been about a week now that I have been running Zerto replication between my colo and my house. I started out with just replicating my blog, but am now replicating 7 virtual machines. All our web or DNS type servers, and all are maintaining and RPO of less than 30 seconds…. most of the time its less than 8 seconds.
I have also been able to test failover and recoverability as well as explore the product a little deeper. The first thing that I noticed one evening while doing the initial sync of another VPG was that one of the VPG's that was already protected went into a "Protecting, Bitmap Sync" status. Not knowing what this meant I reached out to Shannon over at Zerto and he explained that when you run out of bandwidth, or a connection is dropped Zerto will do bitmap caching of what has changed, then when the connection becomes available it will push those changes. He also said that because of its efficiency it is able to go for days in this state. He recommended that I check it in the morning and see if things were back to "Protecting", and sure enough the next morning the VPG that was doing its initial sync was complete and the other was back to protecting as well. Awesome stuff!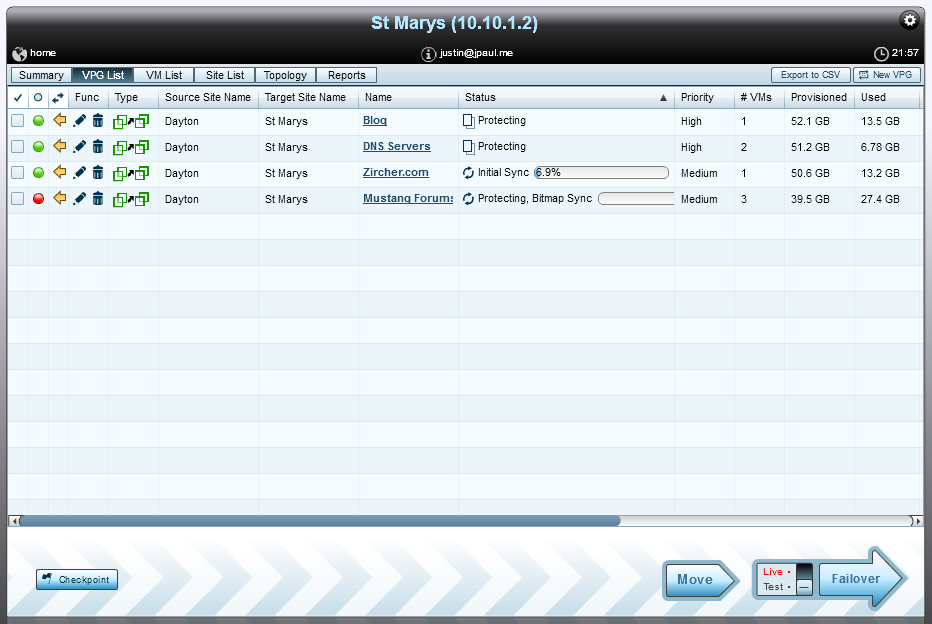 I also found that Zerto will allow you to still failover after your sites have disconnected from each other, unless a full sync had not yet completed. Here is what it looked like during one of my disconnects while syncing the Mustang Forums VPG. Two of the VPG's that had already completed their full initial sync were "Recovery Possible", while the other one is "Disconnected From Peer No Recovery Possible" and this is because the initial sync was not completed…. if this were real life and my colo was a crater the mustang sites would be out of luck.

Offsite Clone
The next feature I seen was the "Offsite Clone" feature. Normally Zerto will store your virtual machines in a datastore like any other VM, but it will not show up in your VMware inventory… personally I think this is nice because it makes it pretty hard for someone to power the VM on and cause inconsistency issues. However sometimes you want to test something out and your DR site makes a great test site. Therefore an offsite clone is perfect in this situation. It took a little while to build the clone, because it does a full copy from the protected VMDK that Zerto is using for protection to a separate area where you can then use it for whatever. Here is a screenshot of the inventory object after the clone is completed.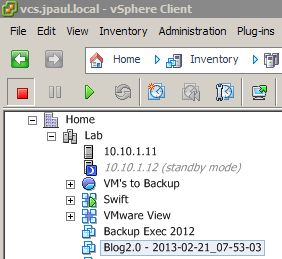 How to get an offsite clone
To make an offsite clone, go to the actions button in the top right corner and click on it, then select "Offsite Clone".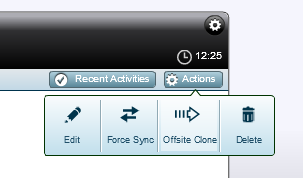 After you click the button a dialog will appear that lets you select a checkpoint or configure a different point in time for your offsite clone. I will talk more about checkpoints in a minute.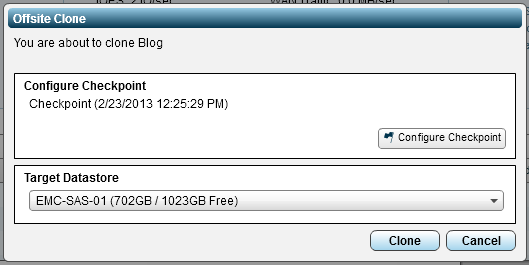 If you do not already have a checkpoint or if you want some other point in time, click the configure checkpoint box and you will see a screen like the next picture. It will allow you to go to any point in time that is still in the journal.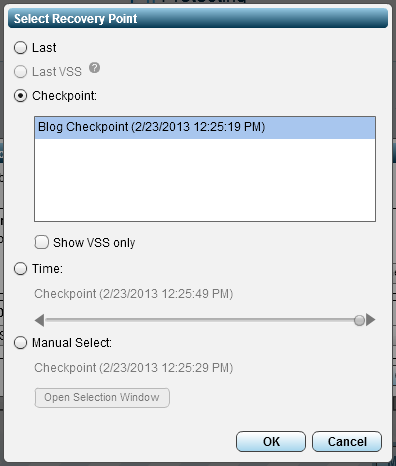 After selecting the point in time and clicking next Zerto will start the clone operation which can be monitored in vCenter's Task section.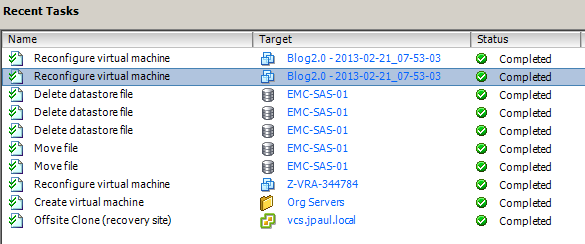 This total process took about 15 minutes or so, but will depend on how fast your storage is and how much data is in the VM being cloned. Its progress can also be monitored from Zerto in the upper right corner of the interface where you initiated the clone from.

Checkpoints
Checkpoints are points in time that may be worth keeping. They can be taken from any point in time in the journal and will ensure that if needed you can restore to that point in time even if it is out side of the typical protection window (which is configurable up to 24 hours)… so if you need to keep a point in time from 7 days ago or a month ago then a Checkpoint is what you will want to use.
Checkpoints can also be used as the basis for offsite clones as discussed earlier.
To take a snapshot click on the VPG that you want to take a checkpoint of and then in the bottom left corner of the Zerto tab. It will open up a box where you can select which VPG's to checkpoint and then you just click OK.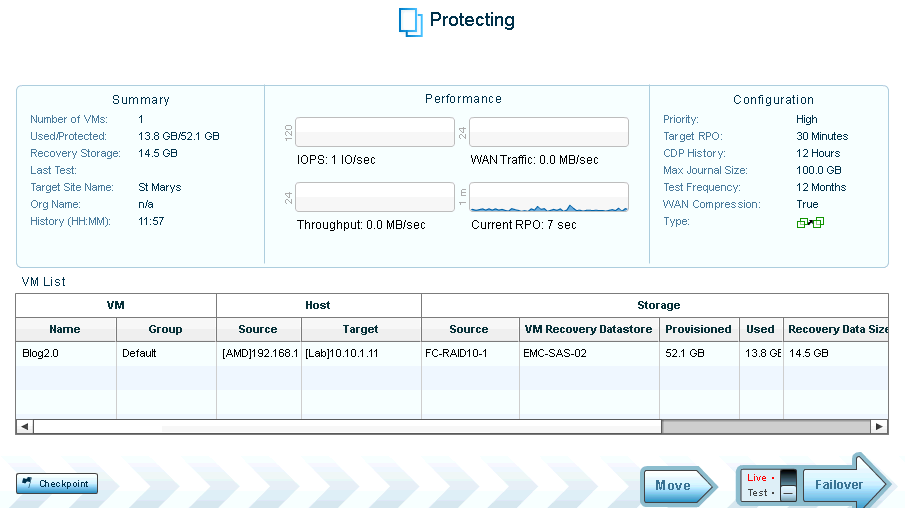 That about covers most of the features I have used so far. I have also done a test failover, however that is a little more in-depth and lengthy so I will post that in a separate post. Overall though if you are looking for replication I would definitely recommend Zerto!