I've talked about the benefits of "Direct Attached" backups in Veeam before, but normally always in conjunction with an iSCSI type SAN's. Lately, though, we have had a lot of interest in the HP P2000 G3 SAS attached SAN, mostly because it's reasonably priced and offers great performance. So this week I have to start building a Veeam backup server for use with one of these P2000's; the problem is that there is no Ethernet interface to attached it into the SAS controllers in the customers P2000 G3 SAS SAN. So my options were to make Veeam virtual machine or use NBD mode (slow)…. both of which I did not want to do for this customer. The answer to the problem was to order another SAS HBA (the same one we use in our VMware servers), and directly attach the backup server into the SAS fabric.
Our parts list for this project: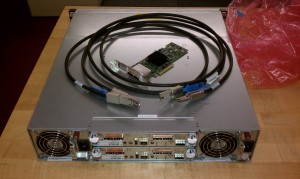 A backup server
HP SC08e 6Gb SAS HBA
HP Ext mini-SAS to mini-SAS
I should note that this is a demo system to see if the customer likes Veeam Backup and Replication, and we will be repurposing a server that we virtualized during phase 1 of this project. The hardware is an HP DL320 G5P with an Intel Xeon 3000 series CPU and 2GB of ram. For storage, we will be leveraging the two internal SATA/SAS bays with a RAID1 between two 1TB SATA drives. By no means is the system meant to be a powerhouse or a storage monster, but it will give the customer a very good idea of what Veeam B&R is capable of and how easily restoring files could be if they decide to purchase.
The Game Plan
So the plan is to install Windows 2008 R2 on the server and then install just the Veeam Backup and Replication package. Because we are limited on RAM and CPU power we are going to forgo installing the Enterprise Manager and the Microsoft Search Server components. Basically, if we wanted to use the Guest Indexing feature or be able to search our backups to find specific files, or just to have a web interface for management we would need these components, but since we are pretty tight on extra RAM we will leave them out.
After getting windows installed on the server and Veeam installed we will rack the server at the customer site, but before we connect the SAS cable to the SAN we need to boot Windows and run a command to stop Windows from trying to mount the datastores on the SAN. If you remember my "The Missing Manual Part 1" article you will recall that before we connect this server to our SAN we MUST run 'automount disable', otherwise we run the risk of losing data when Windows discovers our VMFS datastore LUNs.
Open a command prompt and Run as Administrator
Type: diskpart <enter>
Type: automount disable <enter>
That will do the trick and keep your datastores safe when Windows is booting, and now we can safely connect the SAS cable to the SAN. At this point, we can either refresh the Disk Management Service to have the card go out and rescan, or simply reboot the server.
Now we are ready to configure our Veeam Backup and Replication jobs just like we normally would.